By Ashley Sears, Moo Squad athlete sponsored by the Maine Dairy Promotion Board
With the turning of the calendar and the dawn of a new year, we look towards the future and set goals that we hope to accomplish over the next 365 days. These goals may be necessary due to health, finances, family, etc., while others offer us the opportunity to challenge ourselves and try new activities, travel somewhere we've never been, start a different professional career track, or set a goal that is out of our comfort zones. I, along with my Moo Squad teammates, set forth our goals when we became members of the Maine Dairy Promotion Board's team of athletes for our training, running/swimming/biking, events, and health and wellness. At the top of my list was to train and run my second marathon.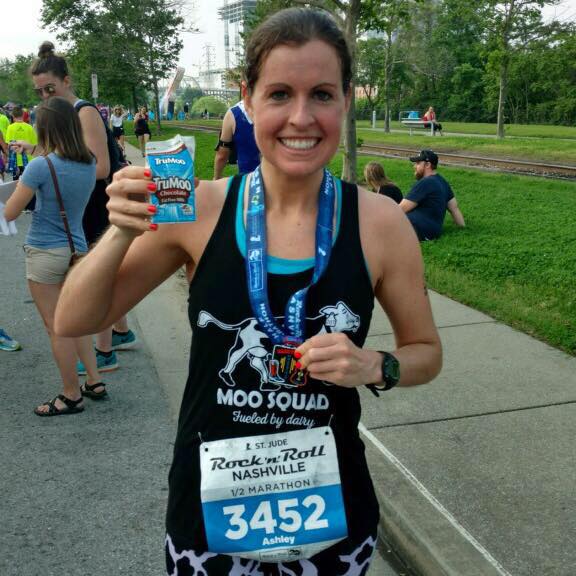 In May of 2014, I trained for and ran my first marathon in Burlington, Vermont. The Vermont City Marathon offered rolling hills, great crowd support, and racing along the waterfront of Lake Champlain. The marathon is famous for its uphill climb at Mile 18 on Battery Street, a hill that never seems like it's going to end. I was running well until that point in my race and unfortunately, the hill got the best of me. My calf muscles suffered as I tend to lose a lot of salt while I run, and I didn't account for this in my training or hydration along the course. The last five miles were tough, as I was forced to run/walk and received assistance from EMTs on the course for my seizing calves. I finished the race with a final time of 4 hours, 18 minutes, and 29 seconds (4:18.29), and many running lessons learned along the way.
I knew that I had a better race in me and that I could adjust my training to account for hydration, speed/pacing, and conditioning. Three years later, the urge to begin training for another marathon hit me and I signed up on February 13th (early Valentine's Day present to myself?) for the Erie Marathon in Erie, PA. The course description reads "Flat, Fast & Fun, our course provides beautiful views of Lake Erie as well as the City of Erie Bayfront and miles of coastline beaches, marshes and wooded paths. Held on Presque Isle, in Erie, PA, many of our participants return year after year to run in our race and enjoy the natural beauty our location provides." Based on the course description and articles I read in Runner's World magazine, I knew this would be my next marathon.
Beginning in April of 2017, I started an 18-week training plan written by long distance runner guru Hal Higdon. The plan called for three days of running during the week, a day of cross training, a long run day, and two rest or additional cross training days. I took one rest day per week and used the extra rest day for strength training and stretching. With gradual progressions in terms of distance and pace, I only suffered minor shin splints and otherwise, found the plan to be very realistic and flexible with my schedule. This plan helped me prepare and feel ready to toe the line on September 10th in Erie.
When the morning of the race arrived, I was anxious and excited for what the day held in store. I was nervous going to bed that evening so I didn't sleep the best, but felt awake and ready the next morning after consuming my pre-race breakfast ritual of a blueberry English muffin and powdered peanut butter with coffee. I arrived early at the starting line to stretch, use the restrooms, and toe the line with runners from across the world. When the horn sounded for the start, I looked to maintain my pace and take advantage of the nice weather. With several spectators along the course and water stops every mile, the mild temps provided for a great run and a new marathon PR of 3:40.28. I am working towards my goal of qualifying for Boston and continually learning how to properly train, hydrate, rest, and refuel.
Amid wedding planning, organizing my 10-year class reunion, and preparing for 22 days at The Big E in West Springfield, MA, marathon training helped me prioritize and focus on all my endeavors. Scheduling my Sunday long runs around other commitments, as well as mid-week training runs, required early mornings or lunch breaks dedicated to running. My early morning runs are my favorite way to start the day, and provided me with time in the evenings to work on other tasks and spend time with family and friends. All the while, I continue in my efforts to promote the Maine dairy industry and toast with a glass of low-fat chocolate milk at each finish line I cross.
This seems like a good time of year to try this recipe from reciperunner.com:
Baked Apple Chips with Snickerdoodle Dip
INGREDIENTS
Baked Apple Chips
3 apples, Gala and Granny Smith work well
2 teaspoons granulated sugar
1/4 teaspoon ground cinnamon
Snickerdoodle Dip
4 ounces low fat cream cheese, softened
1/2 cup plain non-fat Greek yogurt
1 tablespoon butter, softened
1/4 cup brown sugar
3 tablespoons powdered sugar
1 teaspoon ground cinnamon
1/4 teaspoon vanilla extract
1/8 teaspoon kosher salt
INSTRUCTIONS
Baked Apple Chips
Preheat oven to 250 degrees.
Line two baking sheets with parchment paper and lightly spray the parchment with cooking spray.
Use a mandolin or very sharp knife to cut the apple into 1/8″ slices, no need to peel or core the apple.
Spread the apple slices out in a single layer on the prepared baking sheets.
In a small bowl whisk together the cinnamon and sugar, then sprinkle it all over the tops of the apple slices.
Place the apples in the oven and bake for 1 hour.
Remove the apples from the oven and flip over to the other side then bake for another 45-60 minutes or until they are crisp.
Turn the oven off and leave the apples in the oven to cool for another 45-60 minutes, this will help them continue to crisp up.
Store the cooled apple chips in an airtight container for up to a week.
Snickerdoodle Dip
In the bowl of a stand mixer with the whisk attachment in place or with a handheld mixer, add in the softened cream cheese, Greek yogurt, and butter.
Whisk the mixture on medium high speed until smooth and fluffy about 2 minutes.
Add in the remaining ingredients and whisk together starting on low and working up to medium high speed until everything is completely incorporated and smooth, about 3-4 minutes.
Cover and refrigerate until ready to serve.
Serve with the baked apple chips or apple slices.
Here's another one to try: