If you are follower of this blog you know by now that I am an addicted to racing , but since I live in rural Maine (Oakland), not many races are "down the road." So, I am often searching flights, hotels, Airbnb's and weighing time lost to travel against the cost of travel. Ultimately, I am incredibly lucky that the Maine Dairy & Nutrition Council and Drink Maine Milk are supporting this lifestyle, allowing me to often choose the costlier but more time-effective flights so I can be home with my family.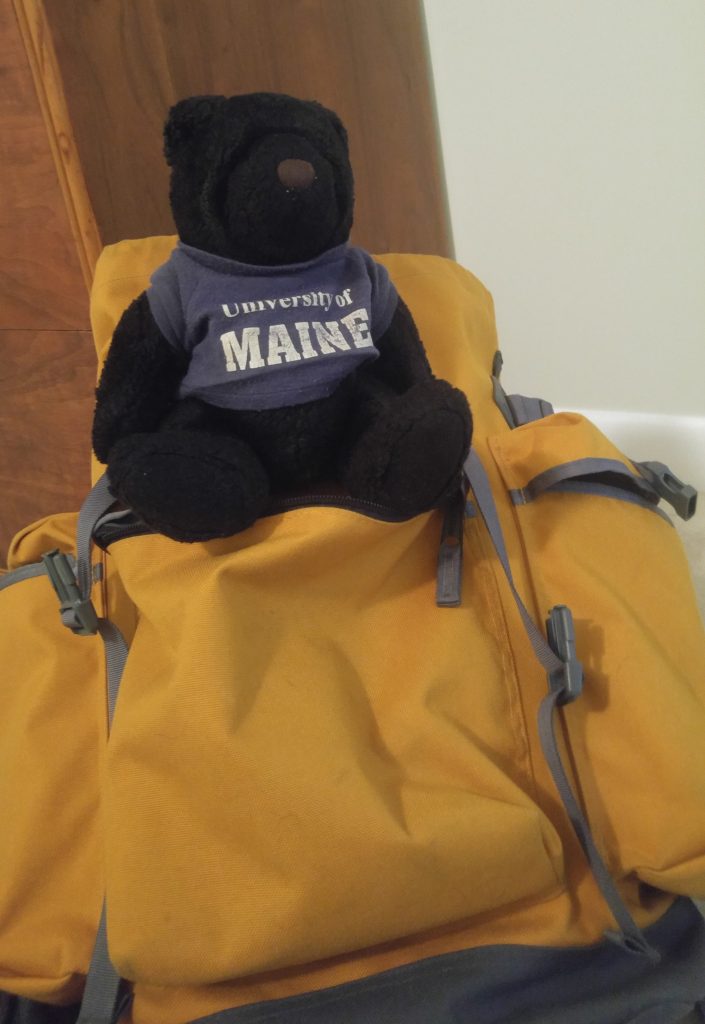 What you might not know is, through all these travels, I have a trusty companion who always reminds me of home and keeps me grounded when away. Given to me back in 2001 when my then-girlfriend now-wife Mandy was at UMO, my travel buddy is a "Maine Black Bear". He has traveled with me to every race since 2015 and many other locations in the past 16 years. My college roommates used to love hiding him on me or playing cruel pranks on him, like tapping him to the ceiling. The bear has survived it all, and he even has a partner – my almamater's "Nichols Bison" who remains at home when I am away, snuggling with my wife and often my son, Cooper. It helps when I'm away that I have something from them and that they have something of mine.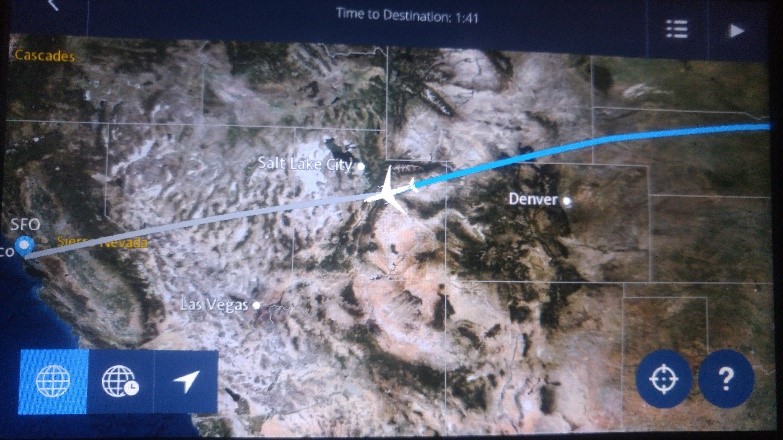 I do not share this with everyone, and as I departed for my first ever cross country flight from Boston to San Francisco to chase points in the Spartan standings, I thought I would snap a few photos and share "Bear's" journey. You can see him hanging out at Logan Airport at 5:00 am as I head to California in hope of ranking in the top 10 Spartan Racers in the stadium series for 2017. Then again from our window in our hotel after arriving on the West Coast.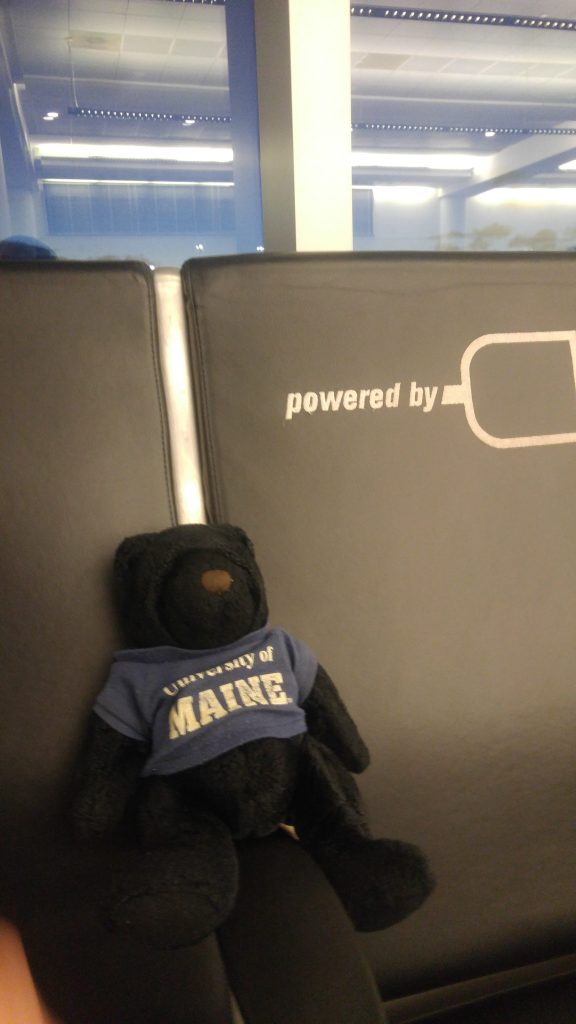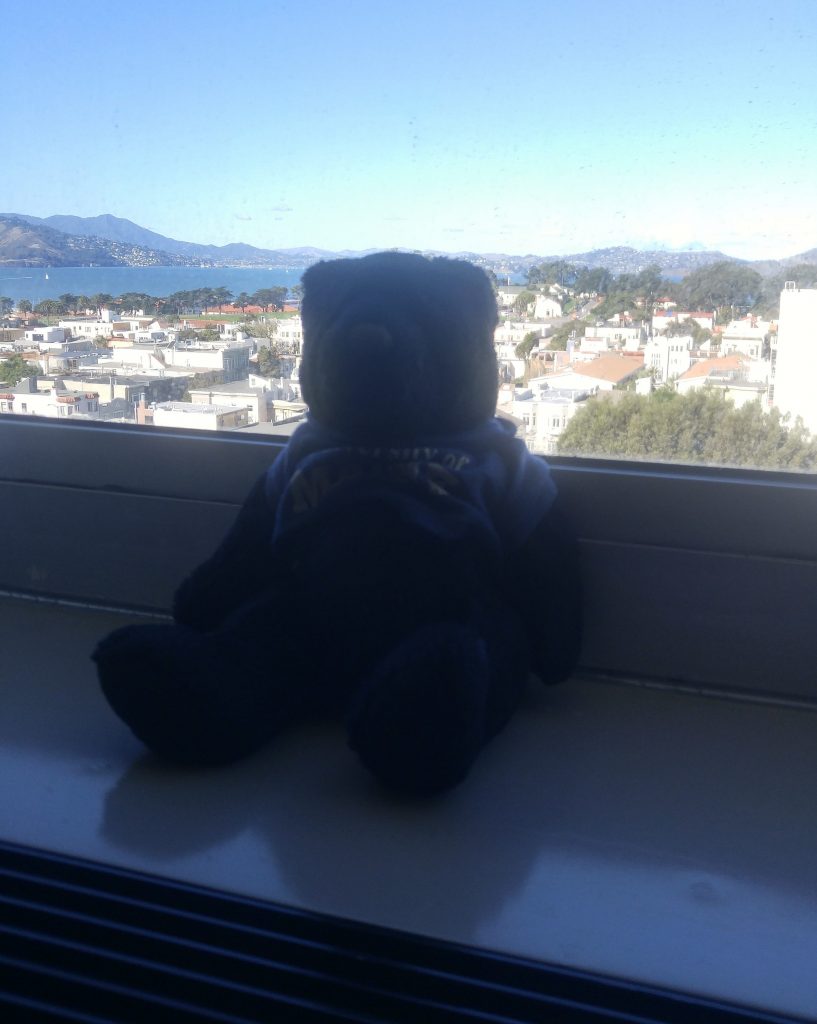 Bear saw a lot on this trip, too, visiting the Golden Gate Bridge and Lombard Street, and having breakfast at a wonderful local pub, but he had to hang out in the hotel while I ran my race in AT&T Park, home of the San Francisco Giants. It was a crazy race, which can be viewed on Spartan Live on Facebook. You can see me miss my spear and doing burpees ☹. It all works out in the end though: I finished in 9th place and accomplished my goal of being in the top 10 (6th overall for 2017).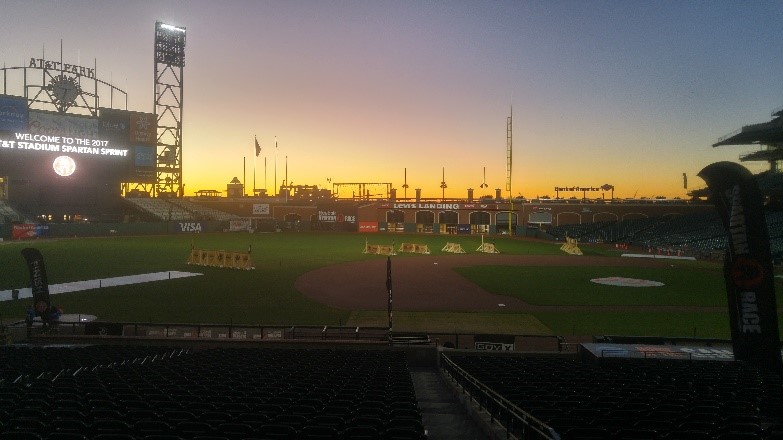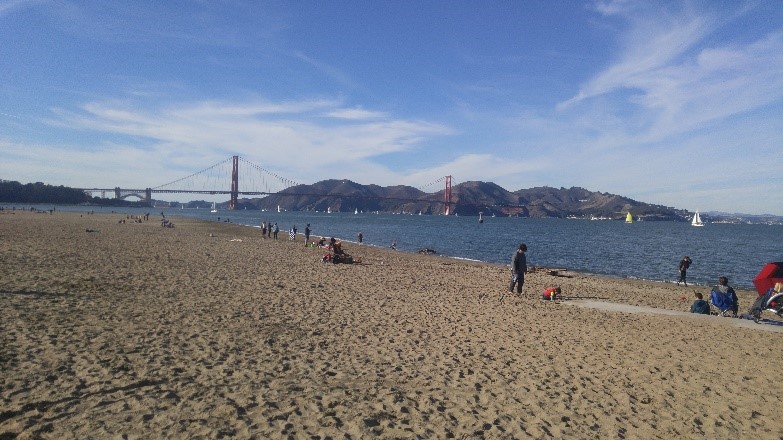 After the race I returned to my hotel, picked up my stuff, spent some time walking around the city with bear in tow, nestled away in my backpack. I headed back to the airport with him, knowing we had a red eye flight landing in Boston at 5:00 a.m. to make it back in time for Thanksgiving Dinner on Sunday with my family. To date "Bear" has been to New York City, Tuxedo, NY, Greek Peak, NY, New Jersey, Atlanta, Charlotte, Dallas, Boston, Vermont, and San Francisco to keep me company racing all over the country. I can not wait to see where we go next year, but he will always be there to remind me of home, and I always will have a piece of home with me on the road.
I would be remiss if I did not thank the Maine Dairy Council once again for making these travels and dreams of a kid from Maine come true. Making it to the races around the country would be impossible with out your support! So thank you; from Bear and I (below) as we safely make it back to Maine after our red-eye, cross-country, flight.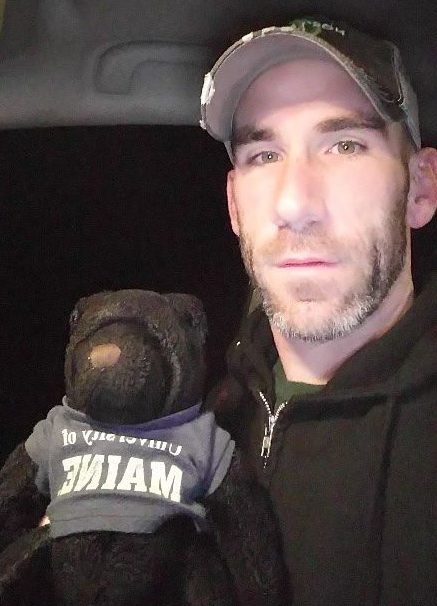 ANOTHER DELORIE FAMILY RECIPE and a great option for a game time appetizer.
SLOW COOKER SPINACH AND ARTICHOKE DIP from damndelicious.net.
YIELD: 8 SERVINGS PREP TIME: 10 MINUTES COOK TIME: 2 HOURS, 15 MINUTES TOTAL TIME: 2 HOURS, 25 MINUTES
Simply throw everything in the crockpot for the easiest, most effortless spinach and artichoke dip!
INGREDIENTS:
2 (14-ounce) cans artichoke hearts, drained and chopped
1 (10-ounce) package frozen spinach, thawed and squeezed dry
8 ounces sour cream
1 small onion, diced
2 cloves garlic, crushed
3/4 cup grated Parmesan cheese
3/4 cup milk
1/2 cup crumbled feta cheese
1/3 cup mayonnaise
1 tablespoon red wine vinegar
1/4 teaspoon freshly ground black pepper
8 ounces cream cheese, cubed
DIRECTIONS:
Place artichoke hearts, spinach, sour cream, onion, garlic, Parmesan, milk, feta, mayonnaise, vinegar and pepper into a slow cooker. Stir until well combined. Top with cream cheese.
Cover and cook on low heat for 2 hours.
Uncover and stir until cream cheese is well combined. Cover and cook on high heat for an additional 15 minutes.