Whether you are entertaining or just looking to make something easy, good and healthy for the fam, you can use local, seasonal ingredients.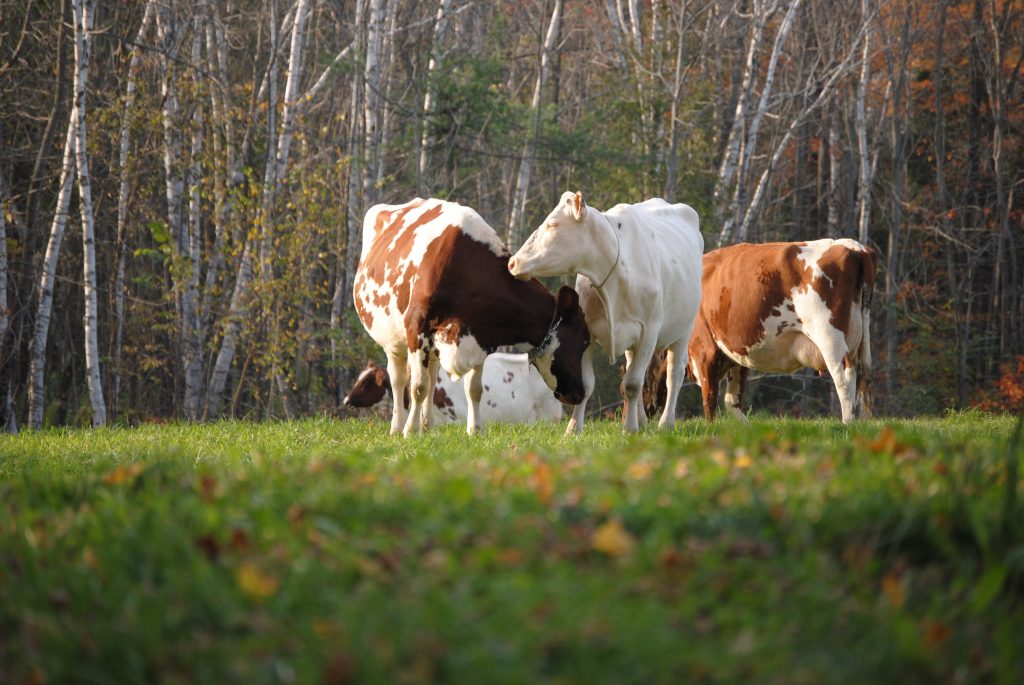 While others might bemoan the coming of fall with grumbles of snow, ice and cold, I am someone who will gladly trade in her flip-flops, shorts and tanks for boots, jeans and hoodies. I welcome autumn in all her glorious reds, golds, and steel gray skies, warm sunshine and brisk winds. And the harvest! Apples, pumpkins, beets, carrots, squash, cranberries – the flavors and the colors make everything delicious AND gorgeous! You can see by my over use of exclamation points that I get really excited about fall!
My favorite holidays – Halloween and Thanksgiving (and my birthday) – are also in the fall, which gives me plenty of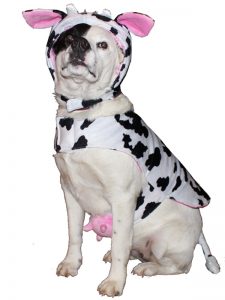 reasons to bake and cook and come up with awesome dishes (and steal a few ideas from others) that highlight seasonal and local foods. And while people often start fretting about the weight they are going to gain over the holidays, there really is no reason that you can't keep it healthy and yummy.
This past weekend, I had a pumpkin, a bushel of apples and a bag of cranberries sitting on my butcher block. What to do, what to do … So I thought about a fall fruit salad. Actually, it's so pretty, I should call it an autumn fruit salad. That makes it a little fancier (I think I read one too many Fancy Nancy books during my former life as a school librarian).
Anyway, I use about half of a medium to good-sized pumpkin. Take the guts out, cut the peeling off, chop it into cubish pieces and fill the bottom of my baking pan with it (I also drizzled a little maple syrup over the pumpkin, but I don't think that's absolutely necessary unless you are like Buddy the Elf and me and consider maple syrup to be a food group.) and sprinkled cinnamon over the top. I put that into a 350 degree oven because I wanted the pumpkin to cook longer than the apples, which I like to still have a little crunch to them and the cranberries, which just need long enough to pop. So that cooked for about 10 minutes while I cored, peeled and chopped up four or five large apples. Then I took the pumpkin out, put the apples and cranberries on top and put it all back in the oven for another 10 or 15 minutes.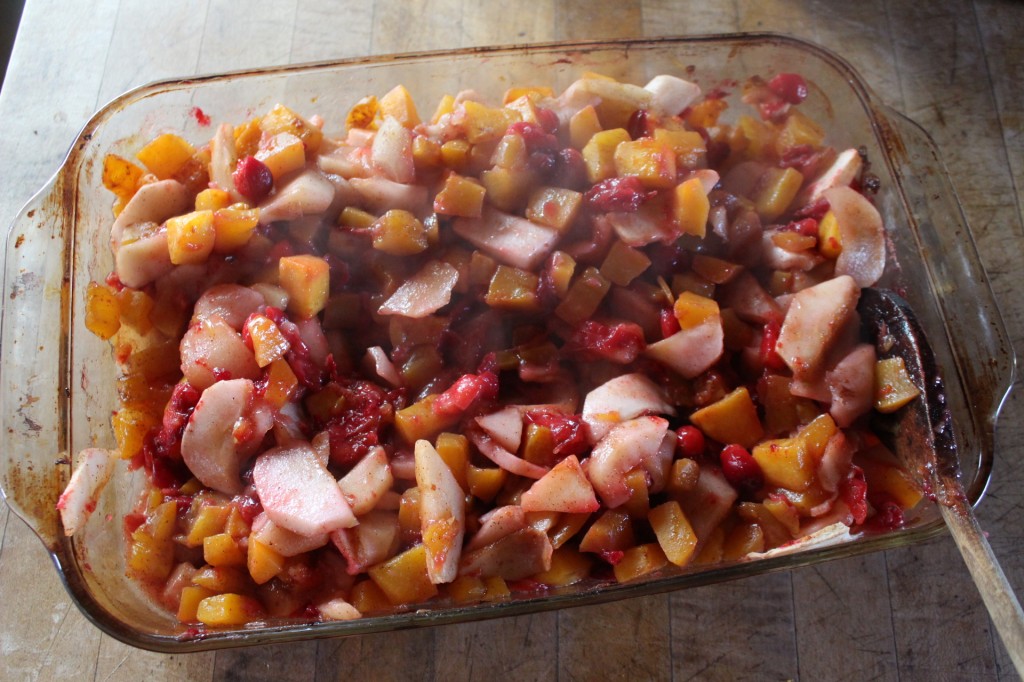 The best part of my whole concoction was the maple yogurt I put on top after I dished out the warm fruit salad. Just mix 1 teaspoon to 1 tablespoon of maple syrup into 1 cup of yogurt. I used homemade yogurt, so it came out a little runnier, but any kind of plain yogurt will work. I ended up eating this on its own after the pumpkin/apple/cranberry was gone. If you wanted to be super Martha Stewart-y, you could put the fruit salad inside a hollowed out pumpkin.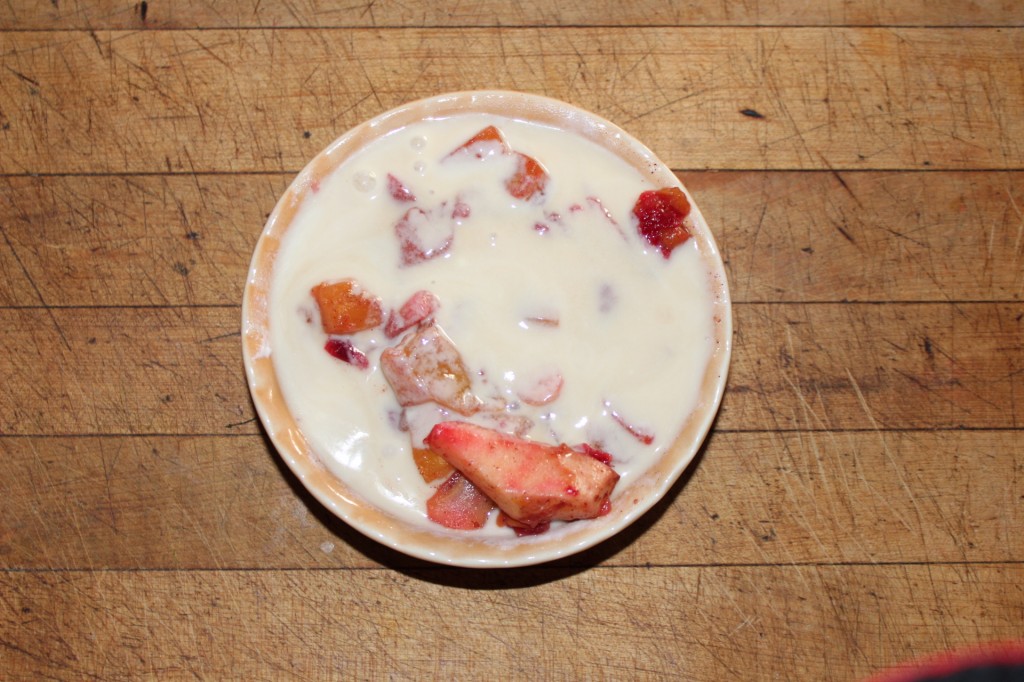 I also have been playing with pumpkin yogurt parfaits recently. You can use canned pumpkin for this but it's really easy to do your own pumpkin puree. Again, I cut up, gutted and peeled the pumpkin, and then cooked it on the stovetop like you would potatoes or squash. Once it's softened up and cooled, you mash it up and add pumpkin pie spice and a couple slurps (excuse my measurement lingo) of maple syrup to sweeten it up. Then layer it with plain or vanilla yogurt and top with granola or crumbled gingersnaps. For Halloween parties, layer your ingredients like candy corn in a fluted champagne glass, or use little round bowls and layer the yogurt and pumpkin with the pumpkin on top and then using mini chocolate chips, decorate with a Jack O' Lantern face on top.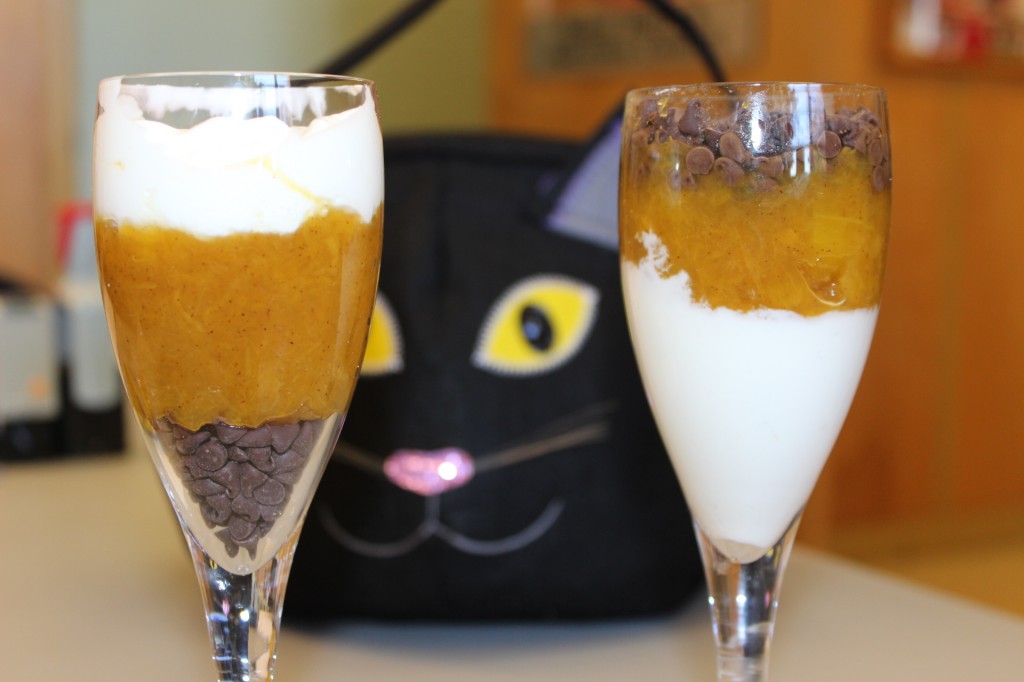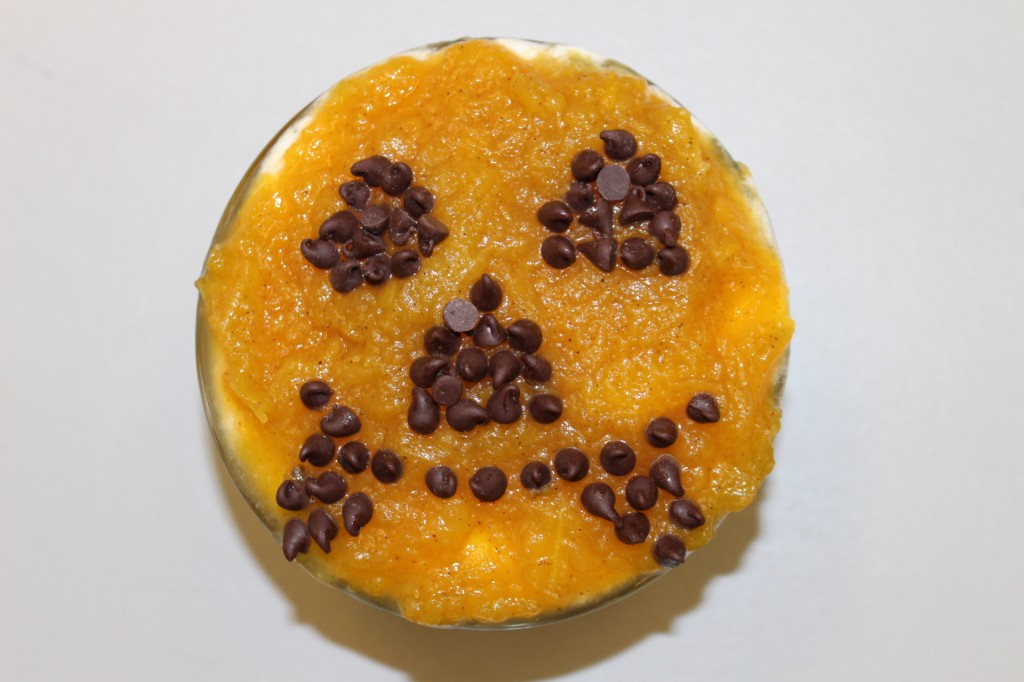 While they are not all local ingredients, there are some other easy-to-do, quickie Halloween-themed treats. One is banana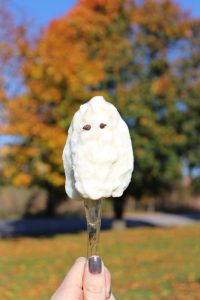 ghost pops. You dip half a banana in Greek yogurt and use the mini chocolate chips for eyes and then freeze them.
I have also seen candy corn popsicles (on Pinterest), where someone layered yogurt, pineapple juice and orange juice. You let one layer begin to freeze in your Popsicle mold before adding the next layer. Those looked wicked cool.  And here is a link for smoothies in pumpkin cups made from oranges. http://www.horizondairy.com/recipes/jack-o-lantern-smoothie/
And who doesn't like a pumpkin spice latte?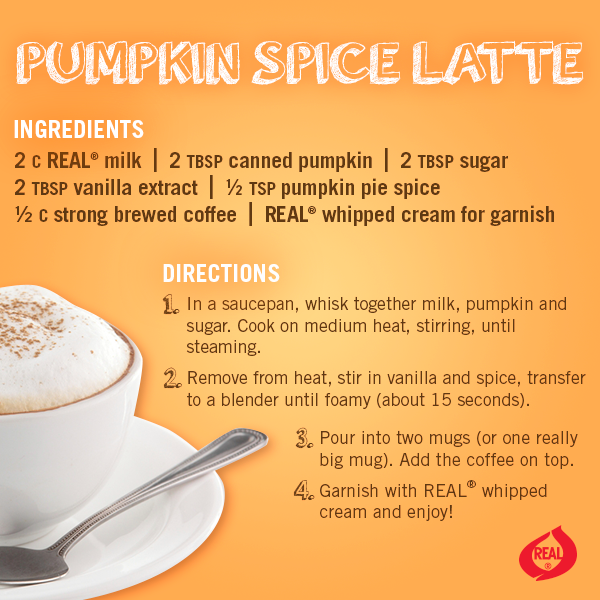 This last one is not so much a holiday dish, but it is a seasonal one. I don't know about where you live, but in my neck of the woods, the growing season is never long enough to ripen all the tomatoes. So, when the first heavy frosts come around, we are out picking green tomatoes because you don't want them to go to waste and then wonder what we are going to do with them all. Last year, I made a green tomato relish, but I never wrote down how I made it, so not sure I can ever recreate it. This year, I decided to try fried green tomatoes. And my first attempt was a success! And I wrote down the recipe to share with all of you!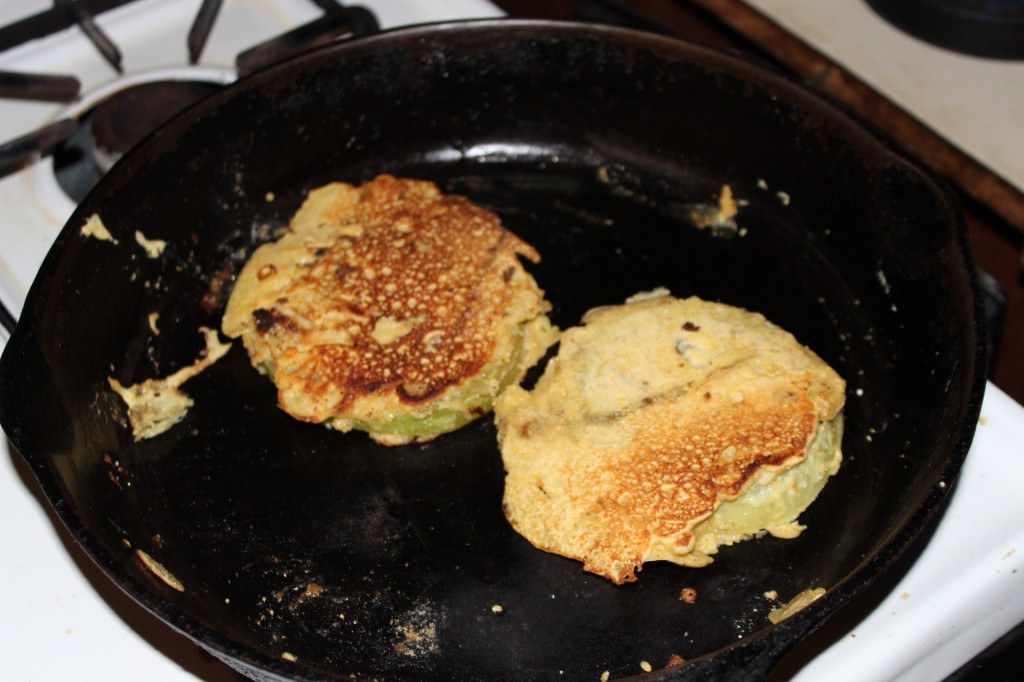 Fried Green Tomatoes
4-6 large green tomatoes
1 cup cornmeal
½ cup flour (I used Maine-grown buckwheat)
1 cup buttermilk
2 eggs
½ teaspoon salt
½ teaspoon ground mustard
¼ teaspoon ground cayenne pepper
Mix all the ingredients except for the tomatoes together in a shallow dish. Slice your tomatoes into ¼ inch slices. Get your frying pan hot with a little oil covering the surface. Dip your tomato slices into your batter, covering both sides. Then drop the tomato slices onto your hot frying pan. If the batter doesn't stick, just spoon a little on while the tomato slice is in the frying pan. Brown up both sides until the batter is cooked up like brown pancakes.
I can't eat wheat, so I don't often eat breads, but I used two fried tomatoes as a bun for my pork burger the other night – pretty awesome. Really, it was better than it looks.