You've had your fill of sweets and candies. You're sick of baking and can't stand the sight of another sprinkle, but you've got one more holiday party to finish out the year, and what are you going to bring to the table? What about something everyone loves, something no one ever gets sick of, something everyone will rave about and will be the talk of the New Year's Eve party? The answer is cheese.
Done right, a cheese plate can be a decorative centerpiece, and when filled with an assortment from local cheesemakers, can be a great conversation starter. Of course you don't need quite the assortment I put together below – I just wanted to give several examples. Four or five should suffice, but why limit yourself?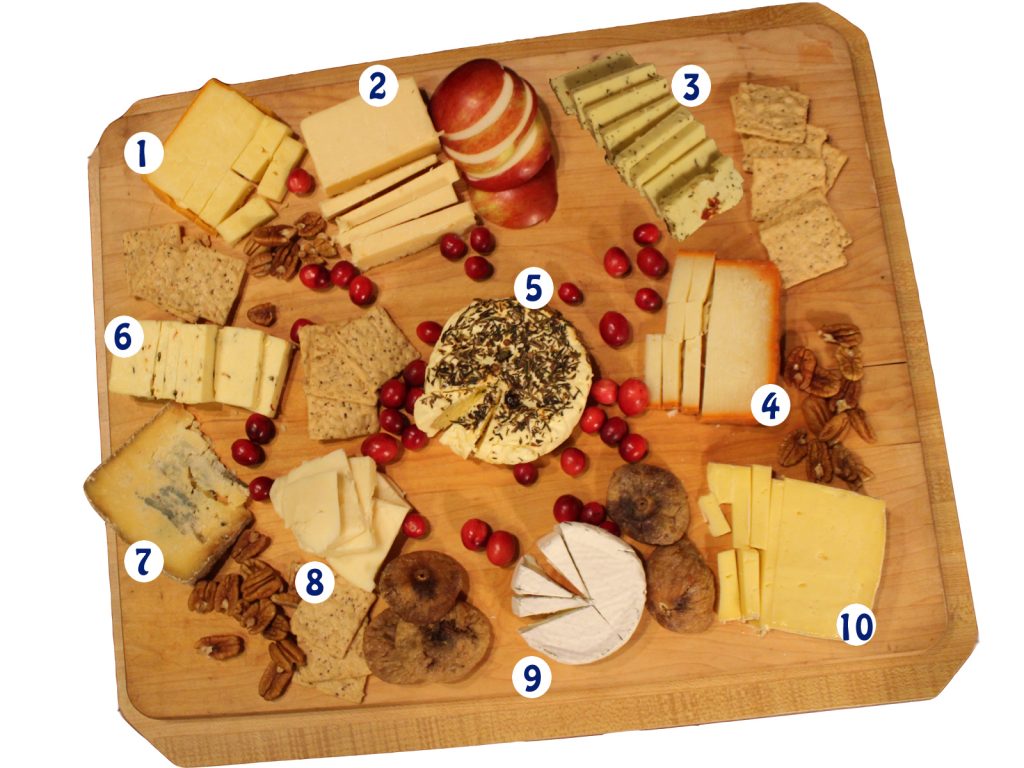 Maine has become a hotbed for cheesemakers, many making an art form of it, experimenting and developing signature flavors, specializing in varieties best suited to their cows' milk. One can easily fill an impressive cheese platter with Maine-sourced cheeses. A stop at a food co-op and a local grocery store provided all I needed for the above cheese board.
There are several other cows milk creameries that I didn't have room for on my cheese board, and depending on your location, you can find far more than I've listed here. Earlier this year, the Bangor Daily News did a list of the "Seven Maine-made cheeses you must try now." Siberia Farms in Hermon was included for its hand-pulled mozzarella, but it has numerous dairy products available. Other cheeses on the list included Winter Hill's Tide Line, Balfour's brined feta, Fuzzy Udder's washed rind cheese, Silvery Moon's Stroudwater Tomme, and Lakin's Gorges Cheeses' ricotta. I am also a fan of Crooked Face Creamery's ricotta, which was a third-place winner with the American Cheese Society. Mary Mackinson of Mackinson Dairy in Illinois featured Amy Rowbottom of Crooked Face in Norridgewock as a part of her Women in Dairy series.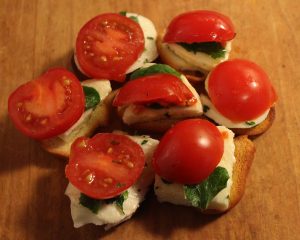 Siberia Farms has a Mozzarella with pesto and olive oil, all is left for you to do is add a cracker or bagel bite and little slice of tomato for an appetizer. And I like making my cheese cakes with ricotta and Greek yogurt, or I just did this recipe for a Cranberry Orange Ricotta Cake.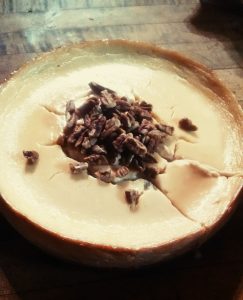 Maple Greek Yogurt and Ricotta Maple Cheesecake
2 cups Greek yogurt
2 cups Ricotta Cheese
1 cup maple syrup
4 eggs
1 tsp vanilla
Handful of pecans (optional)
For the crust (use your favorite or try mine)
1/2 cup pecan meal
1/2 cup flour
1/3 cup maple syrup
4 tbsp softened butter.
Preheat oven to 375. Mix your ingredients for the crust and press into the bottom of your springform pan. Bake for 10-15 minutes. Remove and lower oven temperature to 325. Mix all your cheesecake filling ingredients, making sure to break up the egg yolks. Pour the filling into the pan. Bake the cheesecake for about 40 minutes, reduce the temperature to 300 degrees, bake another 15 minutes and then turn off the oven, crack the door and let the cheesecake cool for an hour. Remove the cheesecake from the oven, and once it is down to room temperature, refrigerate. Top with pecans.