You know what people really like for Christmas? They like a gift that tells them you listen to them, that you pay attention to them. It doesn't have to be something big; it just has to come from a big heart.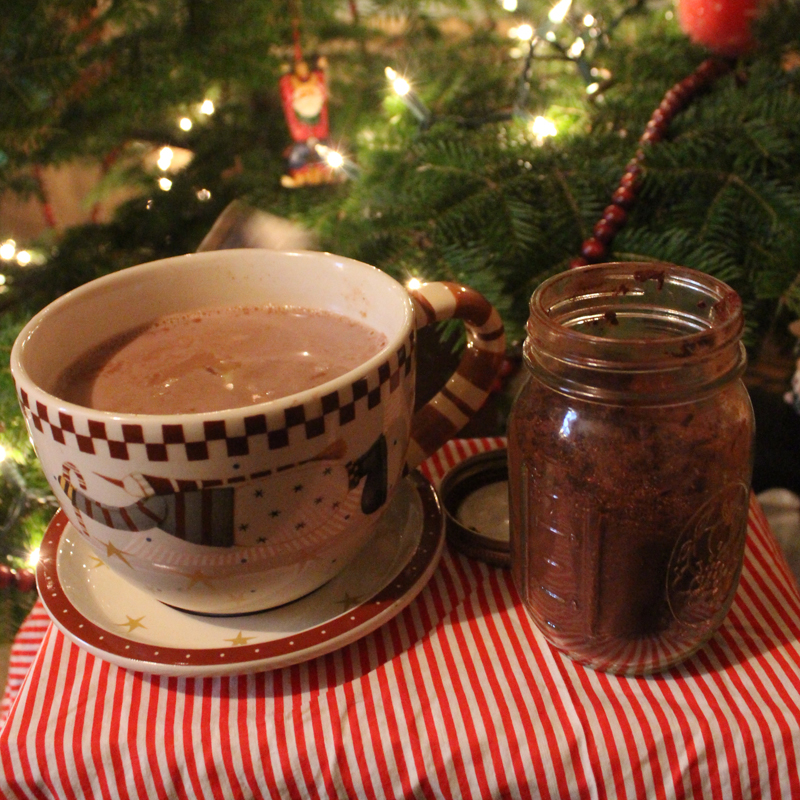 Homemade hot chocolate, a mug that screams, "AUNT CINDY," a lovely bow, and boom! Another relative checked off your list. But here's how you make it real special. What does Aunt Cindy like? Dark chocolate? Chocolate on top of chocolate? Ginger? Peppermint? Chocolate caramel? Personalize the hot chocolate. Me, just in case anyone needs a last minute gift for me … dark chocolate with crystallized ginger. Mix cocoa powder and sugar at a 1:1 ratio. If you are using a pint Mason jar, that would be 1 cup cocoa powder and 1 cup sugar. Chop up a dozen or so chunks of crystallized ginger into much smaller chunks and mix it all together. Make a cute little tag, instructing them to use one spoonful of cocoa with every cup of milk. If your loved one likes their chocolate on the sweeter side, many hot chocolate recipes call for 2 cups of sugar (powdered sugar mixes in better, but you can use any kind) to 1 cup of cocoa powder. Other ideas for personalizing your hot chocolate mix – crushed candy canes, their favorite candy bar (a Heath bar would be AWESOME), pieces of milk chocolate or dark chocolate, those little chocolate cups with caramel in them, butterscotch candies. Really anything that will melt or dissolve would work (that is edible of course).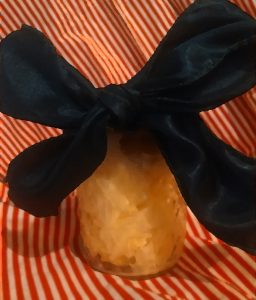 People always appreciate gifts you make. Even if it's not that good, they will appreciate the effort. You know what else people appreciate? Butter. Butter makes
everything better. And butter is super easy to make, not as easy as buying it in the store, but still pretty easy. Even the kids can help. You can make it in a butter churn if you happen to have one hanging around, or a blender, but I kind of think that's cheating. The easiest way is making it in a mason jar. One quart of heavy cream equals 1 pound of butter and 2 cups of buttermilk. The cream should be at room temperature. Fill your Mason jar half full of cream, put the lid on, and then shake, shake, shake. It'll take about 15 minutes of steady shaking. You'll see it get thicker, like whipped cream, and then all the sudden there will be a gob of yellow and a cloudy liquid. The yellow gob is butter, the liquid is buttermilk. Pour off the buttermilk (save it for baking). You will have to rinse the butter and squeeze it to get the excess buttermilk out.  To make it extra fancy, add some honey or maple syrup. Put it in a nice little basket with a jar of jam and a loaf of bread or warm biscuits or scones.
Here's a recipe for Cranberry Scones, but you can switch out the cranberries for almost anything. Aunt Cindy would like chocolate chips.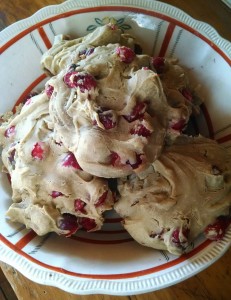 2 cups flour (I used Maine buckwheat)
2 eggs
1 cup sour cream
1/2 cup sugar
1/2 cup (one stick) butter
8 oz whole cranberries
Bake at 325 for 15-20 mins.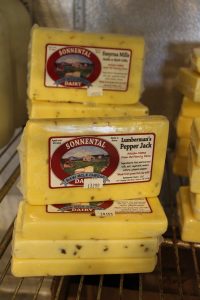 Speaking of baskets. Who doesn't have a cheese lover in their family? Maine has a number of excellent cheesemakers using Maine milk. Maine Cheese Guild at mainecheeseguild.org and the Get Real. Get Maine! site at getrealmaine.com would both be resources for finding local cheeses. And most major grocery stores in Maine carry cheeses from Cabot, which is owned by a number of Maine dairy farmers, Sonnental, State of Maine Cheese Co., Pineland Farms and Silvery Moon Creameryof Smiling Hill.  If you passed on making your own butter, several cheesemakers also make butter, and Casco Bay Butter has seasonal flavored gourmet cultured butters made from Maine milk.
Sometimes the greatest gift is not something you can unwrap. You can't even hold it. It's the gift of giving. This Christmas, consider making a donation to a worthy cause in someone's name or honor. The Great American Milk Drive gets milk into the hands of families who need it, and the donation will benefit local families. Milk is one of the most requested nutritious foods, but because of its short shelf life, food pantries rarely have it to offer. The Great American Milk Drive gives donations in the form of coupons or vouchers, which can then be used to buy a gallon of milk. Visit milklife.com/give for more details. Donations through the end of December will be matched!