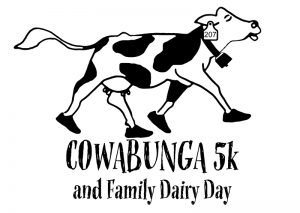 Sunday, June 25, 2017
SEE RESULTS FOR 2017 HERE: https://my.racewire.com/results/33524
Thank you to everyone who came out for the race!
The day starts with a family-friendly 5k race around Back Cove in Portland, beginning and ending at Fleet Feet on Marginal Way at 9 a.m. There will be many prizes and plenty of chocolate milk for the racers. Stick around for our Family Dairy Day in the Fleet Feet parking lot from 10 a.m. – noon. It's an opportunity to meet dairy farmers, pet a calf, make some ice cream, and more.
Admission to the Family Dairy Day is free and open to everyone. Cost to register for the 5k is $10 for $20 for adults 18 and older.  Registration on-line is available until 7 p.m. on June 24. Registration will be available on the day of the race 7 a.m.-8:30 a.m. in the parking lot of Fleet Feet. Please come early.
Race packet pick up will begin at 7:30 a.m., also at Fleet Feet. Or we will be available for early pick up the night before, 5:30 to 7 p.m. at Fleet Feet.
The race course will begin at Fleet Feet Sports, heading from Bayside Trail next to Fleet Feet, out to Back Cove with a turnaround at Mile 1.5, and finishing on the Bayside Trail next to Fleet Feet.
T-shirts will be guaranteed only to those who register by June 1, remainders will be first come, first serve. Profits from the race will go to the Reiche Community School's summer food pantry, which is part of the Milk2MyPlate program. Register on-line.
For more information, e-mail jami@drinkmainemilk.org or call 207-557-2711.
Thank you to our sponsors: