Valentine's Day falls on Tuesday this year, probably the most unromantic day of the week, not a day you want to spend baking a cake or slaving over candlelight dinner plans. And who had time to shop for VDay meal ingredients in a blizzard? On the upside, Valentine's Day falls on Taco Tuesday, so you already have a winner right there, but if you're looking for something a little more inspired that doesn't require much effort, I have a few ideas.
Breakfast
Overnight Oats – Healthy, simple, ready to go, and easily adaptable to every taste. In a pint mason jar mix 1/2 cup yogurt, 1/2 cup milk, 1/2 cup rolled oats, and 1/2 cup whatever toppings you want. For Valentine's, may I suggest raspberries or strawberries with mini chocolate chips? Mix and place in the refrigerator overnight. The milk and yogurt will soften the oats by morning, and it's soooo gooood.
Stuffed French Toast – This is adapted from this DairyGood.org recipe for Pineapple French Toast.  Using two pieces of bread, spread about a tablespoon of ricotta cheese on one side, add sliced strawberries, or raspberries and chocolate chips, place the second piece of toast on top. It's easiest to seal the two pieces together by cutting off the crust (or cutting out with a heart-shaped cookie cutter). Submerge in your French toast mixture of eggs, milk and vanilla and place on a hot, buttered skillet, browning both sides. Top with maple syrup and some yogurt or whipped cream, and you've got yourself a decadent Valentine's breakfast that is ready in no time.
Banana Strawberry Bread –
2 cups flour
1 tsp baking powder
2 eggs
1/2 cup buttermilk
1 cup sliced strawberries – fresh or frozen
3 bananas – mashed
1 tsp vanilla
1 cup mini chocolate chips (optional)
Directions: Preheat oven to 350. Mix flour and baking powder, lightly mix eggs, vanilla and buttermilk, combine together and add bananas and strawberries. Pour into buttered bread pan (will cook faster if divided into two bread pans). Bake until a knife can be stuck in the middle and come out clean.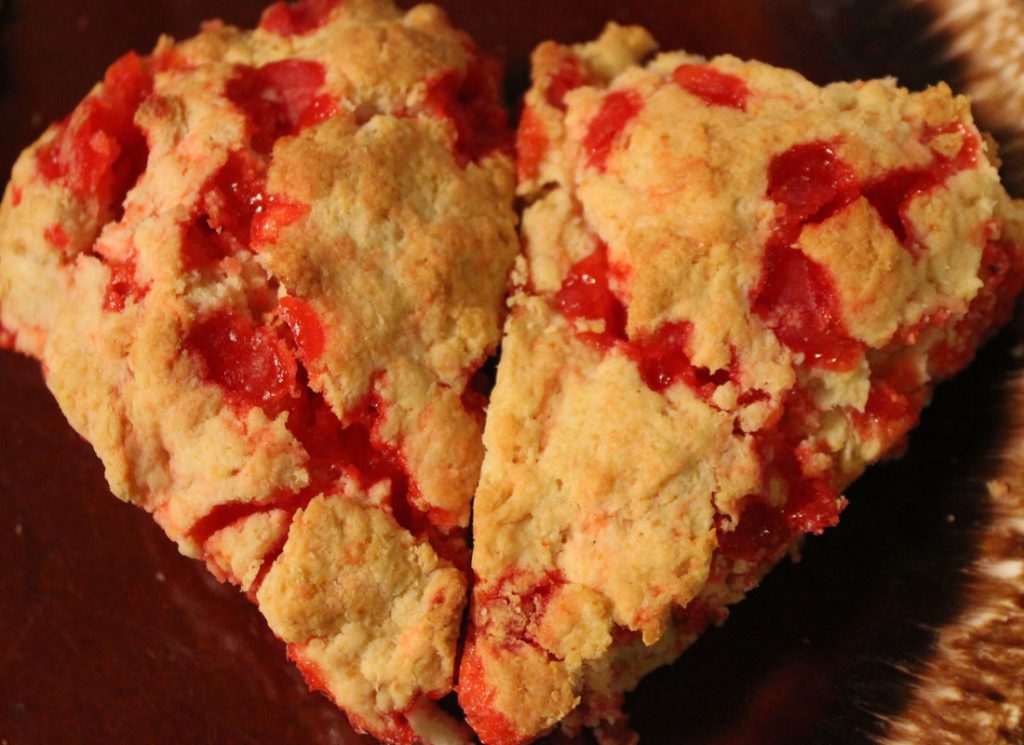 Cinnamon Heart Scones
Adapted from: http://allrecipes.com/recipe/79470/simple-scones/
2 cups flour
1/3 cup sugar
1 tsp baking powder
1/4 tsp baking soda
1/2 cup (1 stick) cold butter, cut into small pieces
1/2 cup sour cream
1 egg
1/2 cup cinnamon hearts (or mini chocolate chips or dried cranberries or currants)
Directions: Preheat oven to 400 degrees. Mix dry ingredients, cut in butter, mixing into flour until granular. Add cinnamon hearts. Add egg and sour cream, mix together (use hands) until fully incorporated and dough ball has formed. Press into a 3/4-inch thick circle and place on cookie sheet, cutting into 8 equal triangles (or use a scone pan). Bake for 15-17 minutes.
Lunch
A heart-shaped cookie cutter can come in handy on Valentine's. Send the kids to school with heart-shaped PB&J, or for an at-home lunch how about grilled cheese and tomato soup (made with milk of course).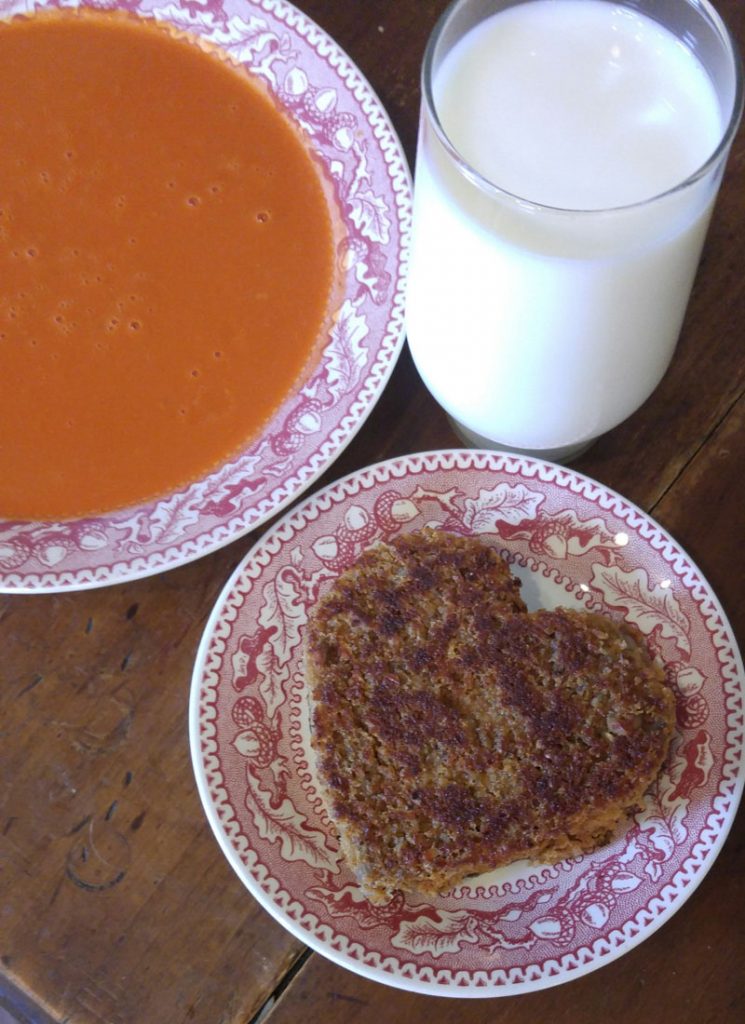 Or if you're in the mood for salad, try a simple one of spinach, sliced strawberries with pecans or cashews and crumbled feta or other cheese on top. Drizzle with a balsamic or raspberry vinaigrette.
Supper
Again, it's Taco Tuesday, and you could get take out or make delicious tacos at home pretty easily – don't forget the sour cream and cheese. Tacos might not seem romantic, but who doesn't love tacos? And who wouldn't feel loved if served tacos for dinner?
Another simple option would be pizza. Pizza is not junk food, and you can really dress it up and make things a little fancy. A store bought crust will save you some time, or use your favorite crust recipe. I like this one for corn bread pizza crust:
1 cup all-purpose flour
1 cup corn meal
1/2 cup butter
2 eggs
3 Tbsp of cream or milk (or more if needed)
Mix flour, cornmeal butter and eggs together, add milk tablespoon by tablespoon until consistency is right.
Try different cheeses, and think outside of the box when it comes to toppings. One of my favorites is bacon, spinach and onion, or barbecue chicken or barbecue pork and pineapple, or this one (see below) is simply cow's milk chevre (or the smoked ricotta I will talk about in a second would be amazing) spread on the crust, then topped with roasted tomatoes, spinach and fresh mozzarella.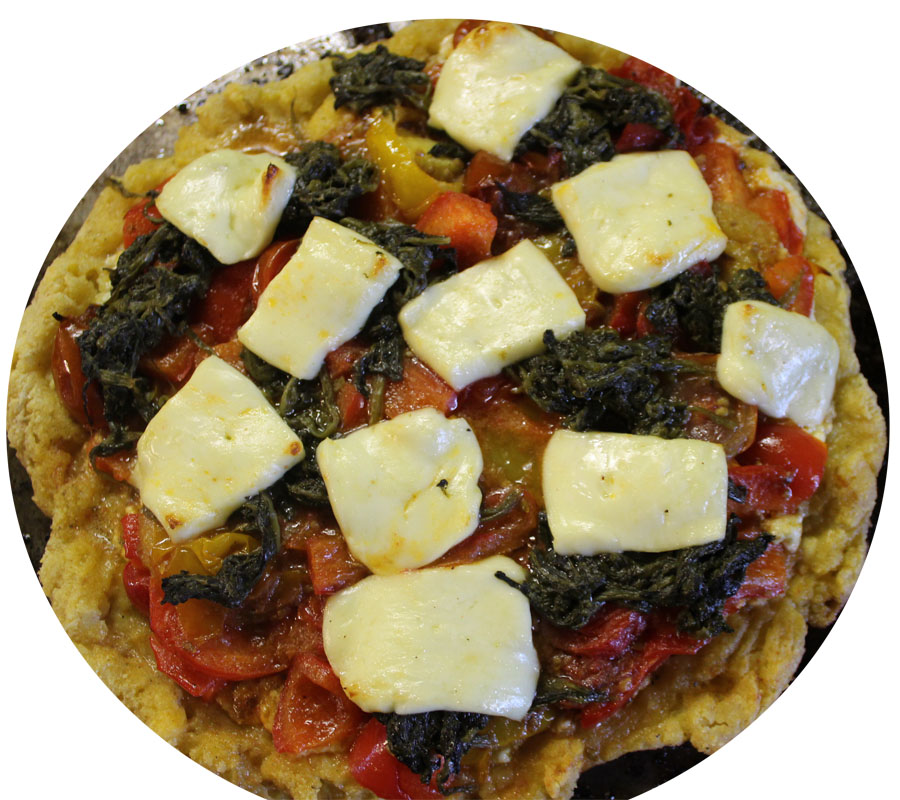 Dessert
First of all, I have to credit an episode of Pati's Mexican Table for inspiring much of these dessert ideas.  Her No Bake Chocolate Pie would be perfect for a Valentine's Day dessert. She uses ricotta, chocolate and whipped cream for the pie filling, so simple. She also got me thinking about how to use the Applewood Smoked Ricotta from Crooked Face Creamery in Norridgewock. While any ricotta would work, I thought the smoked ricotta might add a nice element of surprise.
Like I said, the smoked ricotta would be great on a pizza or almost any dish, but I wanted to try it in a dessert. I mixed 2 cups or 2 6 oz. packages of the ricotta, with 1 cup of melted bittersweet chocolate chips (I actually used 60% cacao chocolate chips), and added 3 teaspoons of espresso powder. This made for a perfect frosting or filling.
To try it another way, I whipped a pint of cream (with a little added maple syrup), I added about half or a little better of the whipped cream to the ricotta and chocolate to make a mousse texture (the remaining whipped cream is for topping. Putting the mousse into a fancy glass, I topped with raspberries and whipped cream. The mixture of the tart raspberries and smoky ricotta was fabulous!
Chocolate Ricotta Mousse
2 cups ricotta
1 cup chocolate chips (melted in a double boiler)
1 pint of whipping cream
Raspberries
Directions: Melt chocolate chips in double boiler, mix into ricotta (at this point you can use as frosting). Whip the pint of cream, folding half or a little more into the ricotta and chocolate. Top with raspberries and remaining whipped cream.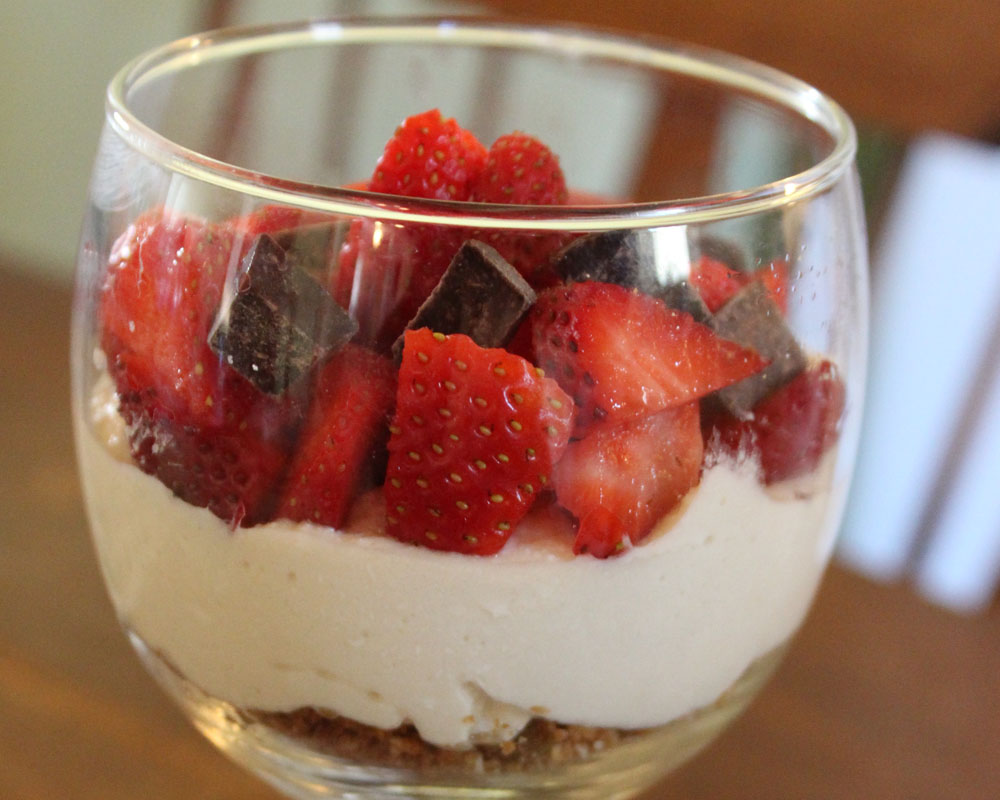 If you're trying to keep things a little healthier, simply make parfaits of yogurt and fruit (with a little chocolate if you wish. Crush cookies or granola in the bottom of your glass. Mix yogurt, ricotta, and a teaspoon of vanilla for more of a cheesecake taste.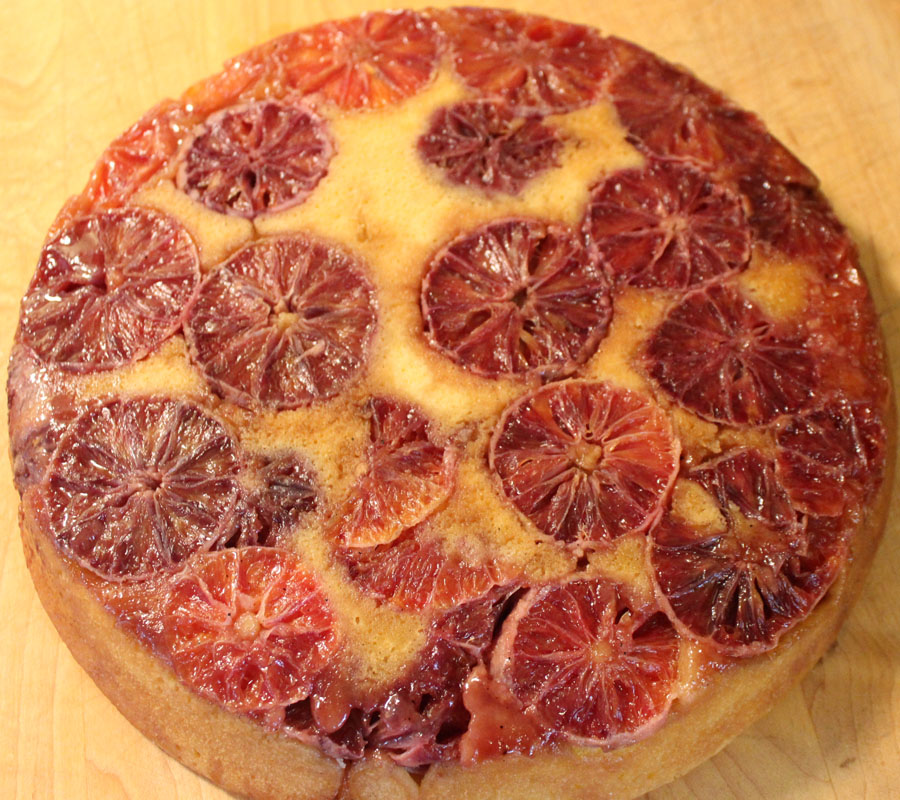 Upside Down Blood Orange Cake
I know raspberries and especially strawberries get all the attention on Valentine's but really, I think there is no more romantic fruit than the blood orange, and citrus is in season this time of year. The following recipe was made in my large cast iron skillet. For a smaller cake, subtract 1 cup of flour, 1 tsp baking powder, 1 egg, and slowly add the last 1/2 cup of buttermilk, stopping when the batter reaches cake consistency.
4 Tbsp butter
4 Tbsp brown sugar
3 cups flour
2 tsp baking powder
2 tsp vanilla
1 1/2 cups of buttermilk
3 eggs
1/2 cup honey
Zest and juice of two blood oranges
3-4 blood oranges sliced thinly with rinds removed
Directions: Heat oven to 350 degrees. Melt butter in large cast iron skillet, along with brown sugar. In a bowl, mix dry ingredients. Mix eggs, vanilla, buttermilk, honey, and orange juice. Combine with flour mixture. Lay sliced oranges to cover the bottom of the skillet. Pour in cake batter and bake in oven until cake starts to pull away from the edge of the pan and becomes golden brown. Allow to cool slightly before turning pan over to remove cake (you may have to run a knife along the edge of the cake to get it to release).