Some people live their entire lives without their dreams ever coming to fruition, never daring to take the leap to see them realized. At 17 years old, Maine dairy kids Kaicey Conant and Megan Caruso made a big check mark on their bucket list by showing at the North American International Livestock Exhibition (NAILE) in Louisville, Ky., this month.
"We were really lucky to be able to go," Megan said at the recent All-Star Dairy 4-H Club annual awards night in Gorham. "Thanks to my dad and to the Conants for convincing my dad to let me go."
Megan and her father Travis of Martin Place Farm in Gorham, Kaicey and her parents Dennis and Heidi of Conant Acres in Canton, along with fellow young dairy farmer and 4-Her Emily Fisher of Topline Farm in New Hampshire and her father and all three ladies' cattle (Kaicey's Holstein, Megan's Ayrshires, and Emily's Guernseys) traveled to NAILE, which is the largest all-breed, purebred livestock event in the world. Although Kaicey and Megan have been to the Big E in Springfield, MA., they still weren't prepared for the immensity of the Kentucky show.
"It was definitely the experience of a lifetime," Kaicey said. "I had no idea it was going to be that big." Both ladies said it was thrilling to just see the enormous show ring and NAILE's trademark dyed green shavings.
While its been a long-time dream for Megan and Kaicey, since they both started showing their family's dairy cattle a decade ago, the trip became a reality this year because both felt they had quality show animals that could do well on the national stage.
"They were winning everywhere," Kaicey said, "including Eastern States."
"That's when we started talking about it," Megan added.
Kaicey took her Holstein Tango, and Megan took her Ayrshires Gem, a 3-year-old cow, and Martha, a winter calf. Emily's family raises Guernseys. "Every day was a different breed show, so we helped each other out," Megan said. "One day there were eight people working on one cow."
"It was not 'I have to beat you in showmanship, so I'm not going to be your friend today,'" Kaicey added. "It was 'I will help you get your heifer ready. Then we'll get my cow ready.' We were there to cheer each other on."
The competition was stiff, the best of the best from around the country with 10-15 cows in each class.
"The quality of the animals was more than I had ever seen," Kaicey said.
"It was the biggest number of Ayrshires I had ever seen," Megan said.
In the end, Megan earned second in the junior show and fourth in the open with Gem and fifth in the junior and fourth in the open show with Martha. Tango and Kaicey earned fourth in the junior and open as well as Best bred and owned in the open show.
Hopefully, this won't be a once in a lifetime opportunity for Kaicey and Megan. It will depend on the quality of their animals, but they see more trips to Louisville in their future and are already taking about taking on another big show in Syracuse in April.
Megan and Kaicey were certainly thankful to have the opportunity to go to Louisville and to their parents who helped make it happen for them. As this is the Thanksgiving season, I thought I would offer a couple of recipes for the Thanksgiving table. I have two recipes – one for before dinner and one for after.
Golden Raisin Pecan Scones (for breakfast Thanksgiving morning.)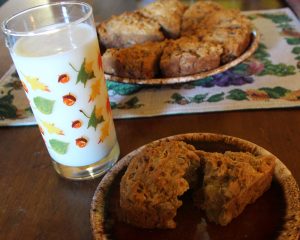 2 cups flour +extra
1 tsp baking powder
1/2 tsp baking soda
1 tsp cinnamon
1/4 cup cold butter
1/3 cup honey or sugar
1 cup sour cream (or buttermilk)
1 egg
1/2 cup golden raisins (or regular raisins)
1/2 cup chopped pecans (or walnuts)
Instructions: Preheat oven to 350 degrees. Combine egg, sour cream (or buttermilk) and honey in a bowl, whisk together and set aside
Sift dry ingredients and then using pastry cutter or fingers, work the butter into the flour mixture until you have small clumps. Add the raisins and pecans, mix well and then stir in the wet ingredients until fully incorporated. If batter is too wet and sticky, add a sprinkle or two of  flour and knead in. Divide dough and place in scone pan or turn out of bowl onto floured surface and work into a thick, round shape that you can then divide into six wedges and place on baking sheet. Bake for 20-25 minutes or until tops are slightly browned and crisp and scones are cooked all the way through.
Sweet Potato Ricotta Cheesecake
I was debating between making a sweet potato cream pie and a cheesecake. This is some where in between – lighter than a standard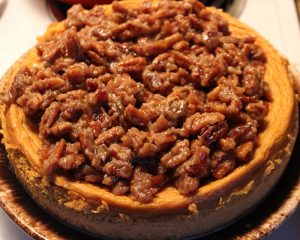 cheesecake, but with eggs and ricotta. Also, feel free to make this with your favorite crust – a graham cracker or ginger snap. I thought the pecans on top were plenty and opted for no crust – it's nice to have a gluten free option on the dessert table as most family's probably have someone with a gluten intolerance.
Ingredients:
2 cups (about 2 large) sweet potatoes, cooked and mashed
2 cups ricotta cheese (1 15 oz. container)
4 eggs separated
1 pint (2 cups) cream (divided)
1 cup maple syrup (divided)
1 tsp vanilla
2 tsp cinnamon
1/4 cup butter
2 cups chopped pecans
Instructions: Preheat oven to 325 degrees.
Using a mixer, blend sweet potatoes, 1/2 cup maple syrup, ricotta, egg yolks, vanilla and cinnamon together. Whip 1 cup of the cream until stiff, fold into the mixture. Whip egg whites until stiff, also fold in. Pour mixture into your spring form pan and bake for about 45 minutes – until outside is firm but middle is still jiggly. Turn oven off, but leave cheesecake in with the over cracked until it cools. Then put in the refrigerator for at least an hour or overnight. In a skillet, melt butter, add 1/2 cup maple syrup, stir and let bubble for about five minutes. Add 1 cup cream, stir and let bubble, occasionally stirring so that it doesn't burn on. Allow to bubble and thicken for about 10 minutes. Add pecans, stir until pecans are covered, let boil again until it starts to cook down and coats the pecans (about 10 more minutes). Allow to cool, and then spoon on top of chilled cheesecake.