Put down the cell phones and take the time to eat breakfast and be active each day, New England Patriots' free safety Duron Harmon told a crowded auditorium of Westbrook High School students on Thursday, March 30.
"Eating breakfast in the morning takes 10, 15 minutes. Exercising takes an hour. All we got to do is put down our cell phones and do it," he said as the crowd erupted into applause.
Harmon was at the school as part of a Fuel Up to Play 60 assembly, celebrating school breakfast and the achievements of Angelica Johns, a freshman at WHS and the state ambassador for the Fuel Up to Play 60 program in Maine. Funded by dairy farmers across the nation, Fuel Up to Play 60 is an in-school nutrition and physical activity program launched by National Dairy Council and NFL, in collaboration with the USDA, to help encourage youth to lead healthier lives and empower them to make a difference within their school's wellness environment. It has given Johns and fellow WHS student Madison Damon, who was the state ambassador two years ago, the opportunity to travel to regional and national leadership summits and meet like-minded students from across the country. Damon also recently received a $7,500 SAP Bill McDermott College Scholarship thanks to her involvement with Fuel Up to Play 60. This year, Johns championed for a breakfast cart at the school to give students a second chance at grabbing a healthy breakfast in the morning if they did not choose to eat in the cafeteria when they first arrived at the school.
Harmon referenced research that has shown that students are more focused and perform better in school when fueled by a healthy breakfast in the morning, even if it's "just a banana and yogurt."
"Breakfast is the most important meal of the day," he said. "It gives you energy to accomplish the things you want to do, to improve academic performance and test scores."
He also stressed the importance of being active for a minimum of 60 minutes each day, not only to stay in shape but as a way to build confidence and self esteem. "We live in a world that wants to tear everybody down. I love social media; I'm on social media, but if you ever look at the things that are going on in social media and how people are always clowning people, want to just talk down to them, that's the world we live in," he said. "You're going to be in a world, where you have your goals and you have your dreams and not everybody is going to see your vision, and at the same time, they are going to try to tear it down. If you could do something like physical activity that could build your confidence up so that you have the confidence to stand up to them and let them know, 'You are not going to knock down my dream. You're not going to tell me I can't do this. I'm going to do whatever I want to.'"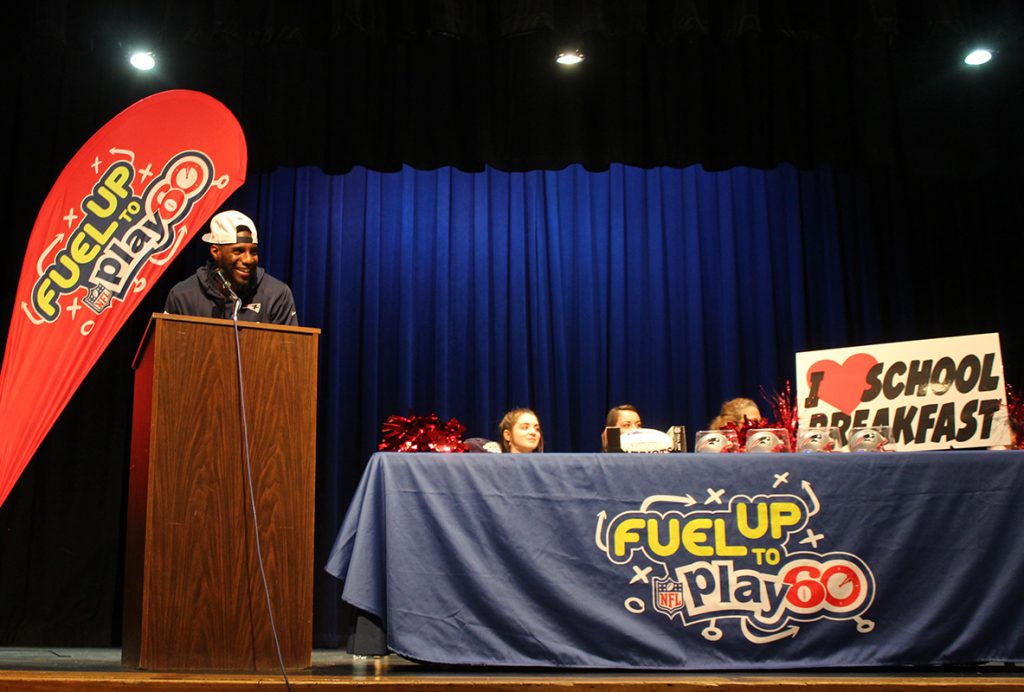 Harmon said that exercise or physical activity didn't mean they have to go to the gym to work out each day. It could be as simple as playing a pickup game of basketball with friends, throwing a Frisbee or going for a run or a walk. He added that physical activity is also a stress reliever, and high school students can experience a great deal of stress.
By taking the time to eat breakfast, which would allow students to better learn and continue to improve themselves, and by taking the time to exercise to build their confidence, they are not only becoming better students but becoming better people because they are living a healthier lifestyle, Harmon said.
"Before you can go forth with your goals and reach them, you have to remember that before you can change the world, you need to change yourself," he said.