I haven't done a good brunch in a long time, but there's no better reason than Easter to lay out a mid-morning spread to share with family. And since Maine Maple Sunday falls on Easter this year, it's a great reason to go heavy on the maple syrup! Here are a few ideas for your Easter get together.
To begin with, I have a simple suggestion rather than a recipe. At one time, I thought it to be common knowledge, so I know many of you will be thinking, "Well, duh." But it turns out that not everyone does this. The secret to light and fluffy scrambled eggs? Cream, or you can use milk, but cream gives that extra little umph. About 1/2 cup of cream to 4 eggs works perfectly. Get your frying pan hot, melt the butter, and whisk your eggs and cream together in a bowl before pouring them onto your frying pan. Proceed as usual. Now, a suggestion to serving them? Swimming in maple syrup. I remember going to a brunch with my family at a sugar shack in Quebec (we live relatively close to the Canadian border). There was a room filled with long tables, and you sat with family and strangers alike. The tables were all laid out with home-cooked samplings, and one of my favorites was a big bowl of eggs and maple syrup. If not topping my eggs with cheese, I will top them with maple syrup (or both).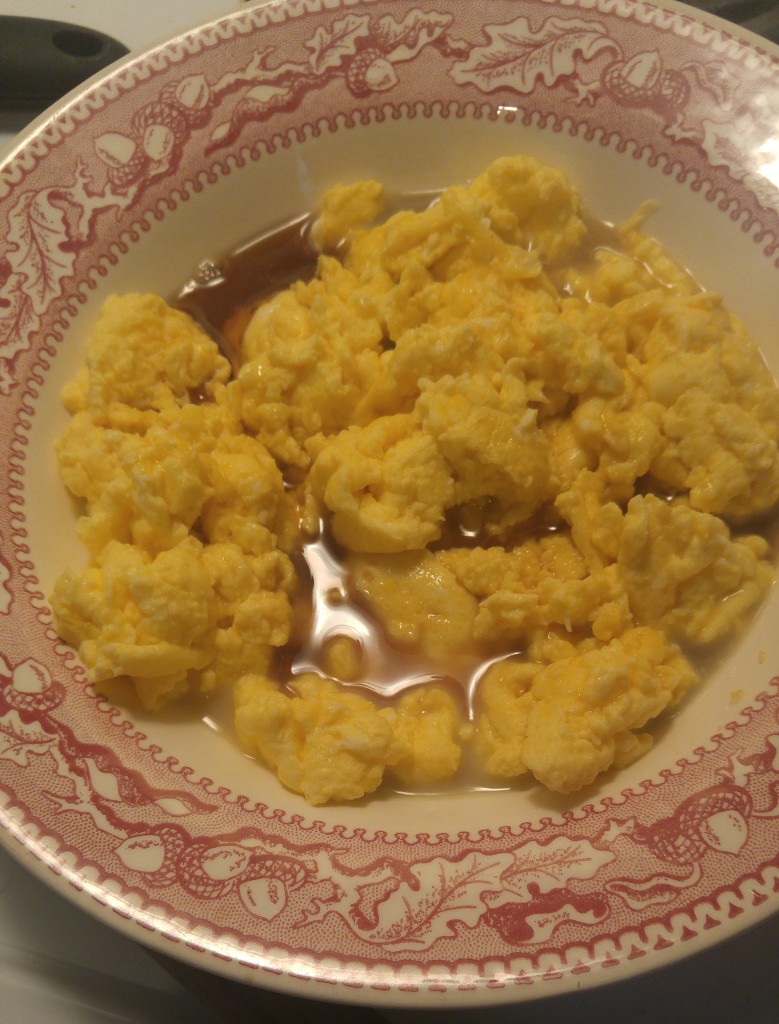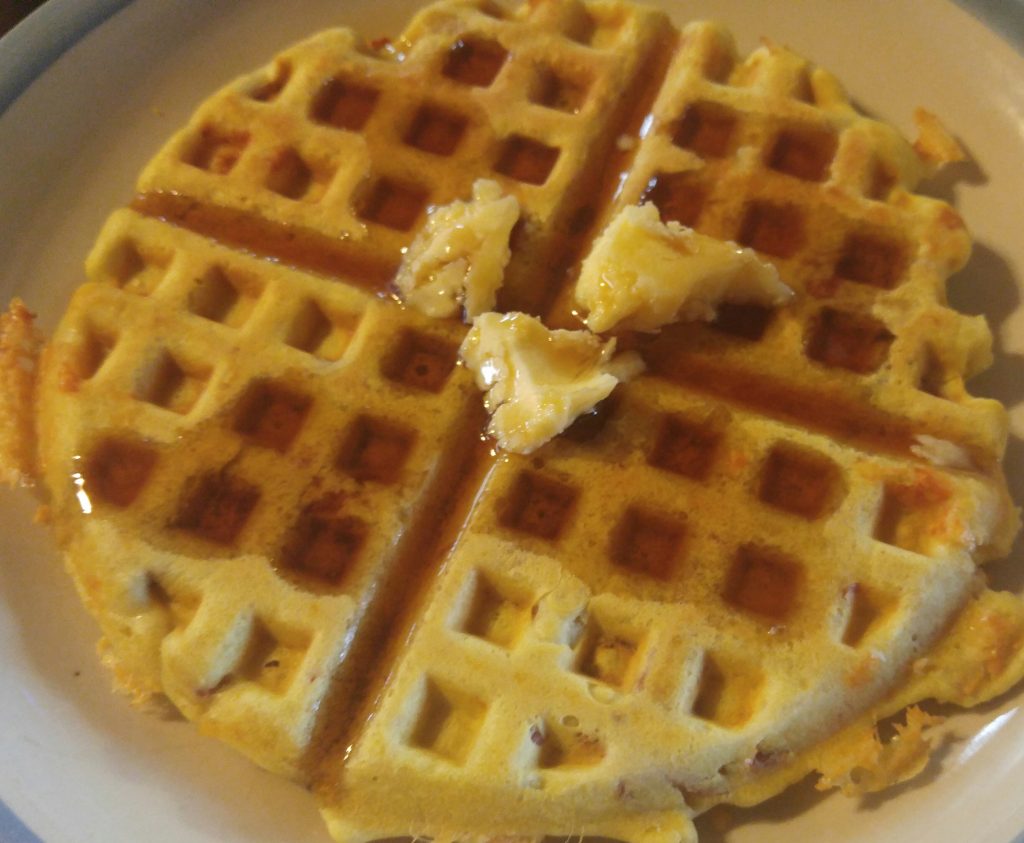 I recently inherited a waffle maker and have used it every weekend since. This Easter weekend, it will be cranking out some of these Ham and Cheese Waffles. You can simply add your favorite cheese (cheddar always works nicely) and some ham to any waffle batter, but here's how they are done in my household. I doubled my usual recipe for a larger gathering.
Ham and Cheese Buttermilk Waffles
2 cups flour
2 eggs
2 tsp baking powder
1 1/2 cup of buttermilk*
1 cup grated cheese
1 cup chopped ham
*Depending on the flour you use, you might not need all the buttermilk. Start with 1 cup and then add as the batter needs it.
Start heating your waffle maker. Mix dry ingredients and then add in the wet and mix well until fully incorporated. Pour or spoon the batter onto your waffle maker.
For a special/different pancake experience, try dutch baby pancakes. Here's a quick simple version. I like anything I can bake in my cast iron skillet.
Blueberry Dutch Baby Pancakes
1/2 Cup flour (I used Buckwheat)
1/2 Cup milk
1/2 cup blueberries
3 eggs
1 tsp vanilla
Pre-heat oven to 375 degrees. Thoroughly butter your cast iron skillet and put it in the oven to warm for about 10 minutes. Mix ingredients thoroughly and pour into the warm skillet. Should bake 15-20 minutes.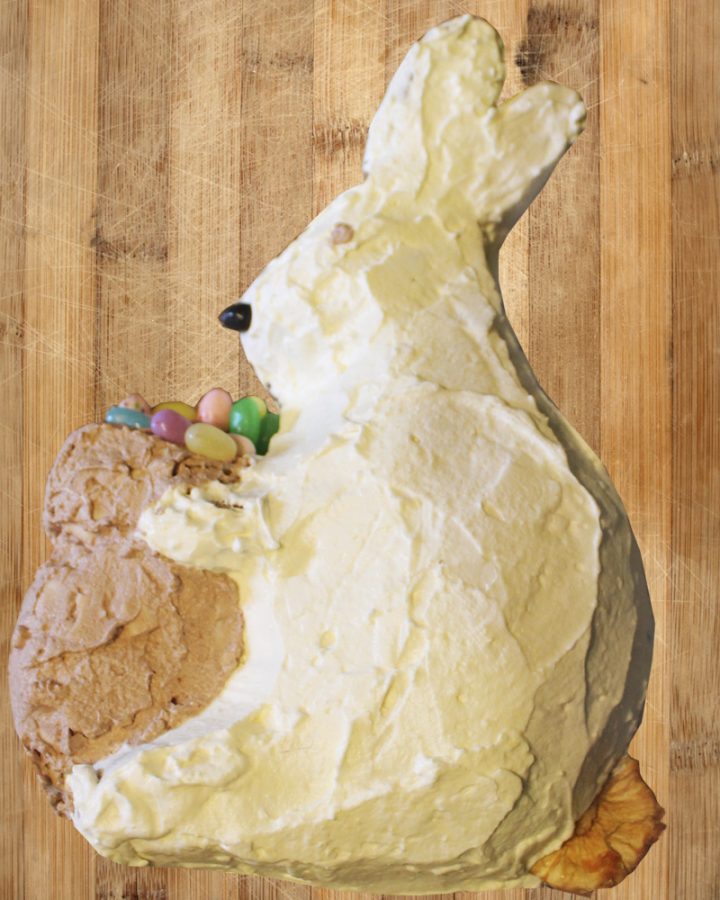 I have never been a decorative cake person – I don't have the patience, but I had a moment of weakness and purchased an adorable Easter bunny-shaped cake pan. Then I couldn't decide what kind of cake to make in it though. Rabbits mean carrots, so carrot cake was an obvious choice, but flavors like lemon and coconut say "Spring!" to me. So, I made two cakes.
Lemon Cake with Coconut Mascarpone "frosting"
1 1/2 cups of flour
1 tsp baking powder
1 tsp. Almond or Vanilla extract
2 eggs
1 cup yogurt
1 cup sugar or 1/2 cup honey
1/2 cup buttermilk
2 lemons (zest and juice)
For the "frosting"
1/2 cup of whipping cream
4 oz. of mascarpone cheese
1/2 cup coconut (shredded or chips)
1Tbsp honey or sugar
2 tsp unsweetened chocolate/cocoa powder
Preheat oven to 350 degrees. Mix dry cake ingredients, zest your lemons, add to the mix. Mix in the wet ingredients, squeezing the lemon juice in last. Pour into your cake pan. Bake 45 mins or until you can stick a knife or toothpick in and have it come out clean. Wait until cake is completely cooled before you frost it.
Using your mixer, whip cream until it stiffens and then blend in the mascarpone, sweetener and coconut. The chocolate can be used to color the frosting for your basket, so pull out about 1 cup worth of the frosting mix to mix with the chocolate. After my cake was finished, I loved the chocolate flavored frosting so much that I wish I had made a brown bunny with a white basket. So, if you're more of a chocolate fan, use a couple more teaspoons and make the whole thing chocolate.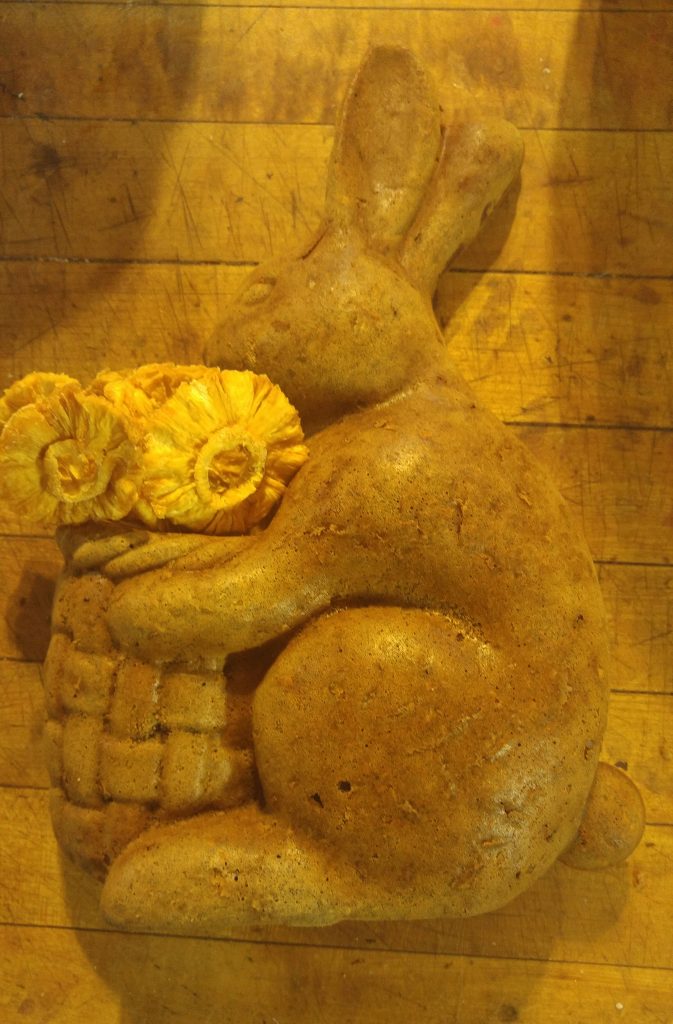 This next one can be made with regular flour, but I made it with the raw (gray colored) buckwheat and it turned out the perfect natural rabbit color, so I decide to not frost it at all. Buckwheat makes a dense cake, but it also lends a great nutty flavor. I don't mind a dense cake, it just means you eat a smaller piece. This would also make for a great Easter breakfast cake as it is not too sweet, almost like a bread.
Easter Carrot Cake
1 1/2 cup flour
1 tsp baking powder (use 2 for buckwheat flour)
3/4 cup yogurt
3/4 cup milk
2/3 maple syrup
2 eggs
1 tsp vanilla
1 1/2 cup grated carrots
1/2 cup shredded coconut
1/2 cup chopped pecans
Dried pineapple rings to decorate (optional)
Preheat oven to 350 degrees. Mix flour and baking powder and then mix in eggs, yogurt, milk, maple syrup and vanilla. Mix in carrots, coconut and pecans. Pour into your cake pan. Bake for 45 minutes or until you can stick a knife or toothpick in and have it come out clean.