By Jennifer Stevens Jones, Moo Squad sponsored athlete
Family traditions help shape our memories, and also help shape our futures. People have traditions in their day to day life, but holidays are typically the most memorable traditions. Some holiday traditions continue from generation to generation, but often traditions have to change to fit different phases of life.
Our family is currently trying to find the holiday traditions that fit our life right now. With two small children, we are trying to combine family traditions and determine which ones we want to carry on with our girls.  Over the last couple of years, the holidays seem to revolve around family and lots of food. Don't get me wrong, the food is amazing and the company is great, but I have been trying to find a way to make the holidays include some type of physical activity or time outside together.
Last Thanksgiving, my sisters and I started one tradition that I hope to carry on year after year; a Thanksgiving morning 5k.  There is a local 5k, The Greely Hockey 5k in Cumberland, that holds a 5k every year (this was the 9th annual) on Thanksgiving morning.  We held Thanksgiving at our house last year, so we put the turkey in the oven before the race and finished everything else when we got back. We all felt like it was a great start to the morning, and really made us feel better as we prepared to eat more food than we actually needed.
This Thanksgiving (last week), we were traveling to our parent's dairy farm (about a 1 hour – 15 mins away), but I still wanted to keep the tradition going, so Keith, Cami, Lauren, and I all ran the 5k as a family.  We bundled the girls up, but it wasn't actually that bad out for us.
While Keith doesn't really enjoy running (i.e. – he hates it), he was a champ, and pushed both girls in the double stroller! Keith finished a couple of minutes ahead of me, so I decided to 'grab' the girls have them finish with me.  I tried to get Cami to run the last little bit of the race with me, but she was not impressed with that idea (as you can see in the pictures).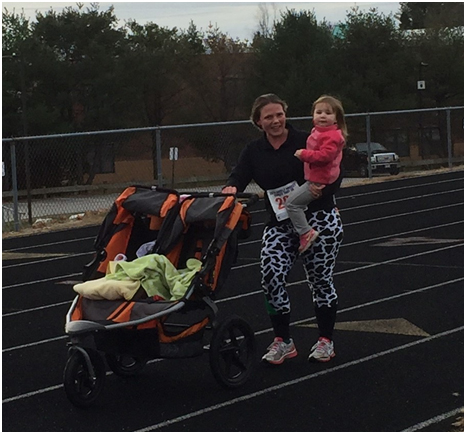 After we finished, we headed north to enjoy the day with our family.
I am hoping that we continue to run a 5k on Thanksgiving Day, and with any luck I can get Keith, Cami, or Lauren to join me every year…maybe they will finish with a smile one day too. J