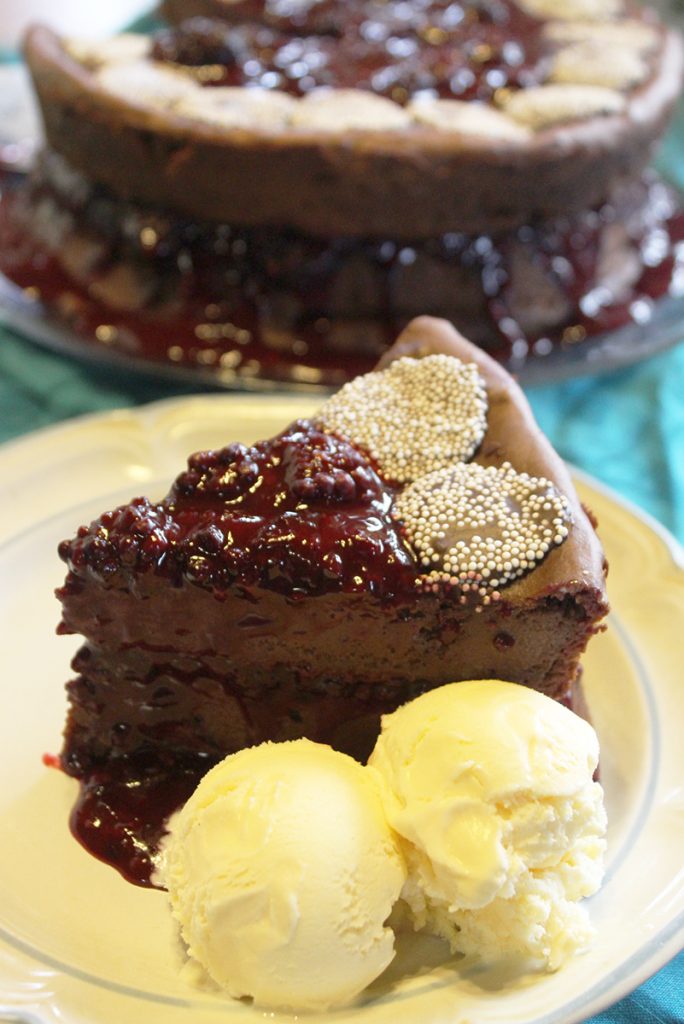 A simple cake that will show Mom how much you love and appreciate her.
Ingredients
2 cup all-purpose flour
1.5 tsp baking powder
2 tsp espresso powder
1 tsp vanilla
2 eggs
1 1/2 cups of plain Greek Yogurt
1 cup milk
1 cup cream
10 0z. dark chocolate baking chips
Nonpareil candies
10 oz. bag of frozen blackberries (or raspberries)
Directions
Preheat oven to 350 degrees. On the stovetop, heat cream to just shy of a boil. In a separate bowl, pour hot cream over chocolate chips and mix until completely melted. Set aside Mix flour, baking powder and espresso powder, followed by eggs, vanilla, yogurt and milk. Mix in chocolate. Split batter between two 8″ greased cake pans. Bake for 20-25 minutes, until you can stick a knife blade in the center and have it come out clean. Let cool, but while still warm, lay a ring of Nonpareils around the outer edge of your top layer. While the cake is cooling, cook down your blackberries and raspberries on medium high heat with just a touch of water to keep from burning on the pan. Mix in 3 to 4 tsp of corn starch to thicken. Allow to cool. Remove cake from pans, lay first layer on your cake plate. Spoon two-thirds of your black berries over the top of your bottom layer, let run down the sides. Set top layer of cake on and then spoon the remainder of the blackberries inside the Nonpareils.