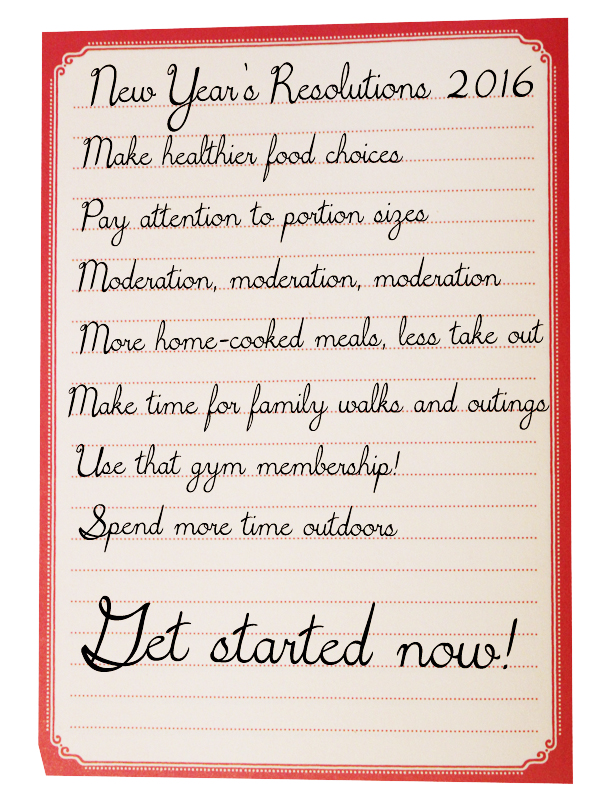 Dietitian Tips to Get You Through the Holidays and Beyond!
It's no secret that the holiday season can be a challenging time if you are actively trying to make healthier food choices and/or lose weight. Or maybe you are planning on a fresh healthier start in the New Year. Whatever your plans, I encourage you not to put your health goals on hold until 2016. It IS possible to enjoy the coming weeks while keeping your health in mind, and there is no time like the present to start practicing healthier eating habits!
This time of year our normal routines get thrown off by the hustle and bustle of the season, there are numerous celebrations with friends, family, and co-workers, and there are displays of tempting seasonal foods at the grocery store.  Even for dietitians like myself it is sometimes hard to follow my own advice of balance and moderation (especially when I am faced with a wedge of double cream brie…yummm!). Here are my top three tips for healthy eating during the holidays, but the principles below are relevant to healthy eating habits all year round! I have also provided a favorite recipe of mine that has been a hit with customers, Hannaford associates, community groups, and even on football Sundays!
• Set up your environment for success. As hard as it can be to resist the seasonal foods in the
grocery store, they are even more difficult to resist when they are in your house! Be mindful about what foods you bring into your home and try to not to rely solely on willpower; it is finite.
Instead of keeping holiday treats in the house at all times, buy them for a gathering where you know they will be shared with multiple people. Furthermore, try to avoid making candy a Christmas decoration. People can easily swipe a few pieces every time they go by the bowl and end up taking in excess calories without even noticing. Alternatively, put out bowl of clementine oranges, grapes, or apples to encourage healthy snacking.
• Prepare yourself for potlucks. Firstly, have a nutritious snack or small meal before heading to your next party. By doing this, you won't arrive feeling famished and overeat. Secondly, browse the buffet before you dish up. Take a minute to scout out the options and decide what you really want and what items you can do without. Lastly, make your contribution a healthy one. Bring a veggie platter, fruit salad, or healthy dip (hint: recipe below!) and you can rest assured there will be at least one item there that won't bust your calorie budget!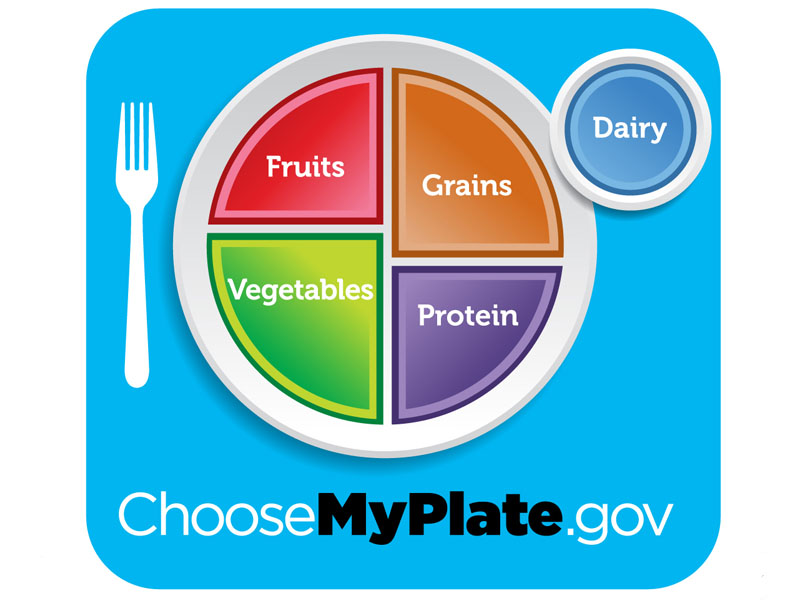 •Balance your (smaller) plate! Keep MyPlate (choosemyplate.gov) in mind when dishing yourself up: make ½ your plate veggies and fruit, ¼ grains, ¼ protein foods and round it out with some low-fat dairy! By filling our plates with mostly fruits and veggies, we get more nutrition for less calories overall. Using a small plate might be a tip that many people have heard before but it really works! Filling a small plate with food tricks our brains and is more satisfying that a large plate with the same amount of food.
Need a quick and easy recipe for your next holiday potluck? I have a sneaky feeling this tasty veggie dip will disappear out of the bowl faster than you can say: "nutritious is delicious!"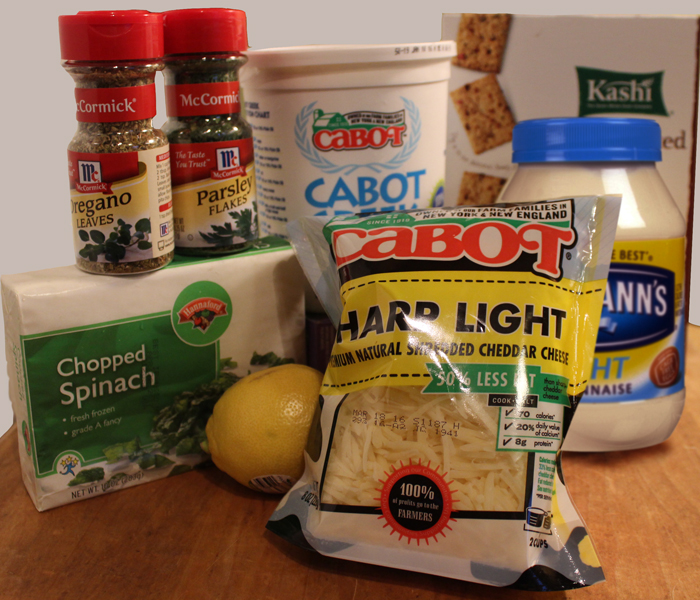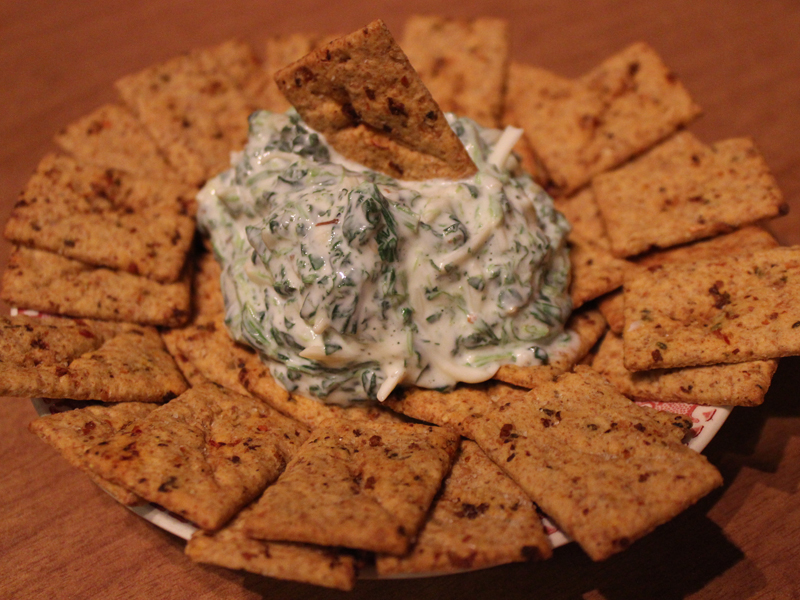 Spinach Dip
Serves: 8
Ingredients:
•    I pkg frozen chopped spinach
•    ½ teaspoon McCormick® Oregano Leaves
•    2 tablespoons McCormick® Parsley Flakes
•    ½ cup green onions, chopped
•    ¼ cup Hellmann's® Light Mayonnaise
•    ½ cup Cabot® Sharp Light Cheddar Cheese, shredded
•    ¾ cup Cabot ® Greek Nonfat Plain Yogurt
•    Juice of 1 lemon
•    Kashi® crackers
Directions
1. Thaw and drain frozen spinach.
2. In a bowl, combine yogurt and mayonnaise first, then add spinach, spices, onion, and lemon juice.
3. Serve with Kashi crackers and colorful vegetables.
Nutrition Info (per serving): 58 calories; 4g total fat: 1g saturated, 1g monounsaturated, 2g polyunsaturated; 4g carbohydrate, 3g protein
Disclaimer: As a Hannaford dietitian, I use carefully selected products from our sponsors in recipes and demonstrations to communicate science-based information about healthful eating. For more information about our sponsors, please visit http://www.hannaford.com/Dietitians.
From DrinkMaineMilk.org: We are so excited to be working with Andrea Paul, a registered dietitian with Hannaford Supermarkets. With so much information out there regarding healthy eating, it can be difficult to know what is true, which is why it is great to have someone like Andrea, who is a credible resource about health and nutrition. Andrea has not been compensated by the Maine Dairy & Nutrition Council or Maine Dairy Promotion Board for this blog, and her thoughts are her own.