The week of March 7-11 is National School Breakfast Week, but many of us don't gain an appreciation for how important breakfast is until we are in our adult years. This special blog post comes from the newest member of our Moo Squad – Ashley Sears, Esq. A runner, Ashley is also the marketing specialist for the Maine Department of Agriculture, Conservation and Forestry. 
Growing up, we often can recall our mothers telling us to eat our breakfast, as "it is the most important meal of the day."  I typically chose a few more minutes of sleep, grabbed a pop-tart on my way out the door, or skipped breakfast entirely.  I was used to early mornings on the farm and looked forward to the mid-morning coffee break with my family on the weekends.  We'd share a sit-down breakfast together, usually consisting of eggs, bacon or sausage, and toast, and a cup of coffee (I think after "cow" or "milk", every farm kid's second word is "coffee").  During the school week, it was a different story, as I neglected to heed Mom's sage wisdom and settled for sugary treats, leftovers from last night's dinner (spaghetti is an acceptable breakfast, right carb-loving athletes?!), or listened to my stomach growl while I waited all morning for the lunch bell to ring.  Little did I know that when I started life in the real world and had big girl responsibilities, how much I would love breakfast!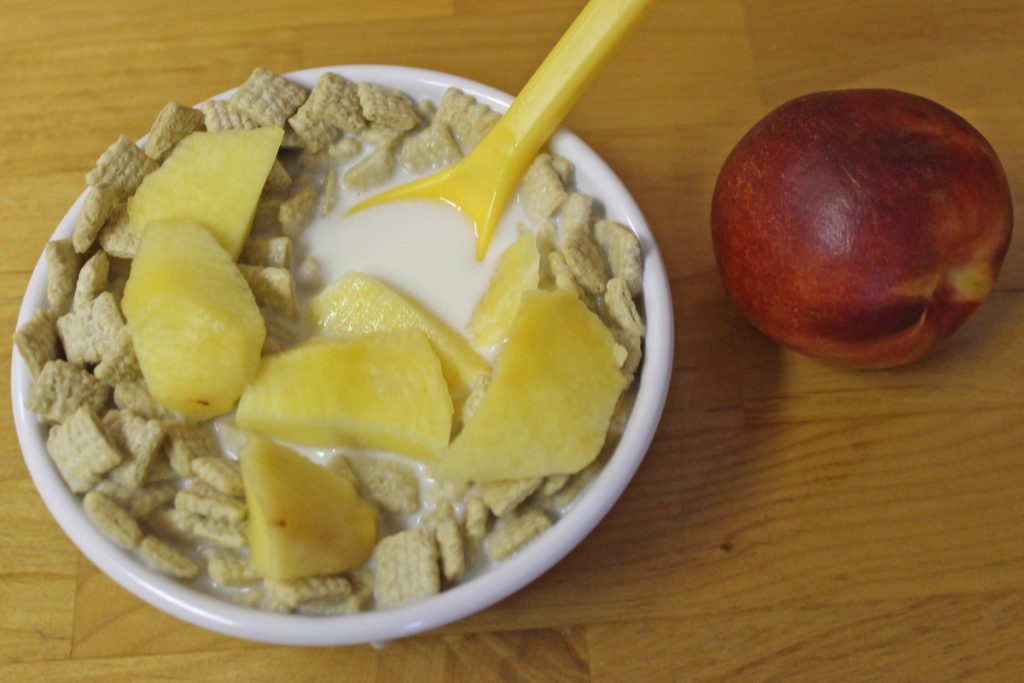 As I found a passion and stress reliever in running during law school, I started to read more about the importance of breakfast for fueling our muscles, helping to maintain a healthy weight, keeping us attentive during the day, and even improving our moods.  The key is to choose the right breakfast foods though, saying no to sugar-laden pastries and cereals and instead, choosing a meal that contains protein, fiber, and key vitamins and minerals.  By opting for a yogurt parfait instead of a sticky bun, our bodies tend to stay more energized, alert, and keep us going throughout the morning without "hitting a wall."  Doctors, nutritionists, trainers, teachers, and parents alike have all recognized the importance of a healthy, nutritious breakfast and encouraged more programs and initiatives to help aid their efforts.
The National School Breakfast Week program was founded in 1989 through the collaborative efforts of the United States Department of Agriculture (USDA) and the School Nutrition Association.  The program provides over 13 million breakfast meals to school-aged children, regardless of economic background, helping students to be alert and productive during the school day.  This week, March 7-11, marks National School Breakfast Week.  Additionally, throughout the month of March, we recognize and celebrate National Nutrition Month.  This provides an opportunity to talk about healthy lifestyle choices, recipes that taste good and are good for you, and how we can eat well while still leading hectic and busy lives.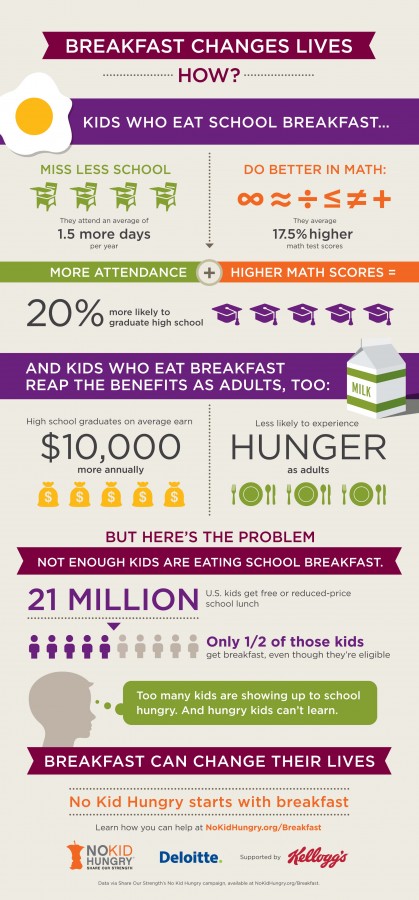 As a farmer's daughter and dairy-loving girl, I include dairy in my breakfast each morning.  To celebrate National School Breakfast Week, I've provided five recipes to help kick-start your day!  Whether you're currently a breakfast person or just joining us crazy people that call sleep our time machine to breakfast, these recipes offer healthy, creative options for you to try.  Hopefully by the end of the week you'll be hopping on the breakfast train and realizing that we shouldn't celebrate for only a week, but rather every day…because breakfast is just that amazing!
Recipes from Ashley Sears' Kitchen
Monday, March 7th: PB&J Smoothie
1 cup milk
½ cup strawberry or vanilla Greek yogurt (strawberry gives more of the jelly flavor)
½ cup frozen strawberries
½ a frozen banana
1T peanut butter
1 scoop vanilla protein powder
1T ground flax seed
3-4 ice cubes
-In a blender, combine all ingredients, starting with the liquid ingredients first and then
adding in the protein powder and ice cubes last.
-Blend ingredients until desired thickness, pour into a glass or shaker bottle, and enjoy.
Tuesday, March 8th: Protein Pancakes/Waffle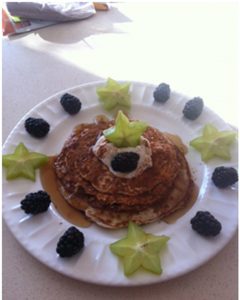 ¼ cup multi-grain oats, ground into a flour
1 scoop of whey protein powder (any flavor that you choose)
¼ cup liquid egg whites, or 3 egg whites
¼ cup plain, non-fat Greek yogurt
½ tsp. baking powder
½ tsp. pure vanilla extract, or any other flavored extract you like
½ tsp. xanthan gum
Cooking spray
Topping:
½ cup fresh fruit (i.e. blueberries, strawberries, berry blend)
Dollop of yogurt
1T pure maple syrup
-Grind oats in a blender until they take on a flour consistency.
-In a bowl, combine all ingredients until they are thoroughly mixed together.
-Over medium heat, spray a skillet pan with cooking spray and cook pancakes for 2-3 minutes on each side (until center of pancake is thoroughly cooked).  Otherwise, cook in a waffle iron.
-Top pancakes with fruit, a dollop of yogurt,  and maple syrup.
Wednesday, March 9th: Maple Parfait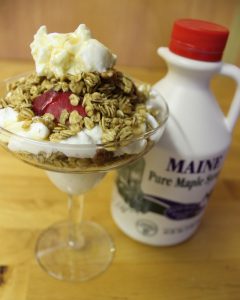 1 5.3oz. container maple Greek yogurt or vanilla Greek yogurt
¼ cup maple granola
1 medium Macintosh apple, sliced
1T pure maple syrup
-Layer ingredients in a tall glass or mason jar, starting with yogurt, then fruit, and then adding granola.
-Repeat layers and top with maple syrup and granola.
 Thursday, March 10th: "Feeling Fancy" Toast
1 slice whole wheat or multigrain bread
¼ cup scrambled egg whites, or 3 egg whites
¼ avocado, sliced
1T salsa
1T sour cream or plain Greek yogurt
½ tsp. chili flakes
(Add black beans for extra fiber if desired)
-Toast bread and then mash avocado on top until it forms a spread
-Add scrambled egg whites, then top with sour cream/yogurt, salsa, and chili flakes.
Friday, March 11th: Berries and Cream Breakfast Quesadilla
1 whole grain/whole wheat tortilla
½ cup fresh fruit (I like to use a combination of strawberries and bananas, or blueberries and raspberries)
¼ cup vanilla, non-fat Greek yogurt
2T non-fat, ricotta cheese
1T pure maple syrup
-Combine fruit, yogurt, ricotta cheese, and syrup in a small bowl.
-Spread mixture in the center of the tortilla and fold in half or into a square. If you have a panini press, place the tortilla inside and let cook until the center of the quesadilla is warm.  Otherwise, heat a pan over medium heat with cooking spray or coconut oil spray and place the tortilla in the pan. Cook until warm on the inside.
-Divide into pizza-slice wedges or eat like a pop-tart, drizzle with syrup and enjoy!