February 9th started out like most post birthdays, and basically like every day. Wake up Cooper for breakfast cereal with whole milk. Does anyone drink the other stuff anymore? Kept an eye out for the impending Snowmageddon and saw a beautiful sunrise. Took Cooper to daycare and headed out to Quarry Road Recreation area in Waterville.
If you are a local and have not checked this place out, I highly recommend it. Over 15k of trails, from rolling hills to steep climbs, and flat track for those speed work outs – truly all you need to train with the added bonus of not being on pavement. In the winter it is groomed for cross country skiing and snowshoeing. Truly amazing. I strapped on my snowshoes, looking for an hour long run. As the miles passed, I could see the fast approaching dark gray clouds, and the sun was gone as I headed home to get ready for work. After returning home I showered and got ready, and I swear it took me less than 15 minutes, and when I came outside, snow had not just begun falling, full whiteout conditions had set in.
I went to work, tackling a few staffing items and preparing Intramurals for the evening with the assumption that Thomas College would close at noon, and it did. I ate my usual lunch of blended yogurt and other goodies (see my other blog posts for recipe), texted with Mandy and headed home around 12:30 p.m., parked the truck in the garage, and shoveled a path for Cooper and Mandy to the garage for their arrival home shortly after.
We all huddled together on the couch with the propane fire stove on, for that extra warmth we all like. We settled in for Harry Potter and the Prisoner of Azkaban and the occasional running of a 5-year-old who refused to wear anything but his underwear. As the movie ended, Mandy and I had decided on burgers and macaroni and cheese for dinner.  This would not be your normal macaroni and cheese though.  Two cups of cheddar and half and half in the cast iron skillet and roasted veggies for good measure, the macaroni and cheese was ready.  See recipe.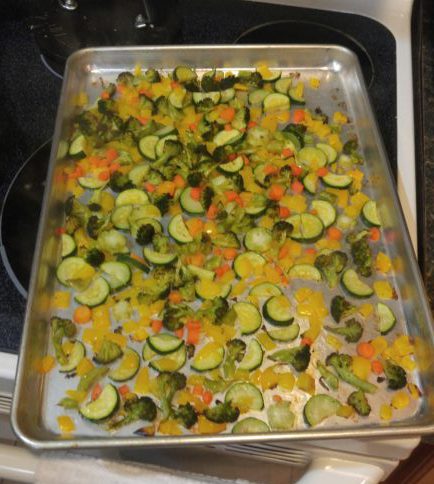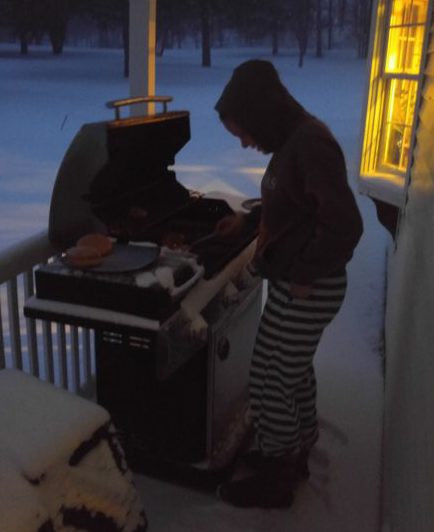 Then came the fun, with Mandy grilling in the snowstorm  and many posts on social media of snow Burpees AKA Snurpees. Cooper and I set out for some of our own. Of course I did them in shorts and a T-shirt, it was cold.
After that we settled down for dinner (photo) an epic game of Uno which as usual I lost.
One last check of the weather and deciding to wait until the morning to snow blow, we got Cooper cleaned up and ready for bed (still in his undies), read him some Harry Potter and the Chamber of Secrets and off to bed he went.  Now to relax and crash as 5:15a.m. snow blowing will come early.  Could not think of a better way to approach a snow day, got my work out in, cuddled with my family, ate great food, and got to be a crazy monkey in the snow with Cooper.  Makes for a happy Dad.