I recently attended the Maine Nutrition Council's annual conference. One of the speakers was Courtney Kennedy, nutrition and education manager for Good Shepherd Food-Bank (GSFB). The reliance of Maine families on food pantries has increased dramatically in recent years because of high unemployment, stagnant wages, increased food prices and costly fuel.
Kennedy shared some staggering statistics:
• 170,000 Mainers or 13 percent live below the poverty line (around $22,000 for a family of four).
• 200,000 Mainers are considered food insecure. Food insecurity means that a family does not know if they will be able to buy all the food it needs before the next paycheck comes in.
• 54,000 or 21 percent of Maine children live below the poverty line.
• 120,400 or 45 percent of Maine's children live in low-income households.
• 86,900 or 32 percent of children received SNAP benefits in 2012, an increase of 40 percent compared to 2008.
• 1 in 4 children is considered food insecure.
Kennedy said 35 percent of Maine's food insecure population does not qualify for government assistance and must rely on charity to feed their family. GSFB is the largest hunger relief organization in Maine, distributing food to more than 600 partner agencies (food pantries, meal sites and youth programs) all over the state. It distributes 14 million pounds of food annual. Because of its size, GSFB has the purchasing power to stretch donations – turning $1 into four meals for a Maine family in need.
Food insecurity costs all of us – to the tune of about $167.5 billion dollars per year nationally, according to a report by the Center for American Progress and Brandeis University. This figure reflects "the combination of lost economic productivity, more expensive public education, avoidable health care costs, and the cost of charity to keep families fed." The majority of that amount – $130.5 billion – is illness costs related to hunger and food insecurity.
Remember that figure of $167.5 billion? What is even more outrageous is that, according to Feeding America's Map the Meal Gap, the additional annual cost required to meet the food needs of those living with food insecurity in the United States is $21.8 billion per year, Kennedy said.
"It costs us more to ignore hunger than it does to eliminate it," she added.
How does the Maine Dairy and Nutrition Council fit into this all? Well, the national association of milk processors (Hood, Oakhurst, Organic Valley, Horizon, etc.) – Milk Processors Education Program (Milk PEP) and Feeding America, which is the umbrella organization of entities like GSFB, have partnered to organize the Great American Milk Drive. The reason behind the Milk Drive is that milk is the most-requested nutritious food product requested but it is rarely donated because of its short shelf life. It averages out to less than one gallon of milk per year for each of the 37 million Americans that are served by food banks. When you hear about non-perishable food drives, milk is obviously not included. Milk is loaded with nine essential nutrients, including calcium and protein. The solution is monetary donations. You can help by donating as little as $5 to the Great American Milk Drive at milklife.com/give or text "Milk" to 27722. When you enter your zip code, it will ensure that the money is given to a food bank in your region. And keep your eyes open for Milk Drive events happening in Maine.
Why is milk so important?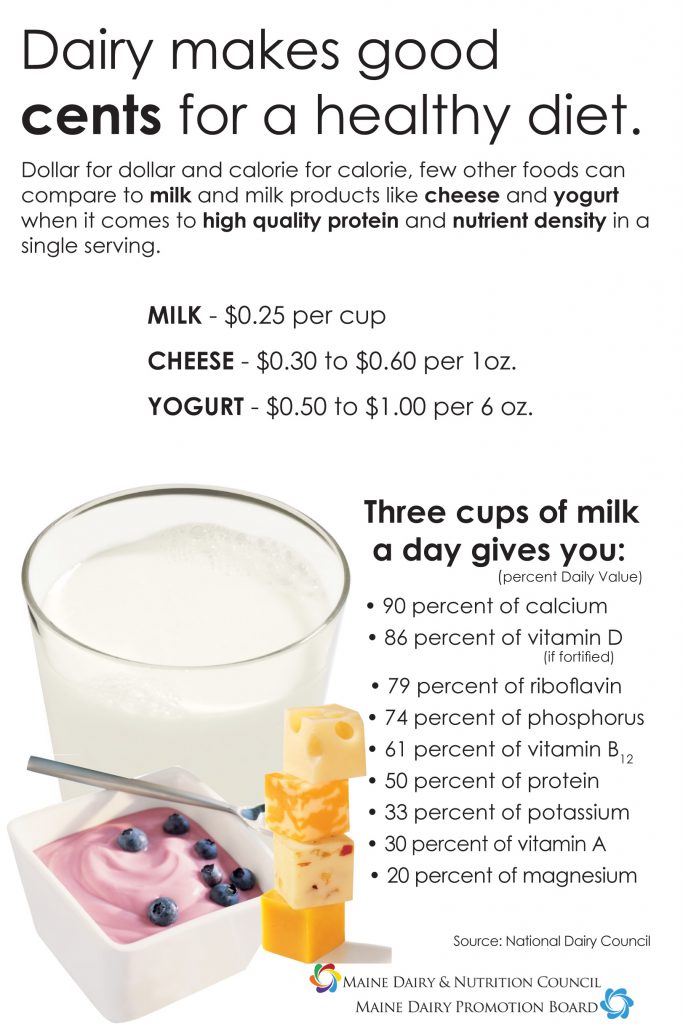 For some great recipe ideas that will help you stretch your own budget, visit Feeding America's Cooking Matters web site at cookingmatters.org/recipes.
As we near the fresh fruits and veggies season (really, it's coming, I swear!), this is an awesome time to get the kids to try different foods and to do it in a fun way. Pizza gets a bad rap as junk food. Obviously salads are a healthy and often scrumptious solution to the what's for dinner question. But let's be honest – which is going to get a more enthusiastic reaction:
"Tonight, we're going to have salad." OR "Tonight, we're going to have PIZZA!" And the crowd goes wild.
Make it a challenge, not challenging. Challenge your child(ren) to come up with the most creative, best tasting, healthiest pizza ever. Make it with a thin, whole grain crust, add some calcium and high quality protein (along with many other nutrients) with cheese, load on the veggies, and maybe even add some lean meat. And make it colorful – color adds nutrients and makes it more appealing to the young ones … and the older ones.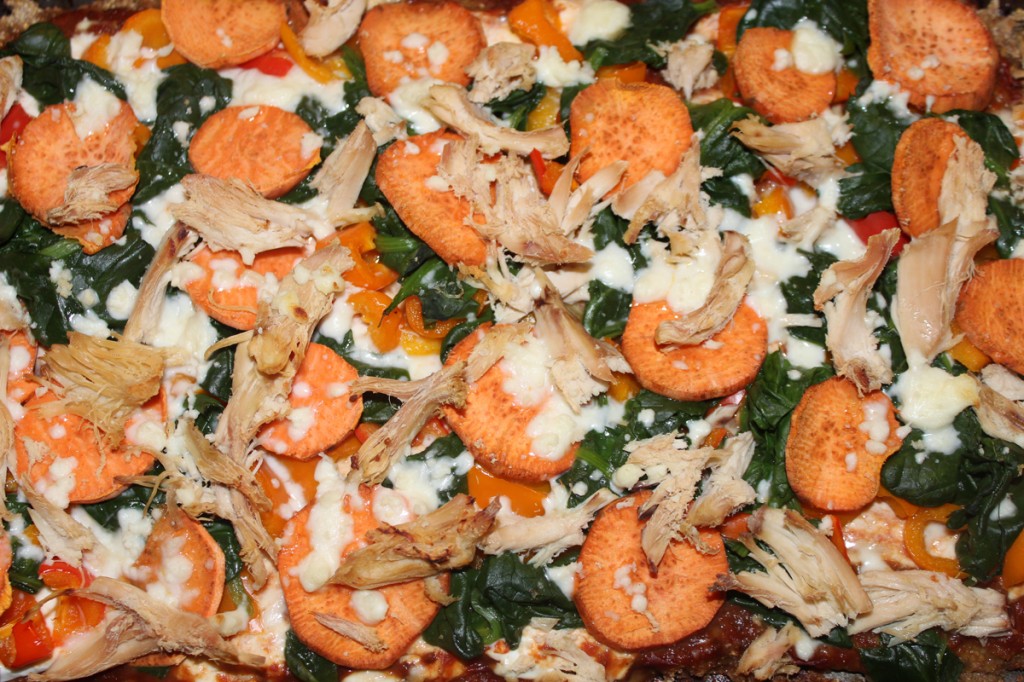 Here's a tasty one I recently made:
Use your favorite whole-grain pizza crust recipe or do it on whole-grain flatbread. I like a super thin, super crispy crust made with Maine grains/flours. This time I combined 1 cup rye flour, 1 cup corn meal and 1 cup of buttermilk just because I had buttermilk. A homemade tomato sauce is also really simple. I leave the skins right on and just cut off the ends. I then chop the tomatoes into big chunks and cook them down until it's the consistency I want. The less juicy tomatoes work better (ask your grocer or the farmer at a farmer's market). To cut calories and/or fat, use a part-skim Ricotta and a low-fat cheese for the crumbles. I actually didn't have ricotta and made yogurt cheese instead, which is just yogurt with the whey strained out using a cheese cloth.
Ingredients:
1 pizza crust
1 to 2 cups tomato sauce (depends on the size of your crust)
1 cup cooked spinach (if it's freshly cooked and still wet, it won't burn)
3 medium sweet peppers (color, color, color)
1 medium sweet potato, thinly sliced
1 cup chicken (optional, a great way to use leftovers)
¾ cup ricotta cheese
½ cup Feta or other cheese crumbles or freshly grated parmesan.
Spread the sauce on your crust, followed by the Ricotta. Then layer your veggies and chicken and sprinkle the cheese crumbles over the top. Bake for 15-20 minutes at 350 degrees, maybe a little less if you are using a pre-cooked crust or flatbread.