The reality is that when a milk cow reaches a certain age and is no longer pulling her weight in the milking herd, she will usually be loaded onto the beef truck. It's not a happy part of farming, but it's practical. It's hard enough paying for feed for the cows who are still producing milk, along with calves and heifers who are too young to have started milking yet. Then there's the space factor – retirement housing for dairy cows? And added medical expenses of an aging cow. And where would you put all those cows who simply died of natural causes? By sending a healthy but older dairy cow to the butcher, she fills another need – hamburger.
But every once in a while, there's that one cow that the dairy farmer just can't bear to see leave.
Lucy is that cow for farmer Randall Bates.
"My wife thinks I've lost it," he said.
I could practically hear Jill Bates' eyes roll when I talked to her on the phone before going to Springside Farms in New Vineyard to meet Lucy for myself, but she just chuckled as she told me about the cow that her husband had literally "put out to pasture."
"Lucy is the cow every farmer dreams of," Randall said of his affection for  the 12-year-old Holstein (she'll be 13 in September). "She never ever caused me any issues — disposition-wise or health-wise; she had six heifers and only one bull [a dairy farmer always hopes for heifers]; and she always did just what she was supposed to.
She was the Steady Eddie cow that you never noticed. She never caused me any issues, not even as a heifer [an awkward, goofy stage of a cow's life when she tends to get into trouble – you know, those teenage years.] If I could have a barn full of Lucys …"
I just couldn't put her on the beef truck."
Randall and Jill's daughter Allison was the one to actually suggest giving Lucy a new job – that of what the Bates' call "den mother" to the farm's young heifers. The heifers are too old to stay in the barn and have every need attended to by the farmers, but they are young enough that it's nice to have an older cow like Lucy looking out for them, showing them the way.
While Lucy is tops, the Bates have and have had some other very nice cows. Organic Valley, their co-op, even featured Randall and Jill and a couple of their gals on their milk cartons six years ago.
Mayflower was 10 years old when she graced the cover of the Lactose Free milk carton. Another dependable cow, "she is no longer with us," Randall said. Raspberry was just a bred heifer (she was 2 years old and had yet to have any calves) when her photo was taken for the milk carton. "She hammed it up unbelievably!" Randall said of the photo shoot. "She hasn't been problem-free, but she hasn't been a problem cow," he added.
More photos from around the farm: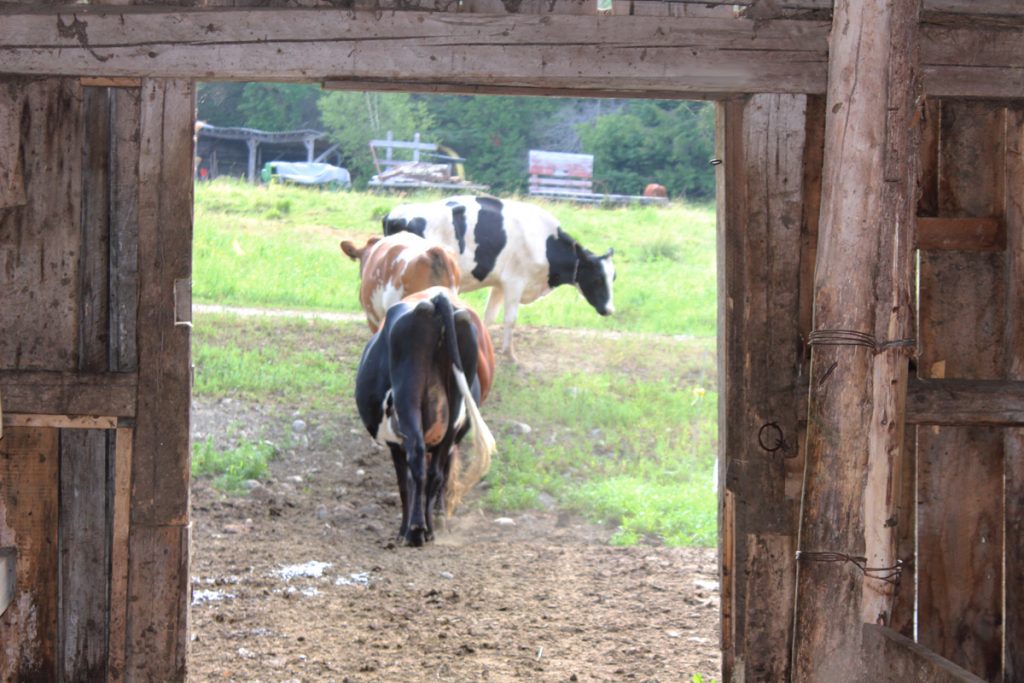 Story and photos by Jami Badershall, communications manager for the Maine Dairy Promotion Board, unless otherwise noted.