Having cold milk (or milk that isn't slushy with ice) at lunch would seem a given for school cafeterias, but because of aging equipment, some schools have struggled to do that. Recently, the Maine Dairy and Nutrition Council (MDNC) and its Fuel Up to Play 60 program, funded by Maine dairy farmers, awarded six Maine schools grant funds to purchase new milk coolers – Coastal Ridge in York, Center Drive School in Orrington, Ella P. Burr School in Lincoln, Beech Hill School in Otis, Edmunds Consolidated School in Edmunds Township, and Edna Drinkwater School in Northport. A large number of schools applied for the small equipment grants, far beyond what was available for funds, and the MDNC selected based on the most basic of needs – a working milk cooler.
This fall, we have visited many of the schools during lunchtime to celebrate the new coolers. On Tuesday, Nov.8, we were at Edmunds Consolidated, which is a K-8 school. Cindy Cox, the school's food service director, said the milk cooler was a much needed piece of equipment that the school would not have otherwise been able to afford. "Our other one would ice up, and I had to defrost it once a week," she said. The school has no walk-in coolers, and the milk crates would take up too much room in the refrigerators.  "We only get a milk delivery once a week, so it all has to fit." The new cooler solves the problem.
Jane and Aaron Bell of nearby Tide Mill Organic Farm were also able to be at the school. Jane helped us hand out fun dairy stuff to the students (stickers, pencils and bracelets), while her son Aaron brought Arugula, a 3-week-old Lineback calf, for the students to meet during recess. Aaron told the students that Arugula will be two years old before she has her first calf and becomes a milk cow. Until then she will be hanging out on the farm and living a life much like them – "she has a lot of friends, has a nice place to live and eats lots of good food," he said.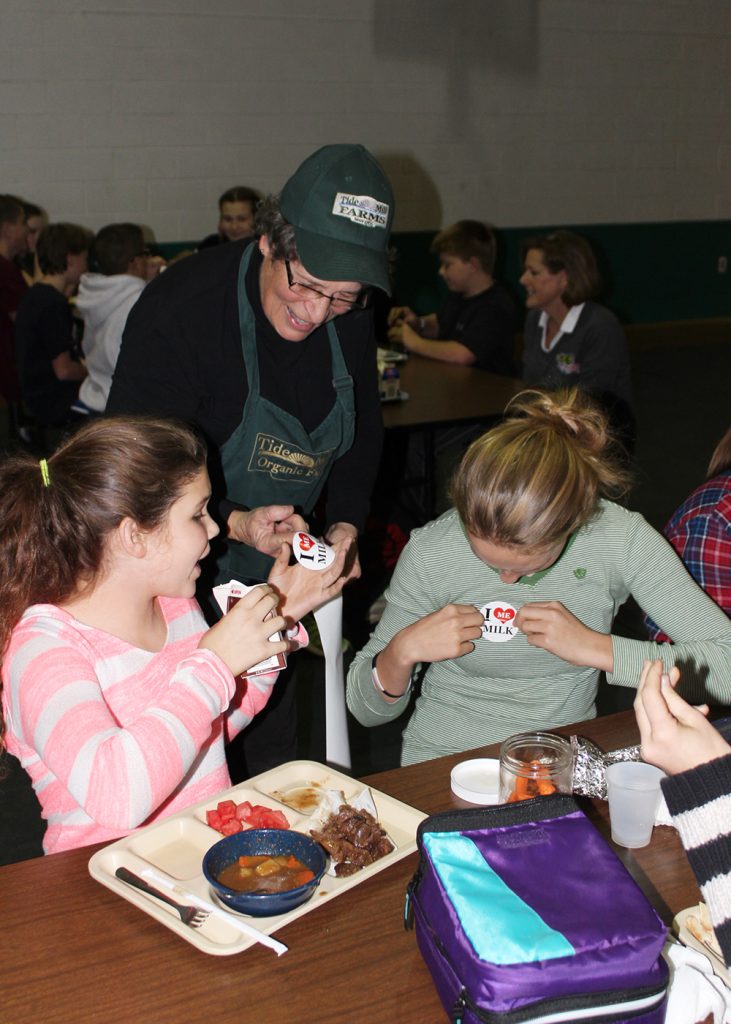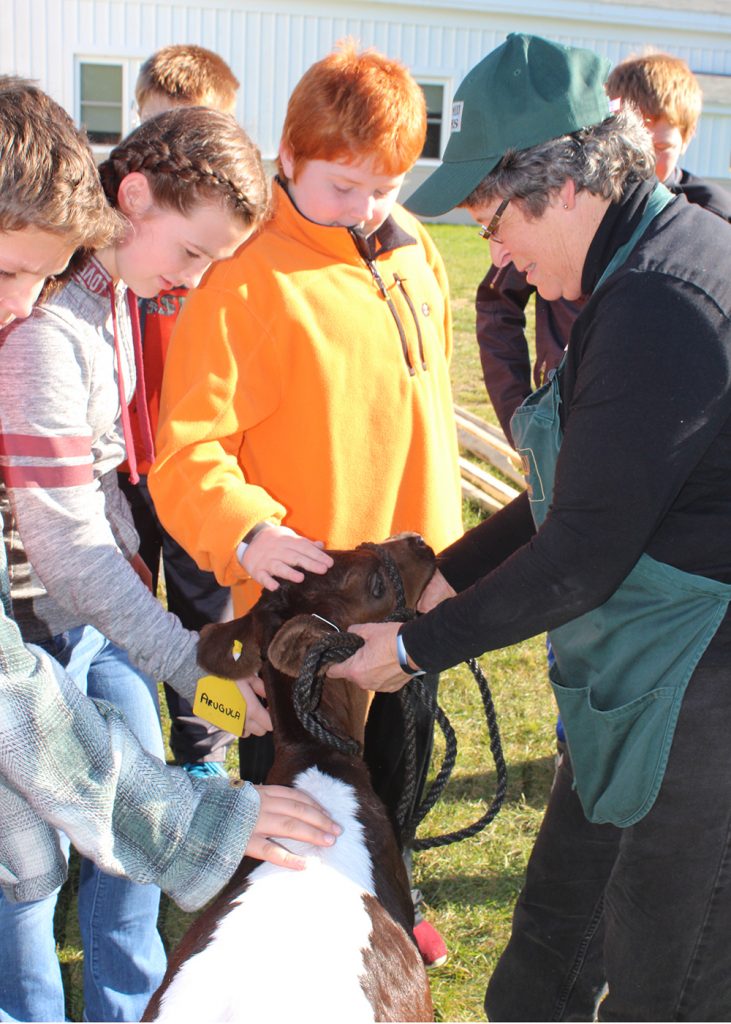 Our new dietetic intern Zakk got to make the trip to Edmunds with us, so we made sure to stop by Tide Mill Organic Farm because we always like to give future dietitians an opportunity to see where all that nutritious dairy starts out. If you've never been there, Tide Mill is located right on the water's edge, just about as far east as you can go in the State of Maine. The cows have some of the most scenic pastures you'll find in the state. The farm offers tours depending on the time of year, so be sure to check it out if you're ever in that neck of the woods. The first Bell settled here in 1765 and built a grist mill powered by the tide (hence Tide Mill). One of the grist stones is still there, and you can see timbers that used to be part of the dam, now covered by seaweed.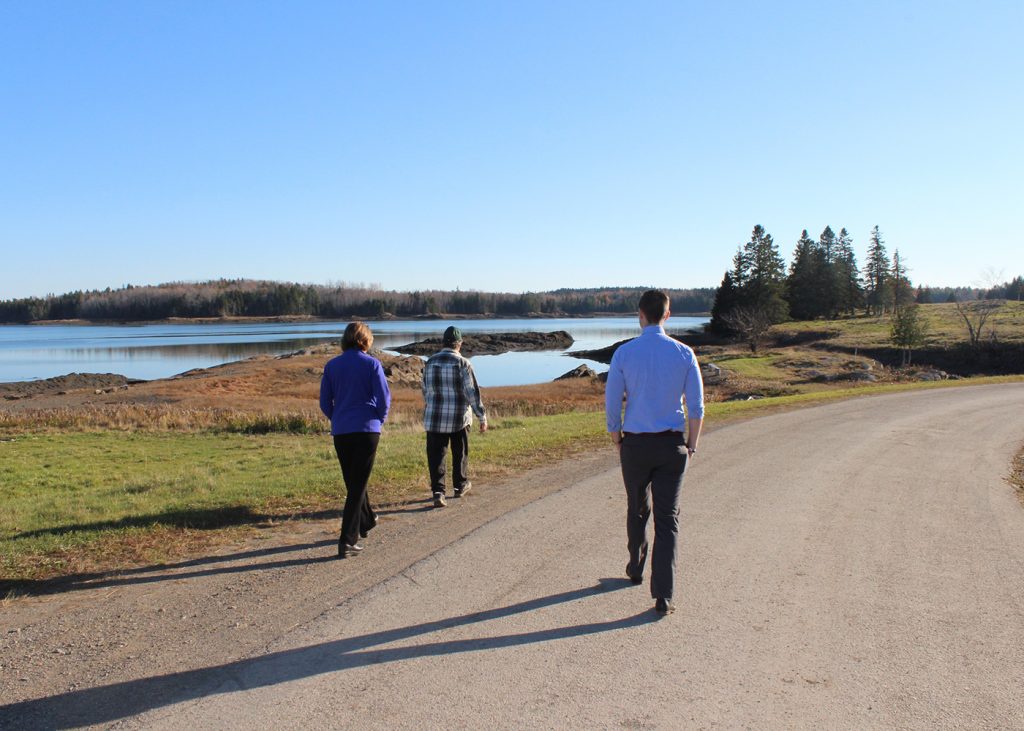 The farm encompasses 1600 acres and is truly a diversified operation. While it has been a dairy farm for much of its history, the Bell's actually stopped milking cows in 1977. "Someone was coming from New York to buy the herd of registered Brown Swiss when we were headed to the hospital to have Aaron," Jane said. Ironically, it was Aaron, a member of the eighth generation on the farm, who wanted to bring milk cows back to the farm and started the dairy back up in 2005. They sell their milk directly to consumers at their farm market and other farmers markets, through several grocers, and to Horizon Organic. Aaron's cousin Rachel is a cheesemaker and owns Tide Mill Creamery. She also sells yogurt and kefir (I love the maple). And Tide Mill also sells its milk to Lakin's Gorges Cheese.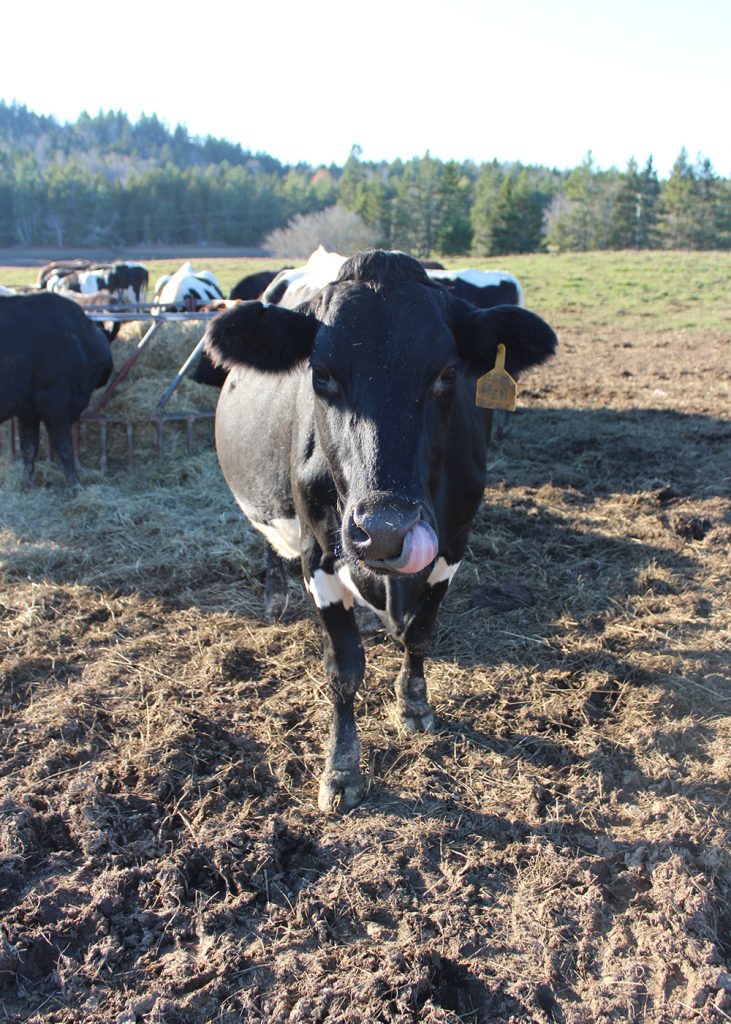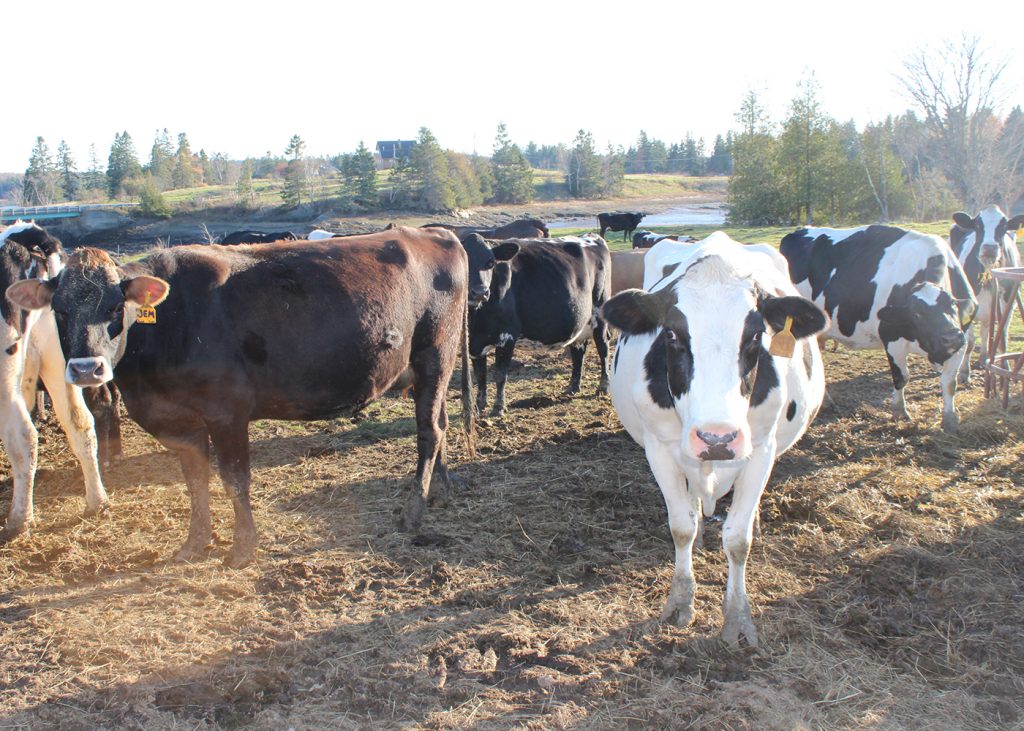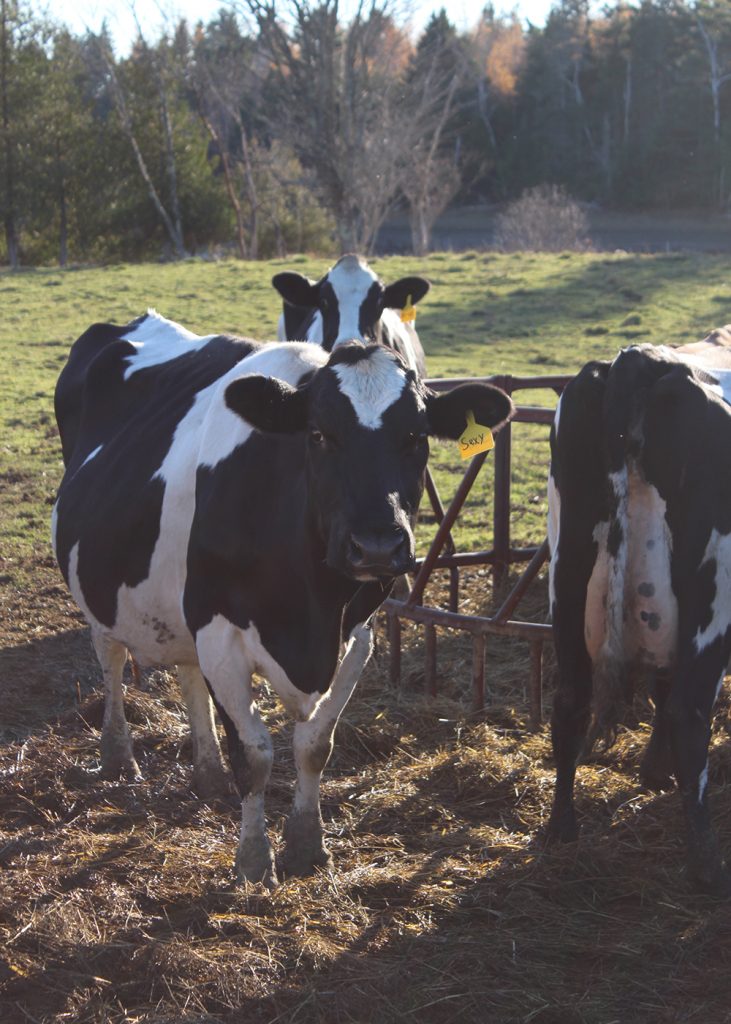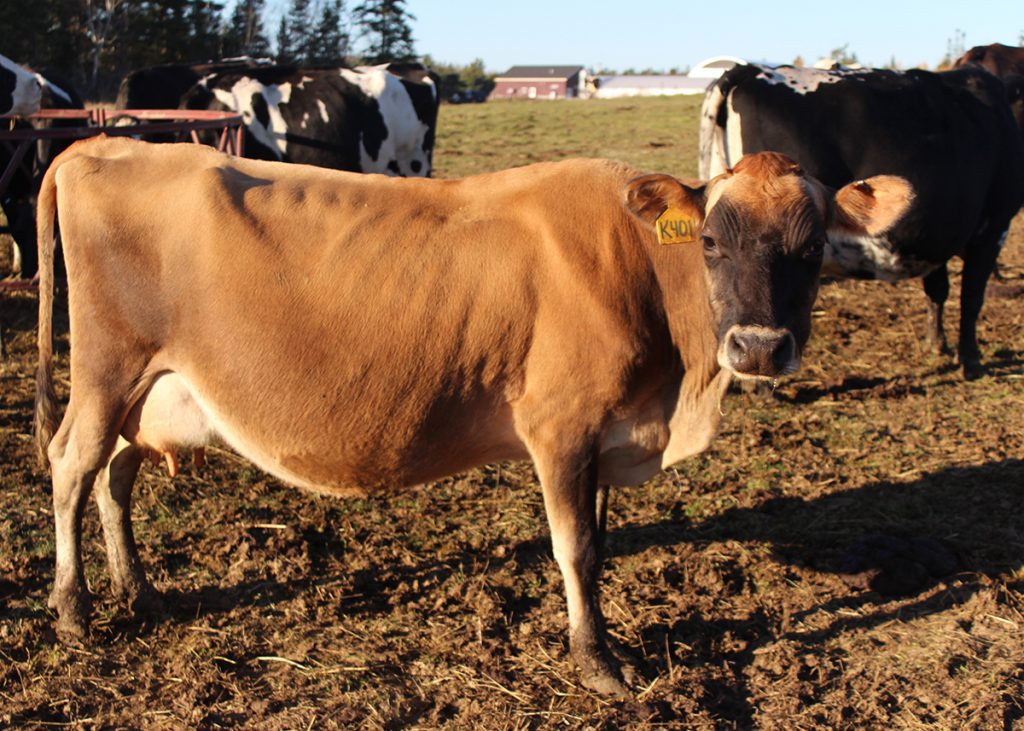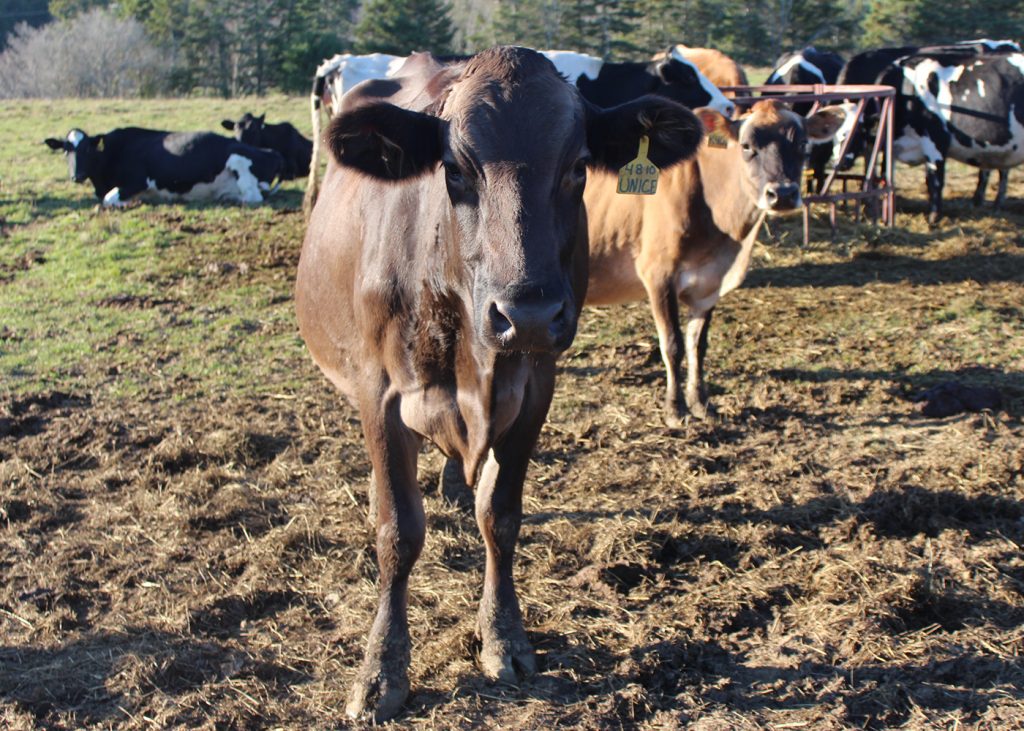 Much of the farm is woodland. Jane's husband Bob is a logger who harvests wood on their property and for other landowners, and the family tips the abundant balsam firs for wreaths that they sell across the country. They also have their own poultry processing facility and raise and harvest 16-18,000 chickens and hundreds of turkeys each year, selling them to health food stores and restaurants. They also raise and sell pork, beef, seedlings and vegetables. Aaron and his wife Carly DelSignore manage the farm, but Jane and her son Jesse also work the farm along with help from the children, farm apprentices, seasonal workers, and other family members. Not only does everyone chip in with the every day chores, but there are also deliveries to be made, farmers markets to attend, customers to deal with, orders to be filled, and more.
In a side note, but too cool not to include, Jesse Bell has autism and the family worked with Northern New England AgrAbility (Maine now his its own branch), a program that aids disabled farmers, to find ways to help Jesse be more independent and self-sufficient in his work on the farm. Jane and Jesse had the opportunity last spring to travel to Ft. Collins, Colo., and he presented his slide show "Farming with Autism" at the National AgrAbility Training Workshop. While there, they got to meet Temple Grandin, who was the keynote speaker at the workshop.