According to the American Cheese Society, October is American Cheese Month – "a celebration of North America's delicious and diverse cheeses, and the farmers, cheesemakers, retailers, cheesemongers and chefs who bring them to your table."
You won't find more delicious cheeses or more amazing dairy farmers and cheesemakers than right here in Maine. We also have some pretty cool local-loving retailers and talented chefs and cheesemongers, and October is definitely the month to celebrate those folks and sample some to-die-for cheeses.
The Maine Cheese Guild presents its Open Creamery Day 10 a.m.-3 p.m. on Sunday, Oct. 9. They have a map of 15 participating cheesemakers. You'll have the opportunity to see how some of these great cheeses are made and will undoubtedly have a chance to taste some of them! And some cheesemakers are also dairy farmers, so you'll get to meet the critters who contribute the delicious milk for these concoctions. Read a brief Q&A at the bottom of this page with cheesemaker Sarah Wiederkehr of Winter Hill Farm in Freeport about why she participates in events like Open Creamery Day, of which cheeses she is most proud, and why cheesemaking is so magical, yet scientific.
Cabot Creamery will have Open Farm Sunday at four of its Maine farms also on the 9th – Ferland Farm in Poland, Kreb's Organic Dairy Farm in Starks, Pleasantville Farm in Warren, and the University of Maine's Witter Farm in Old Town. Each farm has activities planned for visitors 11 a.m.-2 p.m., and there will also be plenty of opportunities to see the cows and sample the "World's Best Cheddar". While it's true that Cabot cheese is made in Vermont, nearly 1/3 of Maine's dairy farms belong to the Cabot Co-op.
"As a cooperative, our farm families own the business, so when people purchase Cabot products they are directly supporting farmers in their local communities," said Cabot Communications Manager Nate Formalarie. "Farms are opening their doors to say thank you, show gratitude for community support, and give people a chance to see where Cabot cheese comes from."
Billie Jo Krebs echoes that same sentiment when asked why her family takes the time from their busy schedule to invite the community to their farm. In fact, the family does multiple events with the community, Boy Scout troops and school groups throughout the year. "It gives people a chance to learn more about farming and where their food comes from," she says.
If you won't be able to visit a farm, Cabot will have a live farm tour on its Faceboook page at 11 a.m. that day.
Another exciting offering from the Maine Cheese Guild this month is the Maine Cheese Festival 11 a.m.-5 p.m. on Sunday, Oct. 16 at Savage Oakes Vineyard and Winery in Union. The event is described as "an opportunity to talk, taste, learn about  and purchase Maine-made cheese, learn about cheesemaking, and celebrate the robust artisanal cheesemaking movement in Maine." About 20 cheesemakers from around the state are signed on to have cheese at the event, including Amy Rowbottom of Crooked Face Creamery in Norridgewock (and you won't want to miss her ricotta or smoked Gouda-style cheeses).
"I'm thrilled to be part of the event and so grateful to the Guild members who pulled this incredible event together despite their busy summer schedules," Rowbottom said. "Maine cheese is such an exciting culture to be a part of – the growth, local support and opportunities are constantly evolving. It's like being in the right place at the right time, and this event is a celebration of that."
While the Maine cheeses are a definite draw, the festival will offer much more, including wine tasting, baked goods from two local bakers, chef demos, Q&A sessions with cheesemakers, raffles, and live music 1-3 p.m. from Rough Sawn – a mid-coast based band made up of farmers, carpenters and cheese lovers
"Maine cheese is a rich community full of talent and passion, I can't wait to all be together sharing what we love to do," Rowbottom added.
Some of our other favorite cows' milk cheesemakers will be there, including Silvery Moon Creamery of Smiling Hill Farm, Wholesome Holmstead, State of Maine Cheese Co. (which uses Springdale Farm milk), Lakin's Gorges Cheese (which uses Tide Mill Farm milk), Springdale Farm, and several more.
Tickets are $10 apiece (admission for children younger than 12 is free), and are available here.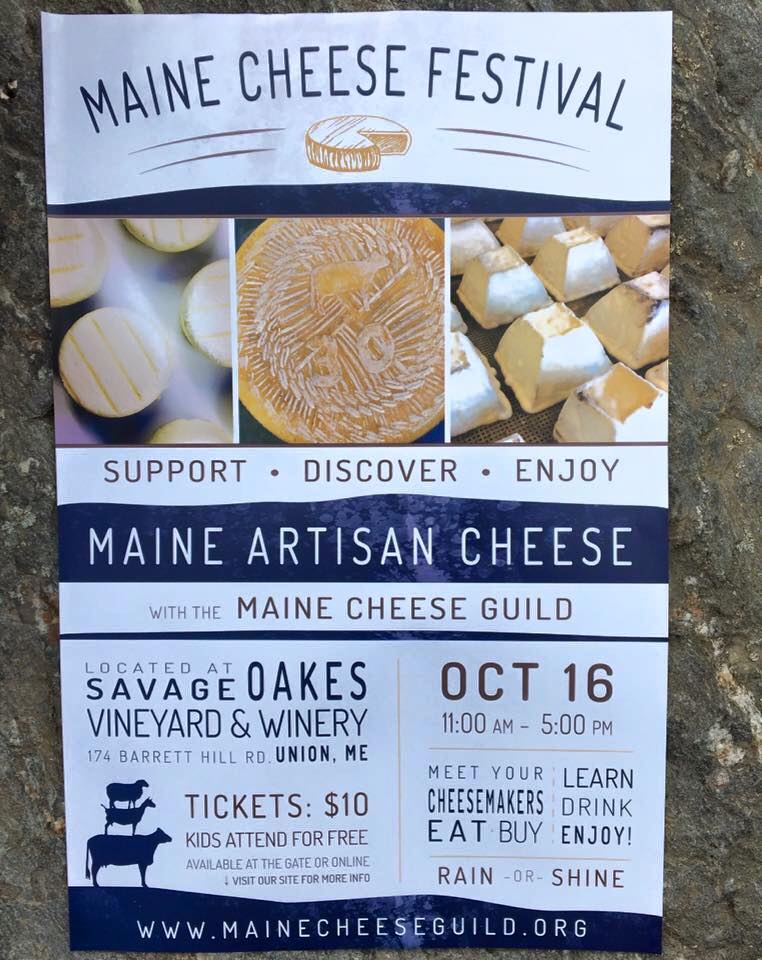 The following is a brief Q&A with Sarah Wiederkehr of Winter Hill Farm, which will be open to the public on Maine Open Creamery Day on Sunday, Oct. 9.
Why do you think it's important to participate in events like Open Creamery Day? I mean, it's got to create a lot of extra work for you … What do you hope people get out of it?
SW: We have participated in open creamery day for four years now. While it definitely is a LOT of work, we love the opportunity to invite people to come see what we do and have the chance to answer questions and talk to folks about our cows, our pastures, our milking system, our creamery and our cheese. We love that people are able to come explore, walk around the farm and meet the animals and our employees. We really strive for open communication with our customers and for a transparency in the food system generally, so we see this as part of the process. Since we are generally too busy to accommodate every person who wants a tour throughout the year, Open Creamery allows us to dedicate a set day for this purpose and commit ourselves to just making that happen for that day without feeling like we are cutting corners somewhere else, or that we aren't as focused on our customers as we should be.
The other big part for us in participating in Open Creamery along with the other cheese guild members that participate is to work together with other small creameries in the state to get the word out there about Maine cheese. We think that in order to grow our own markets for cheese, we really need to grow the market as a whole for local cheeses. There are so many of us small scale artisanal cheese producers in Maine, and the diversity of cheese here is amazing! I think in order to really make people aware of the bounty of dairy products we have here in Maine, and how lucky we are for these amazing cheese choices that exist, we all need to work as a concerted, collective group to make it happen, to educate consumers.
What cheeses are you most proud of? What's been the standout for you?
SW: I think different cheeses have been standouts at different moments in time. Right now I am really proud of a new cheese we have just rolled out, a washed rind that still has no name. I try to take my time naming a cheese, after really dialing in the recipe (which I still haven't with this new cheese) and after getting feedback from customers at the farmer's market and through our cheese CSA. So, still working on that one, but so far the overwhelming response has been very positive. We have definitely been proud of Tide Line, our ashed mold ripened/bloomy rind cheese, which won a 3rd place award in the farmstead cheese category at the American Cheese Society competition last year. We sell an amazing amount of Tide Line, to restaurants and stores mostly. I think it is probably our best known cheese. I am also particularly proud of our Bradbury Mountain Blue right now, as we just got our scores back on it from this year's ACS competition. While we didn't win an award for it, we scored REALLY well, and the judging feedback we received put a huge smile on my face. We are definitely proud of that one, for scoring just 4 points (in a 100 point scale) below the winner in that category, Jasper Hill's Winnimere, one of the very best cheeses we know of! (They received a 100!)
What do you like most about cheesemaking?
SW: Hmmm. Tough question! I love sampling our cheeses at events and markets. When people find out that I actually MAKE the cheese, and they also love the samples I have for them, it just makes my day! I also just love the magic of it all, the process of turning this liquid milk into a much more complex, flavorful product. I love thinking about the whole picture of it, how Steve (my husband, the herdsman) and Tim (Steve's right hand man) shape the end product so significantly through their management of the pasture, the health of the cows, and the care they take in milking. How seasonal changes and changes in feed can have such incredible effects on the cheese, even if nothing else changes! It all feels very mysterious and magical sometimes. The scientist in me also relishes the straightforward, sensical explanations of how the magic works, the chemistry and biology of the process. Cheesemaking really is SCIENCE, but there is such an artistic element to it as well, I can be both a scientist and an artist when I transform milk in to cheese! It keeps me on my toes, certainly. Except when I am  immersed  in dishes. All those dang dishes. (Cheese making is 75% cleaning!)