Maine produces its own grains and flours, brown eggs, maple syrup, and, of course, dairy. Everything you need to make the perfect pancakes. We even have apples, strawberries, blueberries and more to add to those pancakes. Maine should be the Pancake State, not the Pine Tree State.
It seems every food has a special day, week or month in which it's celebrated.
January is oatmeal month – I totally get that. January is cold, and oatmeal is hot and hearty and fills you up and keeps you going. On the other end of the spectrum, National Ice Cream Month is July. Again, a no-brainer. It's hot and you want ice cream.
There's some dispute on Pancake Day, Week or Month. Some say it's in February (most celebrated on Feb. 17 this year), some say it's in March, some say it depends on the year. Some celebrate National Pancake Day, while others celebrate International Pancake Day. Whatevs, people. Pancakes are appropriate no matter what time of year it is. I celebrate Pancake (and Crepe) Day pretty much every weekend and holiday and on several weeknights throughout the year. But we are in the throes of winter, snow piling up for many of us, wind and bitter cold. And we start to dream of spring, and with spring comes maple syrup, and Maine Maple Sunday is coming up next month, so THIS is the perfect time to be talking about pancakes.
The plain pancake drowned in maple syrup is a classic. Comfort food for sure. Your basic pancake recipe is simple – cup of flour, teaspoon of baking powder, cup of milk, one egg, 1 teaspoon of vanilla. For extra fluffy pancakes, switch out milk for buttermilk. I rarely do anything plain though. It's not in my nature. I have to be creative, think outside the Bisquick box.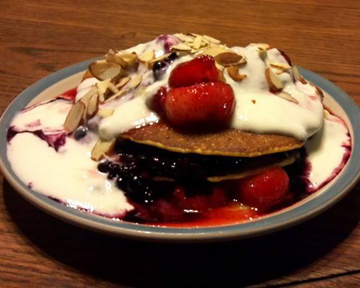 First of all, I can't eat wheat. I am NOT saying YOU shouldn't eat wheat. If you can, that's great! Maine even has farmers who produce wheat, so support them. EAT WHEAT! Please eat whole wheat though. It's an awesome way to get your recommended daily amount of whole grains. Even though I can't eat wheat, I still try to support Maine's growers and use flours like buckwheat, rye and oat, all of which is grown right here in Maine. I've even made crepes with corn meal (and I will share that little gem with you later on). All theses recipes can easily be made with regular ol' wheat flour except the cornmeal one, but if you like to experiment, I have some suggestions.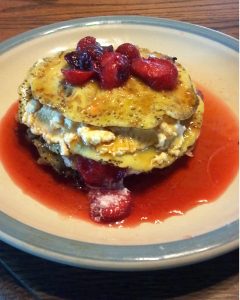 Maine is also blessed with the perfect toppings for pancakes with blueberries, apples, strawberries, etc! Sometimes I like to pile on multiple toppings, including yogurt. Or I use Ricotta or Marscarpone in place of yogurt.
So we'll start with a true Maine pancake – Blueberry Buckwheat Pancakes. Buckwheat pancakes are filling – the kind that stick to your ribs, and buckwheat has a delicious nutty flavor. The National Dairy Council gives this recipe for Blueberry Buckwheat Pancakes.
The following recipe came about because I can't pass up over ripe bananas and I wanted chocolate, but not a lot of chocolate – just a taste.
Monkey Swirl Pancakes
For Banana Pancakes 
1 Cup flour (I used oat flour)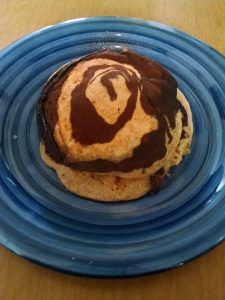 1 Tbsp baking powder
1 Cup milk
1 egg
2 1/2 bananas cut up
1 tsp vanilla (or almond extract)
For chocolate swirl
1/4 Cup flour
1/4 cup dutch chocolate or unsweetened cocoa
1/4 teaspoon baking powder
1/4 Cup milk
1/2 banana cut up
Combine dry ingredients for banana pancakes, then the wet, mixing well and leaving bananas for last. You might want to use a handmixer to smooth out the banana chunks. Do the same for the chocolate swirl. Pour or ladle banana batter onto hot skillet. I usually butter my skillet, but this pancake recipe also tastes good with coconut oil on the skillet – it gives it another island flavor. Just as your banana pancake is starting to set up. Use a spoon to make drop the chocolate batter on in a swirl pattern. Flip as usual.
Strawberry Pancakes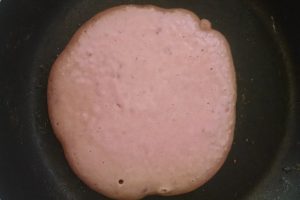 1 Cup flour (I used oat flour)
1 tsp baking powder
1 tsp vanilla
1 egg
½ cup yogurt
1 cup strawberries (fresh or frozen)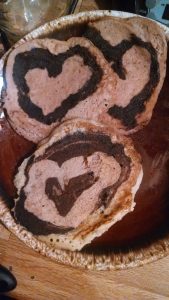 If you use fresh strawberries, they might not have the same water content as the frozen, and if you're batter is too thick just add a little milk. Mix well with a hand mixer. Pour or laddle batter onto a hot buttered skillet. You know the rest …
I tried to combine the Strawberry Pancake and Monkey Swirl Pancake and make chocolate hearts on my pink pancakes. It was Valentine's. It was harder than it sounds, and I had few that even resembled hearts. When you go to flip the pancake they smear.
If you love chocolate like I do, you probably look for ways to sneak chocolate into your breakfast. May I recommend the following:
Chocolate Ricotta Pancakes
2 Cups flour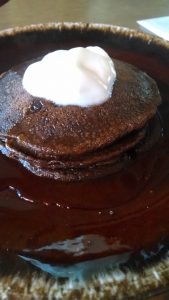 2 Tbsp hot chocolate mix*
1 teaspoon baking powder
1 egg
1 Cup Ricotta Cheese
1 Cup Milk
Yogurt to top
Mix well and cook as usual. This would also be delicious with raspberries or blackerries on top.
*If you don't have hot chocolate mix, just 1 heaping tablespoon of cocoa powder and a tablespoon of sugar or honey.
Those are all recipes for pancake lovers with a sweet tooth. Crepes are easy to do either sweet or savory as you can roll them up and fill them with anything. I stumbled upon my favorite savory crepe purely by circumstance. My significant other likes French toast on the weekends, and bacon, always bacon. As I said, I can't eat wheat, so I don't eat the French toast, but I use the egg and milk mixture that I dunk the bread in to make myself pancakes or crepes when I am done making his. Well, on this particular morning, I was out of my regular flours, but I had cornmeal (from Maine corn, of course). I figured what the hey!
Cornmeal Crepes
1 egg
1/2 cup milk
1/2 cup cornmeal
2 tsp honey (optional)
Whisk all ingredients together and pour and cook on a hot, heavily buttered skillet.
To fill the crepe, I laid out a long, extra thick slice of bacon, wilted some spinach in the hot skillet, put that on there, and then topped with some shredded extra sharp cheddar cheese – Old School Cabot to be exact. If you like things spicy, this would be a good opportunity to use some Pepperjack cheese.
At one time I was working on a recipe for scones, but I was being lazy and didn't want to do the whole shaping, rolling out, cutting into wedges, so I decided mine would be "Drop Scones". I googled this term because any time I think I have invented something, I can usually find where someone else already thought of it. And there were some people who used the term "drop scone," like I did. In the UK though, a drop scone is a Scotch pancake, and it is much more a pancake than a scone.
Also from across the Atlantic, comes the German Pancake aka Dutch Baby Pancake aka Bismark Pancake. It's more like a crepe but fluffy, and you bake it. You can bake it in a cast iron skillet. The following recipe is for a smaller skillet and would feed two or three people. You can easily double the recipe. It's a great recipe for brunch or a special family breakfast like Easter morning.
Blueberry Dutch Baby Pancakes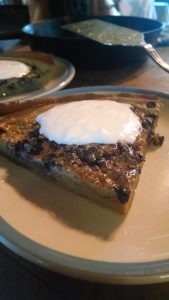 1/2 Cup flour (I used Buckwheat)
1/2 Cup milk
1/2 cup blueberries
3 eggs
1 tsp vanilla
Pre-heat oven to 350 degrees. Thouroughly butter your cast iron skillet and put it in the oven to warm. Mix ingredients thouroughly and pour into the warm skillet. Should bake 15-20 minutes. Some recipes will tell you to bake at a higher heat, like 425, but our oven burns anything over 350.