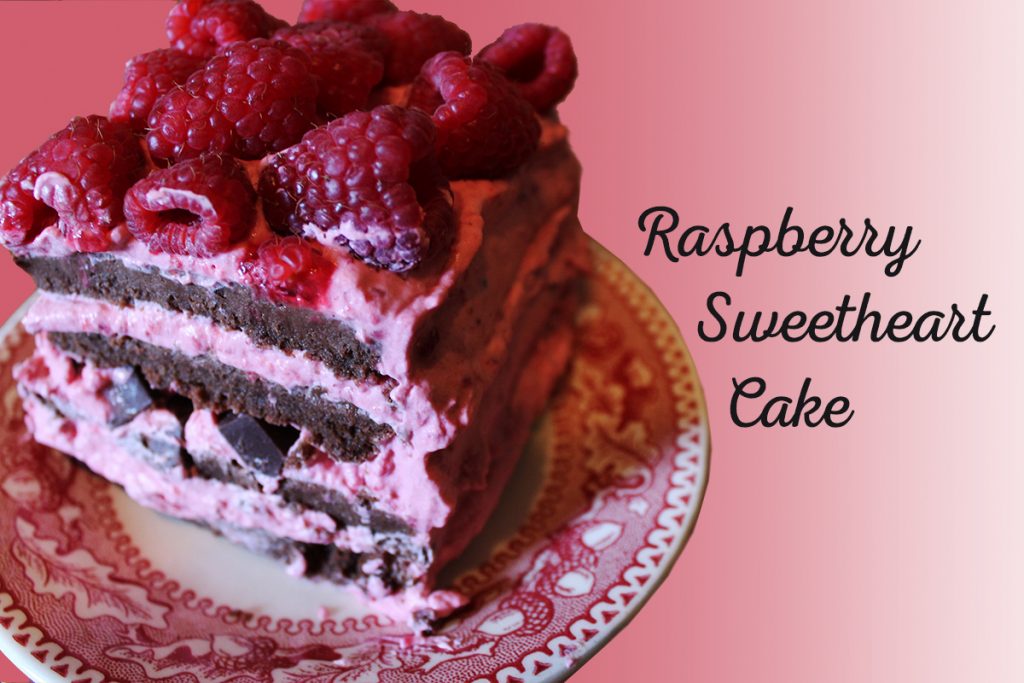 To be completely honest, before I made this AWESOME, AMAZING, DELICIOUS, GORGEOUS (sorry, did I just toot my own horn a little too much?) dessert, I really didn't know what crème fraîche was. I mean, I was positive it involved dairy (like 99% positive) and was pretty sure it involved cream. I'm a simple kind of girl, you know. I cook with basic ingredients, usually the ones that are in my fridge and need to be used up before they start growing fuzz. I don't like a lot of extra steps when I am cooking and baking and I HATE doing dishes, so the less involved, the better.
But we're talking Valentine's Day here, a day to show the ones you love just how much you really love them – like "I love you so much, I had to do the dishes THREE times while making this for you." (This recipe is not anywhere near that bad, but you can play it up.) Or "I love you so much, I used these really fancy ingredients that I'm not even sure how to pronounce." (It is pronounced "krem fresh," right ?)
Anywho … back to my confession of ignorance – I didn't know what crème fraîche was, but standing in front of the specialty cheese section of the Hannaford Supermarket, there it was. It had a romantic ring to it. Perfect for a Valentine's recipe, right? So I googled it on my smart phone. Yes, I was one of THOSE people using her phone in the grocery store. Actually, I stood there so long, studying, debating on how to use it, that the deli girl, whom I have known since childhood, asked with a concerned voice, "Uh, can I help you find something, Jami?" Well, by then I had found out that "crème fraîche" is a super fancy-sounding name for something super simple. You can easily make your own crème fraîche with buttermilk and cream (you can also easily buy it). So, I left that department empty-handed (I did have to return later for the mascarpone cheese though).
Most sites I found compare crème fraîche to sour cream or say it is somewhere between yogurt and sour cream. All the recipes said to mix 2 tablespoons of buttermilk into 1 cup of heavy cream in a glass container, cover with a cheese cloth or something else that is breathable (clean dish towel) and let it set at room temperature for 8 to 24 hours (some said 12-16 hours), during which time it will thicken. Stir and refrigerate for at least 24 hours. It should stay good to use for 10 days to two weeks.
The cake part of this recipe is not what is really important. It doesn't even have to be chocolate if you're loved one does not like chocolate (weirdo). Use whatever recipe you like, though I will share mine with you. I actually started with the recipe on the back of the Ghirardelli unsweetened cocoa bag and made a few adaptions. One change was using 3/4 cup of sugar rather than 1 3/4 cup. I like dark chocolate, but if you like things sweeter, you might want to go by their suggestion. I also added coffee because I love putting coffee in any chocolate baked goods, and I used yogurt in place of butter. I also baked the cake so that I could layer it. You could make a sheet cake or round cake and just use the same raspberry/crème fraîche/mascarpone frosting. Whatever you do will be great. The topping is what makes this dessert.
Chocolate Cake
2 cups flour
3/4 cup unsweetened cocoa
3/4 cup sugar
1 tsp. baking powder
1 tsp. baking soda
2 eggs
2 tsp vanilla
1/2 cup yogurt
1/2 cup coffee
1  1/3 cup milk
Preheat the oven to 350 degrees. Mix dry ingredients and then add in wet, mixing completely. I used a shallow cookie sheet type pan. If you have a jelly roll pan, that will work also. Grease if needed and pour your batter into the sheet pan. Bake for about 20 minutes or until you can stick a knife in and it comes out clean. Let cake cool then cut into four equal sections.
Raspberry Frosting
12 oz. frozen raspberries (thawed)
2 Tbsp corn starch
1/4 cup cold water
1 cup crème fraîche
1 cup mascarpone cheese
Extra touches
1/2 to 1 cup fresh raspberries
Couple handfuls chocolate chips or chunks
In an sauce pan, mix your water and corn starch until the corn starch is dissolved. Add in thawed raspberries with all the juice and heat on medium, stir. Allow the raspberries to start to bubble, but stir enough that they don't scorch or burn on your pan. Continue for five minutes or so until they start to thicken. They will thicken more as they cool. Allow to cool completely. Then in a mixing bowl, add your mascarpone and crème fraîche along with your raspberries. Mix thoroughly. Frosting will be light but thick, not runny at all.
On your cake plate, lay the first layer of cake, cover with frosting, then the second, cover with frosting and spread chocolate chips or chunks over it. Put the third layer of cake on, frost, then the fourth and frost. Cover all the sides with the raspberry frosting and then top the whole thing with fresh raspberries.