I don't know. Maybe I'm in a super patriotic mood, but I have just been on a kick with red, white and blue food ideas for the 4th of July. Originally I was just going to share a couple of Pinterest recipes, but they all used artificial whipped topping from a tub for the white – blech. No, thank you. I tend to like my music "alternative", but when it comes to dairy – make mine real, please. Like, from a cow.
Cows are awesome! When I grow up, I want to be a cow photographer. I could do it all day. Sometimes I do do it all day, and then I get home and realize I forgot to take any pictures of humans. You know where you can see cows? On dairy farms, so let's keep it that way. Support our dairy farmers by drinking milk and eating cheese, yogurt, cottage cheese, sour cream, ice cream and on and on. Dairy farms are as American as apple pie (especially with a piece of sharp cheddar on top), and the Land of Milk and Honey wouldn't be so special without the milk.
One of the great things about dairy is that you can make real good food real simple. I love good food, but I don't like to spend a whole lot of time making it. Plus, it's summer. Who wants to be stuck inside slaving over a hot oven?
Now, not all my ideas worked out so great, but here are a few simple ideas to make sure you and your family have a dairy happy Fourth of July weekend.
Parfaits –
Both of these versions are delicious, but one is a little healthier than the other. In a cup or tall glass, layer fresh blueberries and strawberries (or black cherries) over plain or vanilla yogurt or whipped cream.
For fresh whipped cream, all you need is 1 cup of heavy cream and two tablespoons of sugar (or sweeten with honey or maple syrup). Pour your ingredients into a chilled bowl and then whip with the whisk on your mixer. It will take just a couple of minutes for the cream to stiffen. All done. No reason to pull out a tub of the "other" stuff. If you want the lighter version, you can use plain or vanilla yogurt. Greek yogurt will stand up a little better, but either type of yogurt will make your dessert taste amazing. I have to say, as a special holiday treat, I think the whipped cream is worth the extra calories, especially if you can work it off on the badminton court, but you won't be disappointed with yogurt.
Simple Summer Chillers
This is about as simple as it gets.
1 Cup Milk
6-8 Fresh Strawberries
4 Small Ice Cubes
2 tsp Honey
Blend, sip and relax.
This could easily be done with other fruit as well. You could even have red, white and blue coolers by making the chillers with a handful of blueberries for blue or a vanilla bean for the white.
Red, White and Blueberry Cheesecake
Ok, so maybe cheesecake isn't the simplest option to make, BUT it can be much simpler than many make it out to be. Since cheesecake is refrigerated overnight, it's also a cool, refreshing treat in summer, especially with some chilled strawberries on top! This is also another dessert you can make a little lighter if you opt for low-fat or fat free yogurt and ricotta cheese.
2 Cups Ricotta Cheese
2 Cups Greek Yogurt
1 Cup Sugar (alternative sweeteners like honey or maple syrup will also work well)
4 Eggs
1 tsp Vanilla
1 pint blueberries
3 cups sliced fresh strawberries
For crust – use your favorite recipe or try this below:
2 Cups crushed graham crackers or pecan meal
2 Tbsp softened butter
2 Tbsp sugar
Mix and press into bottom of spring form pan.
Preheat oven to 375. Bake your crust for 10-15 minutes. During that time, mix all your other ingredients in a big bowl. Mix well and make sure your egg yolks break up. Remove your crust and lower the temperature to 325. Pour your cheesecake batter into your pan over the crust. Bake for 40 minutes. Lower temperature to 300 degrees and bake another 15 minutes. Then turn off the oven and crack the oven door and let the cheesecake cool for an hour. Then take out and refrigerate for an hour or overnight. Just before serving, pile on your strawberries.
Patriotic Cupcakes
For this recipe, I made two versions – one for me who can't eat wheat or much sugar, and one for my significant other who likes the whitest white bread and has never uttered the words "too sweet."
For his, I used this Simple White Cake recipe, opting for the cupcake instructions. For mine, I altered it a bit.
Modified Simple White Cake
1 Cup Buckwheat Flour
1/2 Cup Sugar
2 tsp Baking Powder
2 Eggs
2 tsp Vanilla
1/2 Cup Yogurt
1/2 Cup Milk
Both recipes baked at 350 for 20-25 minutes. Let them cool completely while you work on the frosting.
Again, I used someone else's recipe for his Buttercream Frosting. Many recipes I saw called for 3 to 3.5 cups of powdered sugar, whereas this one called for a cup of regular granulated sugar (of course maybe by the time you powder a cup of granulated sugar, it becomes 3 cups.)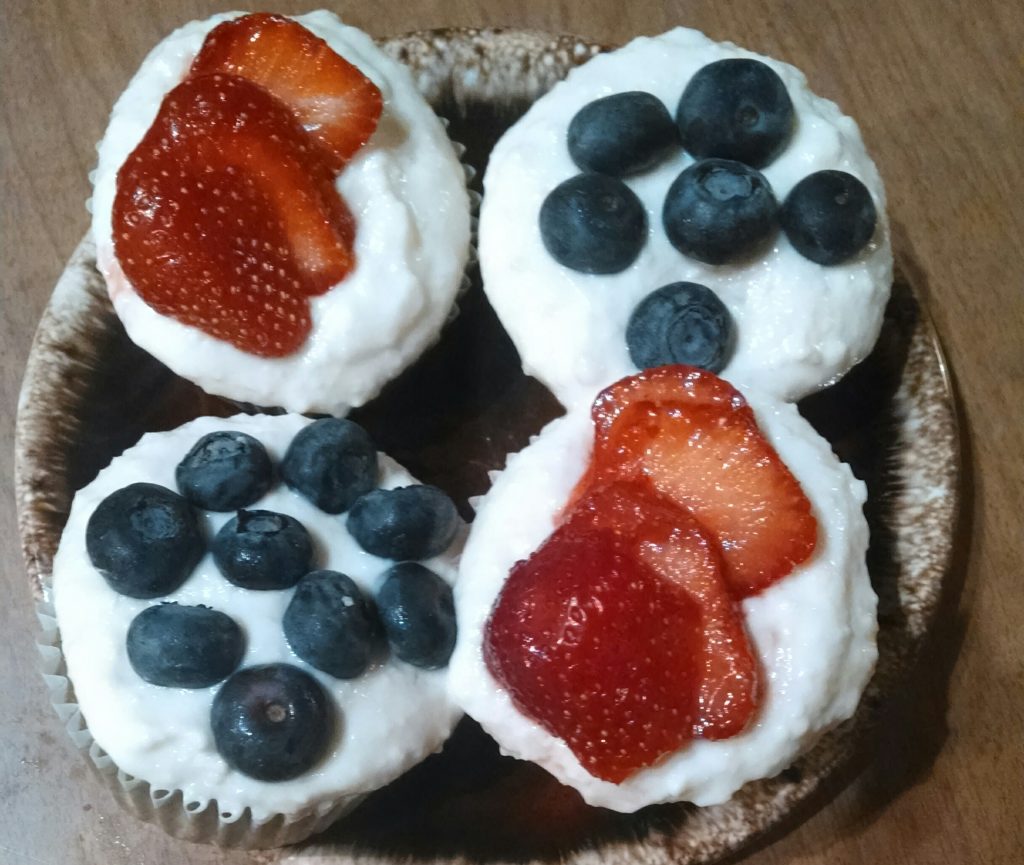 For my cupcakes, I borrowed from the cheesecake recipe by mixing 1 Cup of Greek Yogurt and 1 Cup of Ricotta Cheese and blended in 2 Tbsp of honey. I then topped both with strawberries and blueberries.