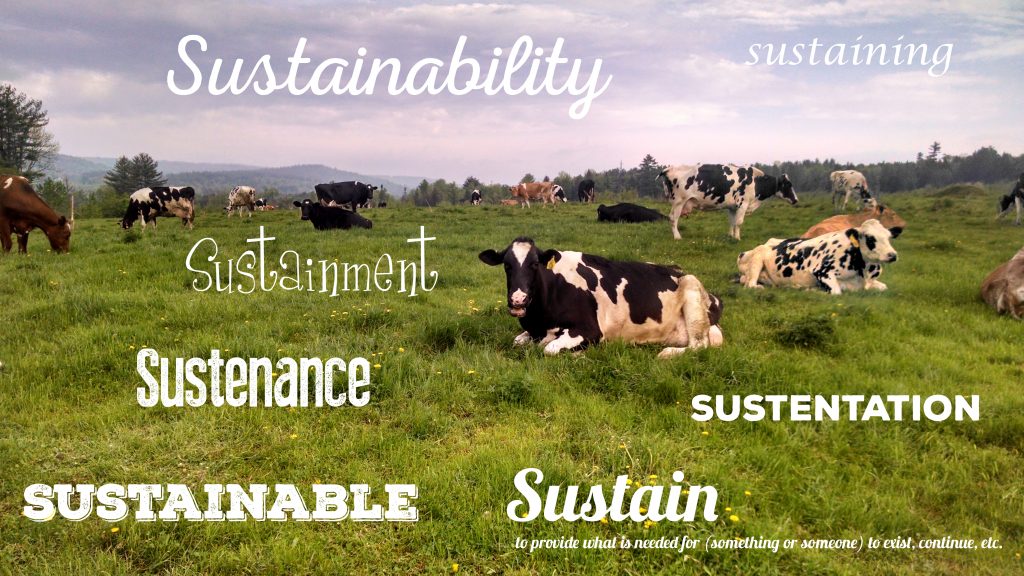 Sustainability has become a buzz word. Often, it is used in conversations around agriculture and the environment. Though the word has any number of meanings for people, it is not just a passing trend for dairy farmers; it is a way of life and standard for daily operations.
Google the word "sustainable".  What pops up as the No. 1 definition is: "able to be maintained at a certain rate or level." I think this can define the goal of most farmers for their operation.
For Anne Trenholm and her family's farm, Wholesome Holmstead, "sustainability" means, "Can we make it to next week, next month, next year?" Anne says. The Trenholms have been able to sustain their small farm through direct sales of milk and added-value products like cheese and yogurt through farmer's markets,on-farm sales and food co-ops. They also sell beef and veal as well as vegetables when they have extra and ship a small amount of their milk through DFA – a milk cooperative.
"We did have growth in sales last year," Anne said. "And 2015 looks like it will be even better, but you are always asking yourself, 'Will it be enough?'"
For Barney Wright of the Wright Place in Clinton, it means supporting a growing, branching family tree on a farm that can't expand from its current size. "There's not any more land to buy," he told a recent school group touring the farm. "We have to be able to do more with what we have."
Barney explained that those goals can be met through improved breeding – cows that produce more milk without sacrificing their longevity and good health, always finding ways to excel at cow comfort, and using research and technology for improved crop yield while still maintaining soil health.
For Winter Hill Farm in Freeport, sustainability is preserving a rare breed of dairy cow – the Randall Cattle – while being able to support your family and live your dream of farming (with only two people doing the majority of the work). After four years of owning the farm, Steve Burger and Sarah Wiederkehr are finding that balance by diversifying their farm to include vegetables, pork, eggs and even cut flowers, making their own added-value dairy products like cheese and savory yogurts (flavors include beet chai and orange, carrot, ginger) and marketing it to wholesale accounts rather than the farmer's market circuit.
For Rick and Beth Johnson of the Johnson Farm in Kittery, sustainability is ensuring that their property remains a farm in an increasingly urbanized area. At this point their children have not shown interest in continuing the dairy farm, although their daughter and son-in-law have started a vegetable growing operation on the farm. The best solution for the Johnsons was to put their land into a trust that would guarantee it will always be open farmland no matter who lives there.
With the new Organic Dairy Farmer and Research Program at Wolfe's Neck Farm, it's about sustaining Maine's dairy farming heritage. Wolfe's Neck has been around a long time (250 years or so) but only recently added dairy cattle. While it is a working farm on 626 acres, its main goal is education. Director David Herring said he and the board were looking to do more. "We said 'What can we do? What's our purpose?' We said, "We want to help new farmers establish farms.'" They didn't immediately settle on dairy farms though. Around the nation there are about 200 "incubator farms," but none are livestock based. A similar theme has developed in Maine, where we have seen an influx of new farmers and farms, but almost all are vegetable-based or small livestock – homestead operations with pigs or chickens. There are very few young people starting up dairy farms in Maine; dairy farmers are aging and there's not a next generation to take over for many of the farmers.
"While Maine is leading the way in farmer resurgence, it's mostly crops because the barriers to entry are lower," Herring said. When farmers leave the incubator program at Wolfe's Neck after 18 to 24 months, they will hopefully have a well-rounded knowledge base including pasture management, herd health, equipment management and even business management. The expectation is that the new farmer will be able to leave the program, and while he or she may not immediately buy their own dairy herd and farm, they might move into a management position or lease a farm.
Rick Kersbergen is a UMaine Cooperative Extension Educator on Sustainable Dairy and Forage Systems. He used his sabbatical recently to do research on more efficient and less labor-intensive ways of farming (robotics) and to serve as a consultant for Wolfe's Neck. He says Maine has potential for new dairy farmers in the form of "great grass, adequate moisture, relatively inexpensive land and a good climate" that dairy cows like (cows are most comfortable around the 40 to 50 degree mark). The biggest barrier is the aging facilities in Maine a.k.a. old barns and milking parlors. If a new farmer is looking at leasing land, they won't want to put hundreds of thousands of dollars into new facilities built on land that isn't theirs. One solution is a mobile milking parlor, which with its $90,000 price tag can still be a bit staggering, but if a lease doesn't work out and a dairy farmer has to move on, he or she can take the parlor with them.
According to Kersbergen, there were 900 dairy farms in Maine in 1985, and we are at 265 in 2015. However, the remaining farms are producing about the same amount of milk as the 900 were. How is that possible?
Of course, many of the remaining Maine farms have grown larger with several milking hundreds or even 1,000 or more cows, and the families milking those herds have grown. However, other farms are only milking a dozen or 30 or 60 cows. Nationally, it is estimated the carbon footprint of dairy has been reduced by 63 percent since 1944. In that time, the number of dairy cows in the United States has dropped from 25.6 million to 9.3 million, while milk production has increased by 59 percent. Dairy farmers have been pioneers in agriculture when it comes to sustainability and doing more with less. The answers have been found in areas such as animal care and comfort, nutrition, technology, crops and forages and breeding.