A few last minute quick recipes for Valentine's Day.
Cinnamon Chocolate Chip Scones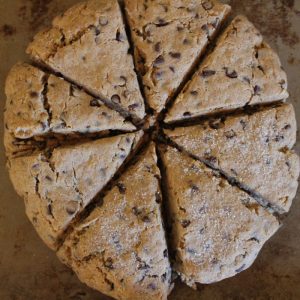 Ingredients
2c flour
1tsp baking powder
1/4tsp baking soda
1/4c sugar
2tsp cinnamon
1 cup mini chocolate chips
1/2c butter (frozen and cubed)
1/2c sour cream
1 large egg
Directions – Preheat oven to 350 degrees.
Mix flour, baking powder, baking soda, cinnamon and sugar. Add butter, incorporate into flour mixture. Add remaining ingredients. Mix with mixing spoon and then finish with hand to work into dough. Shape into 3/4 inch thick circle. Place on baking sheet and cut into 8 even wedges. Bake for 15 – 20 mins, or until golden brown.
Chocolate Mousse
Start with a rich chocolate pudding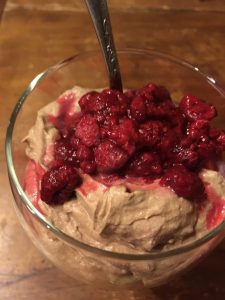 3c whole milk
2Tbsp corn starch
1/2 cup dark chocolate chips
2Tbsp Dutch Cocoa
2Tbsp maple syrup
Warm milk on medium heat in sauce pan on the stovetop. Pour 1/3 cup of milk into separate small bowl or mug and dissolve cornstarch. Add back to milk in pan. Stir in chocolate and maple syrup and mix until Dutch Cocoa is dissolved. Allow to bubble for about five minutes, stirring just enough to keep from burning on. Allow to thicken and cool completely. You can stop here if you want to eat a rich, dark chocolate pudding
In ice cold mixing bowl fresh from the freezer, whip one cup of heavy cream with a hand mixer until thick and almost stiff. Add half the pudding mixture and gently fold together. Add remaining pudding and do the same. Top with raspberries or other fruit of choice.