Agriculture is a part of all of us. From the fresh fruits and vegetables we consume, to the plush wool sweater we wear during the frigid Maine winters, to the biofuels we now use in our cars, Maine farmers work on a daily basis to provide us with the food, fiber, fuel, and feed we need to survive. These same farmers are producing more food, on less land, using fewer resources than their families that farmed the land before them. While we often imagine the farmer driving the tractor in a field, donning jean overalls and work boots, how often is this image a male farmer? Certainly, agriculture and farming was a male-dominated profession for many centuries. However, there has been a positive insurgence in recent years of women in agriculture that is leaving both a lasting impression and hope for more women to become engaged in this noble field of work.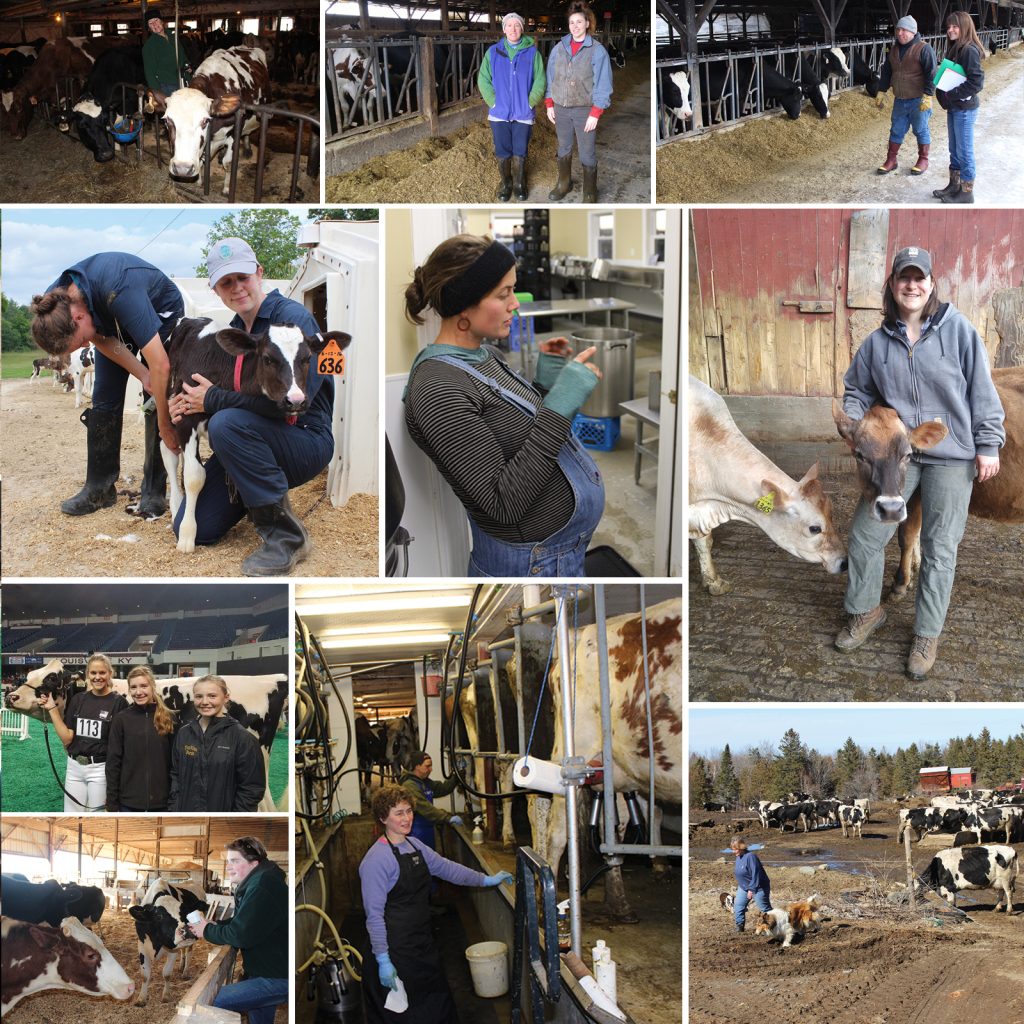 In March, we recognize and celebrate Women's History Month. From the classroom to the field to the office setting, Maine women are having a significant influence in agriculture and the future sustainability of one of our most vital industries. As of the 2012 Census of Agriculture, there are 969,672 women farmers in the United States. In Maine, there are 5,398 women farmers accounting for 41% of all farmers in the state, farming on 631,417 acres, and generating $52.3 million in terms of economic impact. Maine is one of the top five states in the country in terms of women farmers. These figures alone speak volumes about the importance of women in agriculture, yet do not tell the whole story about the role these women play in Maine.
The following women are just a handful of those that are having a dynamic impact in Maine, as well as around the country.
Dixie Shaw is the program director of Hunger & Relief Services Catholic Charities Maine in Caribou. The organization is the only food bank north of Hamden that serves 24 food pantries throughout Aroostook County. With roots in Aroostook County, Dixie grew up working in the potato fields, assisting with every harvest from the time she was ten, first picking potatoes and then elevating to the potato harvester role at age fifteen. As the eldest child, she also supervised her younger brothers and kept them on task in the fields.
As part of her program work, she established Farm for Me, which supplies food pantries in Aroostook County with nutritious locally grown vegetables, as well as the "Glean Team." This is an opportunity for other growers when they have crops they cannot harvest, they contact Dixie and the Glean Team and they will go to harvest their crops. Farm for Me and Glean Team are projects that were only a dream a few years ago, and four years ago they planted their first crop of vegetables and added on the Glean Team two years later.
As she has been working in the fields the past few years with Farm for Me her mind wanders back to days and times gone by.  Smells and sounds are great triggers for memory, good memories and bad memories, but she feels blessed to have nothing but good memories from her years and experiences in the field. "I love the smell of dirt, the feel of dirt, and there is no better office than sitting in the middle of a field." Some of her most memorable moments include being a guest on WAGM-TV's Potato Pickers Special the past couple years. Growing up, it was a household morning ritual to huddle by the woodstove, steaming bowl of oatmeal in hand, and watch to see about weather forecasts and what farmers needed help harvesting and in the potato houses.
In regards to women's role in agriculture, Dixie offered the following sentiment, "I see many women who are leaders on the family farms and have been for years, taking on the responsibility of whatever is or was needed. It's not a man's world, or a woman's world, it's farming."
Alicyn Smart is the Executive Director of Maine Farm Bureau, a non-profit, grassroots organization based in Augusta.  In her current position for the last year and a half, Alicyn performs all the lobbying efforts for the organization and ensures that they are following the mission of being "the unified voice in preserving and growing Maine's agriculture." She feels fortunate to work with our state's diverse farming community and to help them with any issues that are impacting their farms.
Although she was not raised on a farm, Alicyn knew at a young age that agriculture was a passion of hers.  She attended an agriculture high school where she majored in Plant Science and managed the school greenhouses and worked for a landscape company during the summers. She then came to Maine and attended Unity College where she majored in Horticulture. During her time at Unity, she worked at the UMaine Insect Plant Disease Diagnostic Lab and was a Plant Health Care Assistant at the same landscape company that she worked for during high school. After college, Alicyn enrolled in the Doctor of Plant Medicine program at the University of Florida. As part of receiving a fellowship from the USDA in food production and food safety, she worked on a farm to create a Harmonized Good Agricultural Practice (GAPs) program. Before graduating from her PhD program, she accepted the position at Maine Farm Bureau and just recently purchased her first tractor!
Alicyn is fortunate to have many great experiences in agriculture, from submerging her hands in Florida's muck soils, showing cows that had quite a temper, having every crevasse filled with dirt from harvesting peanuts, taking a course called "Chainsaws are for Women", and successfully lobbying a bill so farmers do not have to pay sales tax on off-road fuel. She is also very proud of the fact that she recently showed her husband how to drive her newest purchase.
Before starting at Farm Bureau, a mentor of Alicyn's told her that it's important to vocalize your thoughts. "This might sound obvious but as a young female in agriculture you are often surrounded by people who have decades more experience than you. While this is great because you have so many people to learn from, but if you start thinking about it, it can also be intimidating. I have followed this advice and I know it has helped in my career because I have learned more by asking questions, and ultimately helped me succeed in my job by vocalizing my ideas I knew would move our organization forward." Alicyn's tenacity, continuous thirst for knowledge, and passion in helping Maine farmers' voices be heard will no doubt continue to make her a strong presence and effective leader in the Maine agricultural community.
Anne Trenholm raises Guernsey dairy cattle and Angus beef at her family's diversified farm and creamery in Winthrop, Maine.  She specializes in direct marketing of handmade cheeses and yogurt and premium beef, as well as 'whey-good' pork, for their farm brand Wholesome Holmstead. Anne's roles on the farm include milking, feeding, cleaning, and animal husbandry and caretaking.  She also focuses on marketing, sales and product promotion, and assists in the creamery with inventory management.  Outside the creamery, taste testing and recipe development are other farm duties that Anne enjoys.
Wholesome Holmstead is the longest continually run dairy in their community, and Anne is the third generation to be involved on the farm.  The farm began when her mother's grandparents – having grown up on farms in Vermont and Pennsylvania – decided to raise their family on a farm in Maine. Her experiences in agriculture are diverse and include on-the-job training, work experience on farms, and continuing education that began when she was younger and continues to this day. She is involved in leadership and volunteer positions for various food and agriculture groups at community, state and national levels, and has a personal interest in art and food and making connections with members of the agricultural community. The connections and conversations she has with people who work to provide food, fuel, fiber and flowers—items that we rely on in our daily lives—have been especially insightful to her as a consumer and producer.
A farm is a living, changing thing, with a lot of interconnected parts. There is a lot happening at once that might not be immediately obvious, and so much can happen from when the day "begins" to when it "ends".  For Anne, "agriculture is an avenue to connect us with our own lives and the lives of others. I've come upon many interesting, curious, diligent and insightful people from my community, state, country and across the globe, simply because I have been involved in the work to keep our farm a working farm."
When asked about advice for women interested in production agriculture, Anne suggests that they "build their skills in financial management, project management and understanding soils. Then, they can progress to other aspects like animal husbandry, plants, etc."  She also noted that "It's essential to put in the due diligence to reflect upon the system that a farmer inherently agrees to steward.  It's important for folks to realize that the closer one's involvement is in production part of our food system, the more they might realize that the timeline of agriculture does not always align with the timeline of other parts of human lives."  While both a challenging and rewarding profession, Anne continuously works to cultivate patience, humility, and resilience.
Gloria Varney of Turner, Maine, manages and operates a diversified farm store that features meats, cheeses, baked goods, produce, gourmet foods, and a fiber studio with wool produced from the farm's animals. Along with the store, she manages all of the smaller livestock at her and her husband's farm, Nezinscot Farm, including dairy goats, sheep, chickens, pigs, geese, ducks, horse, and donkeys.  She focuses on their health care, milking, processing and feeding and describes herself as an herbalist, artist, cheese maker, bread baker and butcher.
She was raised on a self-sustaining family farm in the neighboring town of Livermore, where they grew most of their own food, raised chickens and helped her dad with his butchering business. Her family had a small farm stand where they sold excess produce as well as worms and night crawlers. With ten brothers and sisters, the money made from the sale of worms and night crawlers was enough to purchase all of their school clothing and supplies.
Gloria's background in agriculture was limited before purchasing her husband's family farm in 1987. She was involved in 4-H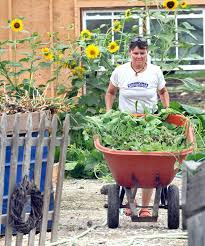 horse projects growing up, and helped with the chickens and small chores, but that was the extent of her agricultural experiences.  She attended the University of Maine at Farmington for community health education, nutrition and physiology and worked off the farm for several years. Ultimately, she wanted to combine her educational background and use the farm as a classroom to educate people about their health. In 1990, she opened a store in their house and expanded to the adjacent building in 1995 where the farm store is today.
Being actively involved in the agricultural community has provided Gloria with many fond memories. The relationships that her husband, she, and their five kids have developed with interns and visitors have been enduring and some have become like extended family. Gloria stated in regards to her advice for young farmers, women in particular, is "to think outside the box. If what you want to do is farm, then define it, make it happen and be happy with the outcome." As both a successful farmer and business owner, Gloria has defined her goals, worked early mornings and late nights to achieve these goals, and continues to find happiness in her daily work.
As consumers, it is important for us to recognize how our food and fiber products are produced, to appreciate the role that agriculture plays in providing us with a safe, affordable, and abundant food supply, the value of agriculture to our state's economy, and the opportunities to become involved in the industry. As Maine citizens, it is our responsibility to encourage, educate, and empower future generations to rise to the challenge of meeting our state's growing food, fiber, and fuel needs. Most importantly, as leaders, it is essential that we never forget our agricultural roots and heritage, and to acknowledge those in agriculture with a simple "thank you" for all of their efforts in providing for our towns, counties, state, country, and world.
Ashley E. Sears        
Fourth-generation dairy farmer, agvocate, and Maine consumer